Scrivere una fine che calzi a pennello con il lungo percorso di un personaggio, amato o odiato, non è cosa semplice. Che la serie sia stata cancellata o sia dipeso solo dalla scelta degli autori, sono state tante le volte in cui, davanti a un percorso perfetto, le nostre aspettative sono state deluse. Magari avremmo voluto che la storyline di un personaggio terminasse in un modo ma alla fine abbiamo assistito a ben altro. Tuttavia le gioie esistono e tra queste vi è proprio Breaking Bad, che con la sua crudeltà e coerenza ha chiuso perfettamente la maggior parte delle linee narrative. In questo articolo, inoltre, sono 5 le prove che dimostrano come talvolta i sogni si realizzino, grazie a degli sceneggiatori che razionalmente hanno deciso di non contraddire anni di puntate.
1) Gregor Clegane/La Montagna – Game of Thrones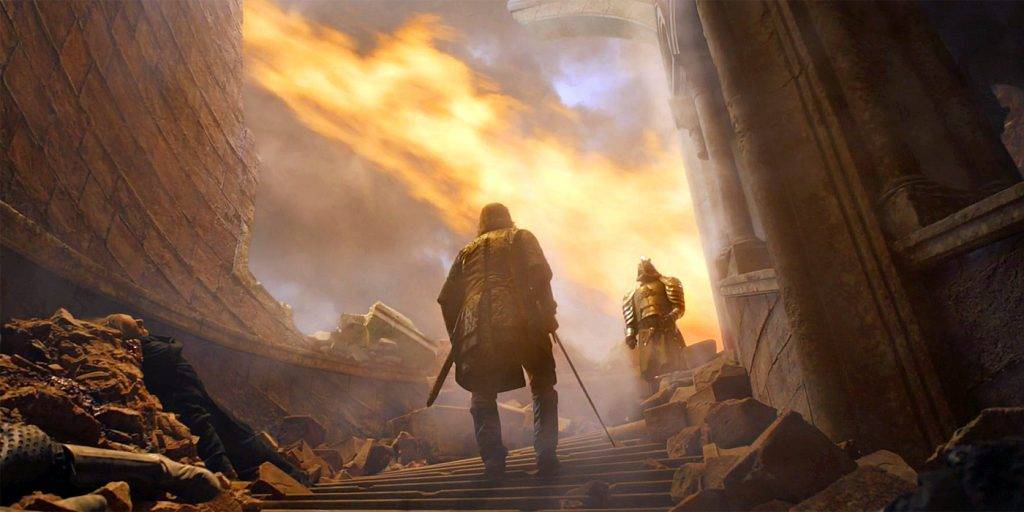 Che le ultime due stagioni di Game of Thrones non siano state all'altezza delle precedenti è ormai un dato di fatto, ma nel marasma di delusioni che si sono susseguite possiamo comunque individuare qualcosa di buono. Si tratta proprio della morte definitiva di Gregor Clegane alias La Montagna. Abbiamo atteso la sua fine con ansia, l'abbiamo desiderata e immaginata e abbiamo sperato che D&D optassero per la scelta più giusta. Fortunatamente, almeno per questo personaggio, così è stato. Il fatidico e tanto atteso duello con il Mastino era l'unica fine che avremmo accettato, per entrambi in realtà. Il rancore e l'odio provati dai due non si sarebbero mai spenti per mano di altri avversari. Il percorso dei fratelli Clegane ha avuto una fine giusta che in qualche modo ha ricollegato tutto all'inizio della loro disputa: il fuoco. Nel fuoco Gregor Clegane si è consumato come la vendetta di Sandor.
2) Elliot Anderson – Mr. Robot
La fine di Mr. Robot ci ha provocato un brivido, molto simile a ciò che abbiamo provato quando terminò Breaking Bad. Quella con Rami Malek è una delle serie tv più enigmatiche e interessanti degli ultimi anni. Quattro stagioni, pulite e senza filler inutili, ci hanno fatto conoscere un ragazzo pronto a rendere migliore il mondo. Il finale non sarebbe potuto essere diverso. Abbiamo un ritorno all'inizio, dove tutto è cominciato, eppure nulla è come prima. Il cerchio si è chiuso e l'Elliot che quattro anni fa ha aperto la narrazione, quel ragazzo anarchico e pronto a stravolgere il sistema con le sue doti di hacker, è solo una parte del tutto, del Mastermind.
3) Walter White – Breaking Bad
Breaking Bad ha catturato una generazione e così continuerà con le prossime. La fine di Walter White, di Heisenberg, doveva avere un significato profondo e strettamente legato all'ascesa e alla disfatta del protagonista. Il cancro era stato già accettato da tempo dal signor White e di conseguenza non sarebbe potuto essere l'unico motivo della sua morte.
In Breaking Bad era necessario che Walter White consumasse prima la sua vendetta.
Solo in questo modo, fuori da una camera d'ospedale, avrebbe potuto esalare il suo ultimo respiro. Morire nel laboratorio di meth, macchiando di sangue uno dei contenitori, ci fa capire definitivamente che non è solo la morte di Heisenberg quella che stiamo guardando, ma anche dei suoi desideri e del suo regno giunto alla sconfitta definitiva.
4) June Stahl – Sons of Anarchy
In Sons of Anarchy ci sono tanti personaggi controversi, ma June Stahl riesce a provocarci spesso solo un'emozione: odio. Fortunatamente non abbiamo dovuto sopportarla per troppo tempo poiché le abbiamo detto felicemente addio alla fine terza stagione. Raccogli ciò che semini dice il proverbio che riassume la fine di questo personaggio. Una morte coerente per una persona che ha cercato di ingannare Jack sino alla fine, ma ormai era troppo tardi ed erano accadute troppe cose perché ancora una volta la facesse franca.
In Breaking Bad sono molti i personaggi che hanno una fine simile.
Prima che Opie le dia il colpo di grazia la vediamo piangere in preda a una crisi isterica, ma ormai nulla la può salvare e il rancore provato per lei, dovuto anche all'omicidio di Donna, è irrefrenabile. 'Questo è ciò che lei ha provato' sono le ultime parole che June ascolta prima di morire con una pallottola nel cranio.
5) Berlino – La Casa de Papel
Berlino è quel personaggio geniale ma incontrollabile. Il protagonista che ci sorprende quando, dopo tutta la freddezza mostrata verso i suoi colleghi e gli ostaggi, rivela un profondo affetto per il fratello. Si evince in questa lettera pensata da noi come un gioco, ma che esprime perfettamente il loro rapporto. La Casa de Papel ce lo ha fatto amare e odiare per la sua indole indomabile e per le scelte decisamente discutibili che prendeva contro il gruppo.
Berlino però è quel personaggio che, se fosse rimasto in vita alla fine della seconda stagione, non sarebbe stato amato come poi è stato.
È anarchico, impulsivo e tanto sicuro di sé che non può far parte di un gruppo. Lui deve essere a capo del gruppo. È quell'antieroe che non può rispettare le regole imposte dal Professore e per questo non avrebbe mai potuto avere un futuro avvincente al di fuori delle mura della banca. La scelta di farlo morire è perfetta perché in questo modo lui diviene una leggenda. Solo così quell'aura di mistero che lo avvolge resta intatta e affascinante.