Sapete cosa hanno in comune Woody Allen e BoJack Horseman? Sono entrambi maestri di cinismo. Uno è un cavallo fallito in cerca di una seconda possibilità, l'altro è un autore in grado di girare sempre lo stesso tipo di film da oltre quarant'anni. E anche se con qualche scivolone nel mezzo, il regista riesce sempre mantenersi attorno un pubblico di fedelissimi. I fan di Woody Allen sono un po' come lui: nevrotici, malinconici e intrinsecamente newyorkesi. Ed è proprio quella continua autoreferenzialità alla Grande Mela e alla sua stessa vita che rende il regista una figura unica del panorama cinematografico. Narcisista, misantropo e maniacale, Allen alimenta i personaggi dei suoi film di queste tre essenziali qualità che si ripetono puntualmente rendendo ogni sua pellicola riconoscibilissima. Ed è in questo disagio esistenziale, in questa cinica ironia che dobbiamo trovare dei parallelismi con il mondo seriale.
Non solo quindi BoJack Horseman ma altre 4 serie TV che piacerebbero (quasi) sicuramente a ogni fan di Woody Allen.
1) Master of None
Cominciamo subito dalla serie tv che più di tutte sembra essere stata scritta dalla penna graffiante di Woody Allen. Master of None è un gioiellino segreto, nascosto all'interno del catalogo Netflix e spesso e volentieri snobbato in favore di produzioni più pubblicizzate come Stranger Things (di cui è stato diffuso il teaser della quarta stagione). Protagonista della storia è Dev Shah, un giovane newyorkese con il sogno di diventare attore. Eppure, anche se Dev è un ragazzo capace di fare un sacco di cose non è poi realmente bravo in nulla. "Maestro di niente", appunto, Dev si trascina giorno per giorno attraverso una quotidianità grigia e monotona in cui si alterano i rapporti con la famiglia, con il lavoro e con le relazioni sentimentali.
In Master of None ritroviamo alcuni elementi caratteristici del cinema di Woody Allen: New York, le fisse del protagonista e la sua insicurezza, il mondo ostile che lo tratta come fosse un estraneo.
Perché non solo Dave è un ragazzo come tanti ma è anche costantemente stereotipato per il suo essere indiano. La gente non riesce a riconoscerlo se non come un immigrato, nonostante sia un americano che per giunta non riesce a riconoscersi con la cultura indiana di origine. Ed è proprio in virtù di questo suo essere diverso che Dev trova maggiori difficoltà nel suo sogno hollywoodiano. La serie tv tratta di tematiche delicate e pone l'accento su questioni scomode ma lo fa con il massimo garbo e attenzione possibile. Contrariamente a Bojack Horseman che ti sbatte in faccia la verità senza andarci per il sottile.
2) Only Murders in the Building
Su Disney+ è in arrivo una divertente comedy noir con protagonisti Steve Martin, Martin Short e la popstar Selena Gomez (tra le attrici delle serie tv ad avere più follower su Instagram). La serie Tv debutterà su Star, la sezione dedicata agli adulti della piattaforma streaming, a partire dal 31 agosto e seguirà le vicende di tre estranei con l'ossessione per il true crime mistery che si ritroveranno coinvolti in un delitto. Quando viene ritrovato un corpo nel lussuoso palazzo in cui vivono, i tre decidono di registrare un podcast per documentare le indagini e utilizzare le loro conoscenze in materia di true crime per scoprire l'identità dell'assassino. Mentre, però, le indagini proseguono, diverse verità verranno alla luce e il killer potrebbe nascondersi proprio in mezzo a loro.
Steve Martin figura insieme a John Hoffman come co-creatore e sceneggiatore della serie e possiamo tranquillamente dire che la cosa non solo si vede ma ci piace eccome. Il trailer promozionale ci presenta, infatti, tanto mistery ma anche molto divertimento e noi abbiamo già qualche sospetto. Ognuno dei tre protagonisti ha una personalità chiara e quella di Martin Short ricorda terribilmente il miglior personaggio di Woody Allen.
3) Better Things
Se dovessimo descrivere Better Things in poche parole, potremmo dire che si tratta di un Woody Allen al femminile.
La serie Tv creata da Pamela Adlon e Louis C.K. è una delle comedy migliori in circolazione e sta finalmente tornando con una terza stagione. Una comicità tagliente, un linguaggio senza freni e tanto tanto sarcasmo condiscono uno show che non le manda certo a dire. Protagonista della comedy è Sam Fox, donna in carriera, madre single di tre figlie pestifere e con una folle madre al seguito. Better Things si divide tra la vita privata di Sam, come genitore alle prese con la crescita e i problemi delle tre figlie femmine e come figlia a sua volta di una madre che è una sfida continua, e la vita lavorativa come attrice. Il personaggio di Sam è ispirato, in gran parte, alla vera vita di Pamela, costretta spesso a ruoli di comprimario e spalla, lavori che le permettono di vivere in maniera dignitosa ma non di sbarcare completamente il lunario.
Seppur non ambientato a New York, Better Things è intriso di quella comicità tagliente che ogni fan di Woody Allen adora. Un'ironia nera che accompagna la narrazione di una donna alla prese con i problemi della quotidianità, lontana dal glamour di Hollywood. Anzi, la serie TV getta perfino una luce infelice, malinconica e sarcastica su ciò che avviene davvero quando le luci della ribalta si spengono e vanno tutti a dormire. Ciò che rimane sono persone normali alle prese con problemi normali.
4) BoJack Horseman
Anche un cartone animato può essere capace di grande profondità emotiva. Lo sa bene BoJack Horseman, uno show non esattamente adatto a un pubblico di bambini che è stato in grado di toccare vette di straordinaria commozione. BoJack è un ex attore di successo degli anni Novanta, quando era protagonista di uno show simil-Tutto in famiglia, ma ormai i tempi di gloria sono finiti e BoJack vive nella sua lussuosa casa da solo e circondato unicamente da droga e alcol. La vicenda ha inizio quando una ambiziosa reporter, Diane, decide di scrivere una biografia su di lui.
Per BoJack Horseman questa potrebbe essere l'occasione per salire finalmente in sella (scusate il gioco di parole) e avere una seconda chance.
In realtà, come ben sappiamo, per BoJack questo sarà solo l'inizio di una viaggio lungo e doloroso attraverso le colpe della sua vita: dall'infanzia perduta al rapporto complicato con la madre, dalle relazioni fallite alla sua incapacità professionale. Tra bugie, inganni e persino uno scandalo sessuale, BoJack diventa emblema di quel fallimento esistenziale che le luci di Hollywood mettono così bene in mostra. Misantropo nei confronti di tutto e tutti, soprattutto di sé stesso, BoJack è incapace di far entrare qualcuno nella sua vita scegliendo la strada dell'autodistruzione a quella della redenzione.
5) Crisis in Six Scenes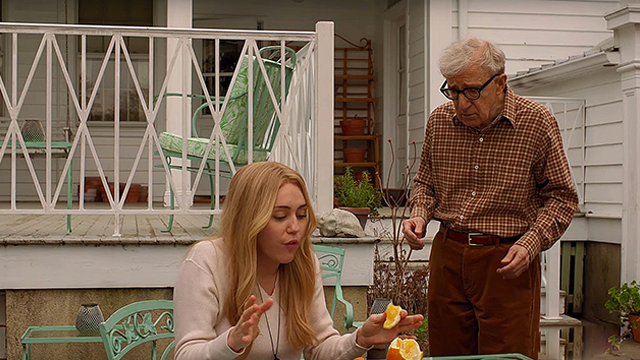 Essendo un articolo su Woody Allen non potevamo certo non menzionare la serie TV scritta, diretta e interpretata da lui stesso. Disponibile su Amazon Prime Video, Crisis in Six Scenes è la scommessa mancata del regista realizzata in un periodo in cui i cineasti erano stati chiamati a confrontarsi con il piccolo schermo. Accolta tra apprezzamenti mediocri e nette stroncature, la serie tv è stata in breve tempo dimenticato e a nulla è valsa la presenza di una cantante chiacchierata come Miley Cyrus. Ambientata nell'amata e odiata New York, Crisis in Six Scenes ha luogo negli anni Sessanta e vede protagonista una tipica famiglia della media borghesia alle prese con i tempi che cambiano.
Quando arriva in casa un ospite inatteso, gli equilibri familiari cambiano radicalmente dando vita a quelle crisi del titolo. Divisa in sei puntate, che scandiscono la crisi generale di Sidney Munsinger, la comedy mantiene i toni di un lungometraggio adattato per la televisione perdendosi, così, strada facendo. Rimane indubbia la firma dell'autore ed è per questo motivo che se siete fan del regista dovreste davvero recuperarla.