Nolite te bastardes carborundorum

Questo 2017 ci ha regalato (e continua a regalarci) delle nuove produzioni di altissimo livello. A partire dall'hype per il fantastico American Gods, che a mio parere potrebbe essere proclamata Serie Tv dell'anno corrente (giusto perchè Westworld è uscita "tecnicamente" nel 2016), per arrivare al nuovo dark drama firmato da Tom Hardy e Steven Knight, Taboo, alla miniserie dai toni più femminili quale Big Little Lies, fino ad arrivare alla nuova serie tratta dai fumetti Marvel, Legion.
Eppure, a mio parere, l'unico show in grado di competere con la qualità di American Gods è The Handmaid's Tale.
Se ne è sentito parlare poco, almeno in terra nostrana, ma la Serie Tv dal sapore distopico sta avendo un enorme successo. Tratta dal libro di Margareth Atwood, Il Racconto dell'Ancella, è prodotta da Hulu (piattaforma streaming), che ha rilasciato i primi tre episodi lo scorso 26 aprile. Se questa serie fosse stata rilasciata anni fa, non ci avrebbe preso come i tempi correnti. Ed è questa la caratteristica che forse più mi piace: una Serie Tv che ti fa vedere cosa potrebbe realmente accadere e farti sentire tremendamente in un possibile pericolo. Ma vediamo nel dettaglio la trama.
Offred (Elizabeth Moss) è un'ancella che cerca di sopravvivere al regime maschilista di Gilead, sorto al posto degli Stati Uniti ormai estinti. Si tratta di una società totalitaria governata da un contorto fondamentalismo religioso che tratta le donne come delle proprietà, degli oggetti/incubatrici.
Ci troviamo, infatti, in un mondo in cui le donne, a causa dell'inquinamento e delle radiazioni, sono in gran parte sterili. Uno sconvolgimento radicale, che mina a modificare le basi della società umana, che risponde a questa crisi con scenari altrettanto radicali.
E quali fattori, se non le convinzioni religiose, possono ribaltare la situazione di modernità? Far tornare un paese alle origini, ponendo le basi di una struttura governativa sugli antichi testi e sottomettendo le donne fertili a capi maschi alfa affinché avvenga il miracolo della vita.
Come una delle poche donne fertili rimaste, Offred, che lavora presso la residenza del Comandante Waterford, è costretta alla schiavitù sessuale nel disperato tentativo di ripopolare un mondo ormai devastato. In una società in cui anche una parola sbagliata potrebbe costarle la vita e chiunque potrebbe essere una spia per Gilead, Offred affronta i Comandanti e le loro mogli crudeli con un solo obiettivo: sopravvivere e trovare la figlia che le è stata strappata via.
Questa serie fa discutere oggi più che mai, sia per la durezza di alcune scene (si è addirittura parlato di classificarla come horror, un tantino esagerato) ma soprattutto per i temi di cui parla, primo fra tutti quello della sottomissione della donna.
Tutte le protagoniste hanno dovuto non solo abbandonare la propria famiglia, le loro convinzioni, le loro libertà, tutti i diritti civili e non. Ogni handmaid non ha più nome, ma appartiene a coloro che la detengono in casa (Of-fred, nome della protagonista, che significa "di Fred") ed è considerata allo stremo di un mero oggetto d'arredamento.
Ma non solo: sono introdotte delle caste, in cui suddividere le donne.
Si parte dalle Mogli e le Figlie, donne agiate nel lusso, ma si tratta pur sempre di una gabbia dorata, perché neanche loro possono ricoprire delle cariche lavorative e si contraddistinguono per il loro abbigliamento verde. Poi ci sono le Non-Donne, vestite di grigio che svolgono lavori domestici come delle cameriere e non possono sposarsi, ed hanno la controparte maschile dei Non-Uomini, come l'autista del Comandante.
Infine vi sono le Ancelle, vestite di rosso come il colore della fertilità, coloro che servono per uno scopo più grande, che ricevono il dono di Dio tra le gambe e danno alla luce la vita. Vita che non sarà loro, perché considerate solo il veicolo con cui viene messo al mondo il figlio tra il Comandante e la Moglie. Le ancelle sono un'incubatrice ambulante, ancora in vita solo perché fertili.
Il riferimento ideologico-religioso a cui si ispira questo procedimento è l'episodio dell'Antico Testamento in cui Rachele, sterile, chiede a Giacobbe di avere rapporti sessuali con la sua serva Bilhah, davanti a lei, e di metterla incinta, in modo da poter avere un figlio attraverso di lei. Oltretutto, a Gilead la scienza è stata bandita e vige la convinzione che gli uomini sterili non esistano.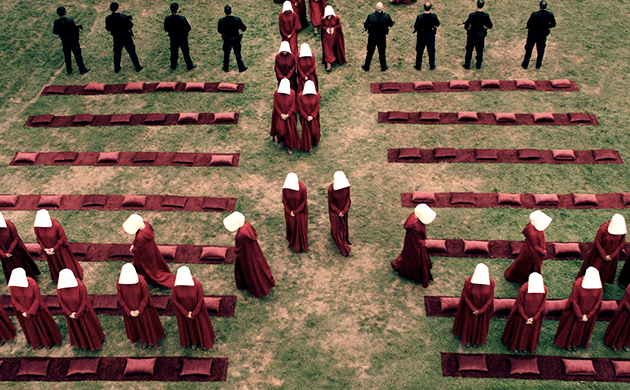 The Handmaid's Tale ha già ricevuto la conferma di una seconda stagione, non solo per la qualità recitativa, in cui ritroviamo anche due attrici famose in ruoli completamente nuovi per loro: Alexis Bledel (Gilmore Girls), che interpreta magnificamente Ofglen, Samira Wiley (Orange is the New Black) che interpreta Moira, un'amica di vecchia data di Offred, Yvonne Strahovski (Chuck) nei panni della moglie del comandante Waterford e Ann Dowd (The Leftovers) nel ruolo di Zia, colei che addestra le Ancelle.
Una serie che sconvolge tramite dialoghi brevi ma significativi, silenzi riempiti da sguardi che lasciano senza fiato, colori desaturati, in cui emergono nettamente le cappe rosse delle ancelle e il colore verde degli abiti delle mogli, coloro che sperano in un miracolo.
Una Serie Tv in cui risuona forte il tema del femminismo, quello sano, combattuto da tutti e per tutti.  Il libro della Atwood è infatti citato in molte delle proteste che hanno difeso i diritti delle donne negli ultimi tempi: a partire dalle rivolte contro Trump, in cui afferma in video che le donne vanno «prese per la figa», alle dichiarazioni del vicepresidente Pence che non cenerebbe mai da solo con una donna; dalle proposte estremiste contro l'aborto in Texas, alle dichiarazioni di un politico dell'Oklahoma che promuove un disegno di legge in cui una donna per abortire deve avere un lasciapassare dal padre biologico del feto. Lo stesso uomo ha poi spiegato che le donne non sono padrone del loro corpo, ma "ospiti" del bambino. 
Questo show porta sullo schermo delle vicende estreme, assurde, ma non improbabili.
Così come ci narrano le protagoniste – "tutto è cambiato poco alla volta" – con un semplice blocco del conto bancario, fino al licenziamento delle donne dai posti di lavoro, fino alle proteste represse nel sangue. Tutte scene che ci sono nel telefilm, che vi faranno rabbrividire per quanto profetiche possano sembrare.
Dicono anche "quando hanno annullato la Costituzione non ci siamo svegliati"; si passa da una situazione Marziale ad una Repubblica dittatoriale a seguito degli attentati terroristici apparentemente casuali e del crescente clima di paura.
Non vi suona un po' familiare?
Detto ciò, The Handmaid's Tale ha molto raccontare, è una serie must che va vista per le tematiche e per lo sviluppo di queste attraverso la recitazione eccezionale e la regia che riesce a farti immedesimare in quell'ambiente chiuso.
È una Serie Tv che fa male, male quanto un racconto sulla Shoah, un racconto di violenza, sottomissione e asservimento a forze che annullano l'esistenza di un uomo, o in questo caso di una donna. Una violenza non accettabile, che va analizzata e combattuta.