# #
Capita forse troppo spesso di rimanere profondamente delusi dall'uscita di una serie tv che aspettavamo con ansia o che aveva attirato la nostra attenzione promettendoci grandi cose, per poi infrangere senza la minima pietà ogni nostra aspettativa. Baby è stata una di queste, ma non l'unica. Avremmo voluto prendercela con chi ha rubato il nostro tempo e ce lo ha fatto gettare via grazie a vane illusioni, ma non abbiamo potuto farlo e quindi ci sfoghiamo oggi, cercando solo 10 serie tv, di una lista che dovrebbe essere ben più ampia, che vorremmo sparissero dai nostri ricordi per non tornare mai più.
# #
Recitazione imbarazzante, sceneggiatura debole e banale, argomenti delicati trattati nel modo peggiore possibile. Con le serie di cui vi parliamo oggi sono stati fatti questi e molti altri errori imperdonabili, sopra ai quali non riusciamo proprio a passare.
Oltre a Baby, vediamo quali sono gli altri titoli in cui non vorremmo essere mai incappati.
1) Troy – Fall of a City
Una vicenda che dovrebbe essere intrisa di pathos e drammaticità, di combattimenti epici e rimandi a una tradizione millenaria di cui si sono fatti portatori due delle figure più conosciute del mondo per chi ha una formazione classica e non solo (Omero e Virgilio), si trasforma grazie a Troy in una barzelletta. Qui vediamo dialoghi scadenti, nemmeno l'ombra dell'intensità emotiva di personaggi che costruiscono il proprio essere intorno a ideali di onore e coraggio, lealtà e abilità militare. Le nostre tradizioni vengono trasformate in una semplice favola priva di spessore culturale e formativo (come invece è stato per secoli), una storia priva di rispetto nei confronti dei modelli originali e che non valeva davvero la pena raccontare in questo modo.
# #
2) Insatiable
Ci sono cose che non perdoneremo mai a Insatiable e se è stata definita "la peggiore serie di Netflix" ed è stata devastata dalle critiche di pubblico e degli esperti, allora ci deve essere un motivo, o forse più di uno. Le tematiche che questo prodotto intende trattare sono molto delicate, ma purtroppo non è in grado di mostrarle sullo schermo con la dovuta attenzione e con il rispetto necessario. Ironizzare sulle cose è necessario, ma farlo senza trasformare i temi trattati in una barzelletta non è da tutti. Far passare messaggi sbagliati può essere molto dannoso, soprattutto se si pensa alla fascia d'età a cui Insatiable è indirizzata.
3) The Shannara Chronicles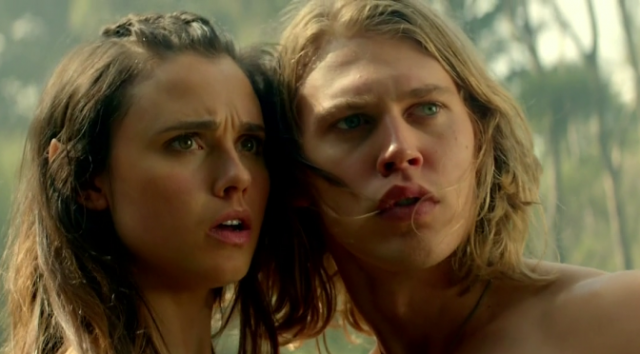 Di critiche nei confronti di The Shannara Chronicles ne abbiamo sempre fatte molte, e continuiamo imperterriti a portare avanti la nostra opinione. La serie tv fantasy prodotta da MTV per due stagioni ha completamente distrutto le aspettative dei fan di tutto il mondo, e non solo di tutti quei lettori appassionati dell'omonima saga di Terry Brooks, ma anche di quanti, pur non avendo ancora dato una possibilità ai romanzi, attendevano con ansia l'uscita di un prodotto di questo genere che fosse all'altezza di essere chiamato tale. Un basso livello di recitazione, una sceneggiatura che fa acqua da tutte le parti, elementi importanti trascurati senza pietà. Insomma, un flop imperdonabile se si pensa all'enorme potenziale che avrebbe potuto avere una serie tratta da una delle saghe fantasy più longeve di sempre.
4) Charmed (2018)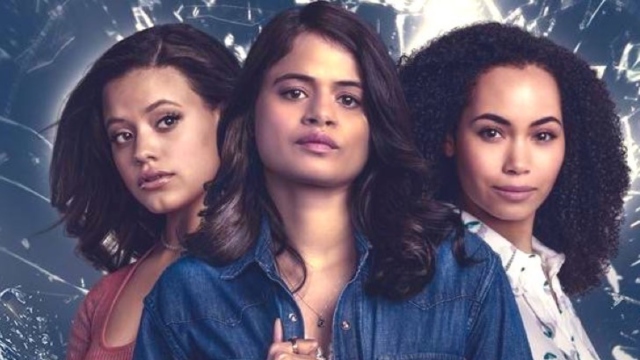 Come ha potuto The CW anche solo pensare di riuscire a creare un reboot di Streghe che fosse all'altezza dell'originale? Come ha fatto a pensare di riuscire a puntare sulla nostalgia degli affezionati a Prue, Piper, Phoebe e Paige? La serie uscita nel 2018 non è minimamente in grado di reggere il confronto. Persino le attrici della saga originale (qui potete vedere che fine hanno fatto) hanno avuto delle opinioni contrastanti riguardo la scelta di dare vita a un reboot senza coinvolgere il vecchio cast. Avere contro le protagoniste di Streghe non è stato certo un buon punto di partenza per la nuova serie tv, che ha dovuto necessariamente intraprendere una strada già battuta, senza possibilità di distinguersi e dire di essersi guadagnata il proprio posto nel mondo seriale.
5) Luna Nera
Un altro imbarazzante tentativo di creare una serie tv fantasy è stato fatto questa volta da Netflix Italia. Luna Nera, distribuita sulla piattaforma il 31 gennaio 2020, ha lasciato completamente a bocca aperta gli spettatori, ma non in senso buono. Il tentativo di portare sullo schermo una storia tratta dalla trilogia di romanzi fantasy Le città perdute di Tiziana Triana e di esportare in tutto il mondo un prodotto italiano di questo genere è fallito miseramente, lasciandoci con l'amaro in bocca a causa di dialoghi privi di spessore, buchi di trama, interpretazioni incapaci di trasmettere l'intensità che dovrebbe avere una storia di questo tipo. Il tentativo di portare sullo schermo un messaggio importante di sorellanza e solidarietà femminile non è bastato per evitare la cancellazione di Luna Nera solo dopo la prima stagione.
6) Baby
Se Baby nasce dall'idea di portare sullo schermo qualcosa di reale e contemporaneo, ovvero lo scandalo delle baby squillo dei Parioli risalente al 2013, non è in grado di farlo dando spazio al vero realismo tipico delle produzioni italiane tratte da fatti di cronaca. Questa serie targata Netflix finisce per trasformarsi in un qualsiasi dramma adolescenziale, senza aggiungere niente di nuovo a temi già trattati molte volte da questo tipo di prodotto televisivo. Lo spettatore di Baby non riesce a empatizzare davvero con i personaggi e con le loro vicende personali, così come non riesce mai a sentirsi coinvolto fino in fondo dalla storia raccontata.
Ammettiamolo, la maggior parte di noi vorrebbe cancellare dalla memoria tutte e tre le stagioni di Baby.
7) Che fine ha fatto Sara?
Con Che fine ha fatto Sara? Netflix punta ancora una volta sul genere thriller, promettendo al pubblico una sana dose di mistero, intrighi e suspense, ma lasciandolo poi alla fine solo con l'amaro in bocca. Se le scene procedono attraverso intrecci continui tra passato e presente e cercano di guidare lo spettatore nella ricostruzione degli eventi che hanno portato alla morte di Sara Guzmán, attraverso le indagini di suo fratello Alex (Manolo Cardona), la serie tv messicana originale Netflix rivela fin troppo spesso le proprie tendenze vicine alla soap opera, e questo in più di un'occasione le fa perdere credibilità. Insomma, due stagioni distribuite a così poca distanza non sono bastate per rendere indimenticabile Che fine ha fatto Sara?.
8) Call Me Kat
Dopo l'avventura con The Big Bang Theory, Mayim Bialik torna sul piccolo schermo con Call Me Kat e lo fa da protagonista. Questa volta vediamo l'attrice statunitense vestire i panni di Kat, una donna di 39 anni decisa a dimostrare al mondo di potersela cavare da sola, anche senza dover per forza trovare un compromesso con la società in cui vive. Eppure, i 13 episodi della prima stagione, andata in onda il 3 gennaio 2021, non sono stati in grado di coinvolgere gli spettatori, poiché hanno portato in scena tematiche piene di stereotipi, già viste e riviste in mille comedy, incapaci di portare davvero buonumore. Tutto tempo sprecato che nessuno potrà restituirci.
9) The Third Day
The Third Day ci ha giocato proprio un bello scherzo. La miniserie televisiva di 6 episodi, creata per HBO e Sky Atlantic e distribuita a fine 2020, ci aveva illuso di essere all'altezza delle aspettative. Con protagonista un grandissimo Jude Law (Sam) , il cui destino è intrecciato indissolubilmente con quello di Naomie Harris (Helen), The Third Day ci ha dato l'impressione di essere criptica, caotica, unica nel suo genere, capace di trasmettere angoscia e di scoprirsi intrisa di mistero e simbolismo. Eppure, alla fine, si è rivelata una serie complessa (forse fin troppo) che non ha saputo dare la giusta conclusione a un percorso che aveva messo in tavola numerose carte. I dialoghi non riescono a dare reale profondità alla mente umana e si rivelano ripetitivi. Questi 6 episodi sono ambiziosi ma ci lasciano con la sensazione di essere di fronte a un prodotto inconcludente.
10) Intelligence
Parlando di serie tv le cui tematiche sono state già trattate mille volte e che per questo motivo non riescono a coinvolgere lo spettatore più di tanto, non si può non nominare Intelligence, serie drammatica e di spionaggio, uscita ormai nel 2014. A dimostrazione del tentativo fallito di creare un prodotto che potesse riprodurre le cupe atmosfere narrative del romanzo di John Dixon, Phoenix Island, c'è la cancellazione di Intelligence, avvenuta proprio con la fine della prima stagione. La presenza di Josh Holloway non è bastata a far rimanere a galla questo prodotto della CBS, ma è servita per attirarlo e poi deluderlo miseramente nel corso dei suoi 13 episodi.