Se credete che la fissa per i Pokémon si limiti al gioco PokémonGO, vi sbagliate. Ormai hanno preso il controllo su tutto, e piano piano inghiottiranno tutta la nostra esistenza, e diventeremo schiavi dei Pokémon, senza più nessun controllo su noi stessi.
Ma a parte questa piccolezza, abbiamo provato ad immaginare i personaggi delle serie tv in versione Pokémon, chi e come sarebbero stati, giusto per non farci mancare nulla. E tra tutti, questi 15 personaggi rispecchiano perfettamente (o quasi) alcuni dei Pokémon che già conosciamo.
Magari il giorno in cui i Pokémon controlleranno il mondo, vorrano continuare a produrre serie tv, e con questa lista li aiutiamo ad avere già un'idea su chi potrebbero sostituire e con chi.
1) DAENERYS TARGARYEN – DRAGONITE (GAME OF THRONES)
Ovviamente Daenerys non può che essere un Pokémon di tipo Drago. E Dragonite è perfetto. Potente, intelligente, ha un'anima gentile e quando può aiuta chi è in difficoltà. Ma è meglio non farlo arrabbiare. E' molto pericoloso e spesso incotrollabile. Proprio come Daenerys. E, a proposito di Daenerys…
2) JORAH MORMONT – GEODUDE (GAME OF THRONES)
Sì lo so che è una cattiveria, ma Jorah è praticamente quasi un Pokémon, visto che si sta evolvendo letteralmente in Geodude.
3) WALTER WHITE – DA CHARMANDER A CHARIZARD (BREAKING BAD)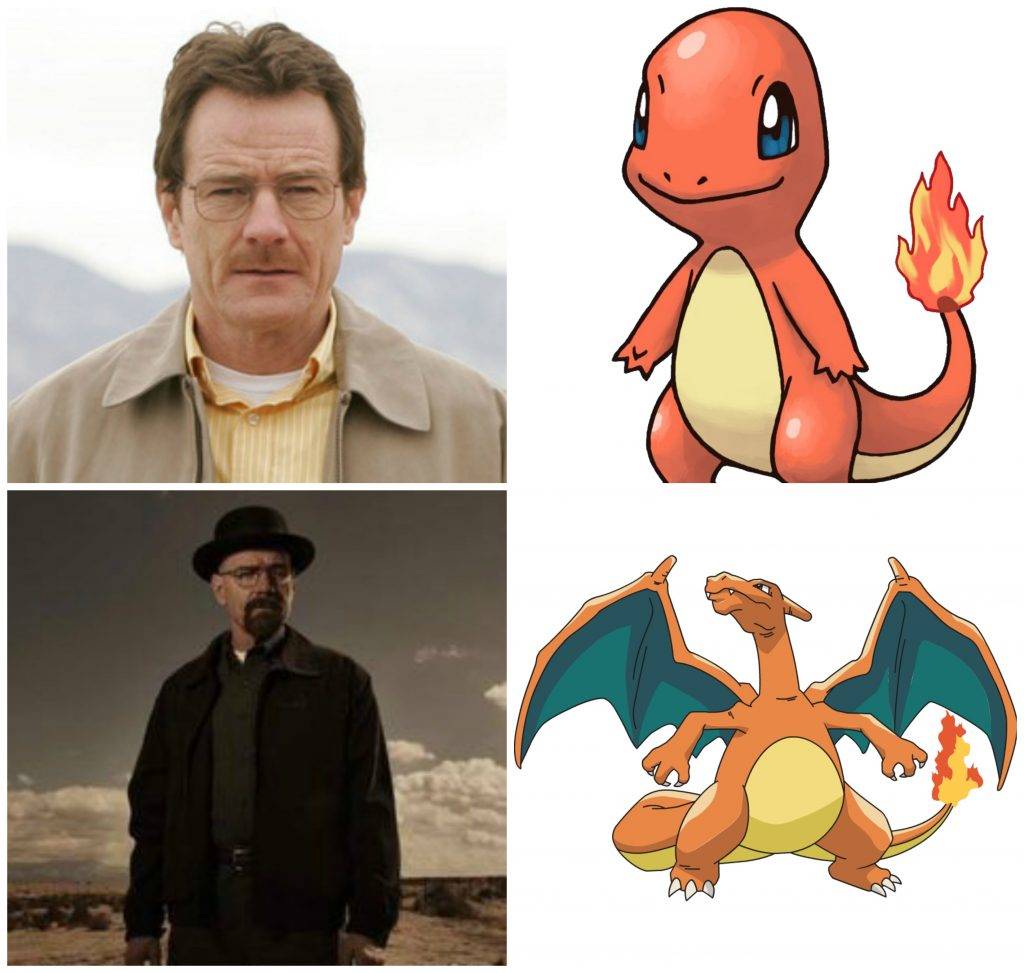 Come Walter White diventa Heisenberg, così Charmander diventa Charizard. Il Walter White iniziale è paragonabile a Charmander: calmo, la sua forza è ancora celata, la rabbia ancora repressa. Nel momento in cui si ha la trasformazione, o meglio l'evoluzione di Walter White in Heisenberg, notiamo il cambiamento dal piccolo Charmander al possente Charizard. Competitivo, ama lottare ed è sempre alla ricerca di avversari con cui battersi. Proprio come Heisenberg. L'unica differenza sta nella salute: più la salute di Charizard è buona, più diventa forte. Mentre Walter White si spinge sempre più in là proprio a causa della sua precaria situazione di salute. Ma sono entrambi forti, sputano fuoco e impauriscono l'avversario. Heisenberg è esplosivo. Esattamente come Charizard.
4) DARYL DIXON – SPEAROW (THE WALKING DEAD)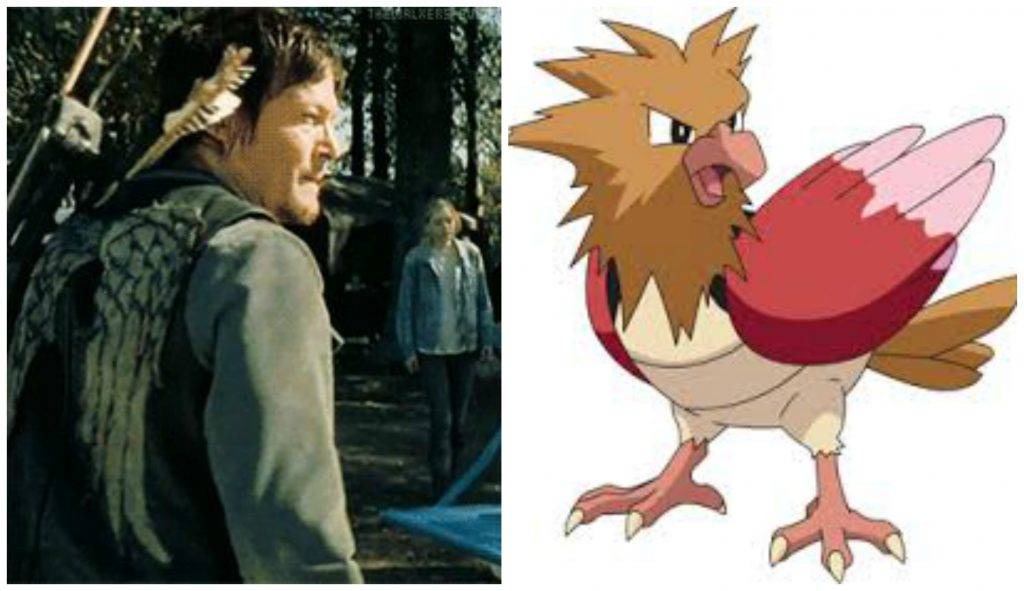 Sguardo da bad boy, gilet di pelle con ali dietro la schiena, e si diventa Spearow. Irascibili e scontrosi, Daryl e Spearow sono molto simili. L'unica differenza è che Daryl in fondo, ha un buon cuore, mentre Spearow è cattivo inside.
5) MEREDITH GREY – DRATINI (GREY'S ANATOMY)
Anche se all'apparenza sembra dolce e ingenua, in realtà ha una forza incredibile. Descrizione perfetta sia per Meredith che per Dratini. Entrambi capaci di "cambiare pelle", di rialzarsi sempre nonostante le difficoltà. Per un personaggio così forte, ci vuole un Pokémon altrettanto forte, e Dratini sembra essere perfetto.