Bob Kelso, primario di medicina al Sacro Cuore, è forse il personaggio più cattivo di Scrubs. Cox è il più folle, l'Inserviente è il più strano, ed entrambi sono muniti di una buona dose di cattiveria. Il primato di crudeltà però a Bob Kelso non lo toglie nessuno.
Ma è davvero tutto qui quel che si nasconde dietro al suo personaggio? Se ripensiamo a ciò che abbiamo visto in otto stagioni di Scrubs, sappiamo bene che c'è molto di più di quel che il Dr. Kelso lascia trasparire.
No one knows what it's like
To be the bad man
To be the sad man
Behind blue eyes
Nessuno sa come ci si senta
A essere l'uomo cattivo
A essere l'uomo infelice
Che si nasconde dietro agli occhi blu
Con queste parole si apre Behind Blue Eyes, bellissima, malinconica, rabbiosa canzone dei The Who del 1971. Parole che, a distanza di anni, danno una chiave di lettura per iniziare a comprendere quello che è forse il personaggio più complesso di Scrubs.
Cosa si nasconde davvero dietro ai suoi occhi azzurri e gelidi? I suoi sono occhi freddi, calcolatori. Ma anche occhi che, come indica la parola "blue" in inglese, celano tristezza e malinconia. Bob Kelso è – tra le altre cose – un uomo molto infelice.
No one knows what it's like
To be hated
To be fated
Nessuno sa come ci si senta
Ad essere odiati
Ad essere condannati
Bob Kelso è il personaggio più odiato e più temuto in Scrubs. E non solo per quella che è evidentemente la sua indole: è condannato a esserlo. Sì, sappiamo che una crudeltà tutta sua ce l'ha, ma anche qui c'è dell'altro. Lui al Sacro Cuore è il capo. Tocca a lui salvaguardare l'interesse dell'ospedale. È lui a dover dire di no a un paziente che non può permettersi le cure. È lui a terrorizzare gli specializzandi e gli altri medici per prevenire l'anarchia.
Essere temuti e rispettati può essere piacevole. Ma come dev'essere sentirsi odiato da tutti per il ruolo che si ricopre? Può saperlo solo lui, che vive la situazione in prima persona. E allora, al diavolo! Se deve essere odiato comunque, perché non sfruttare la cosa a suo vantaggio e trarne piacere, già che c'è?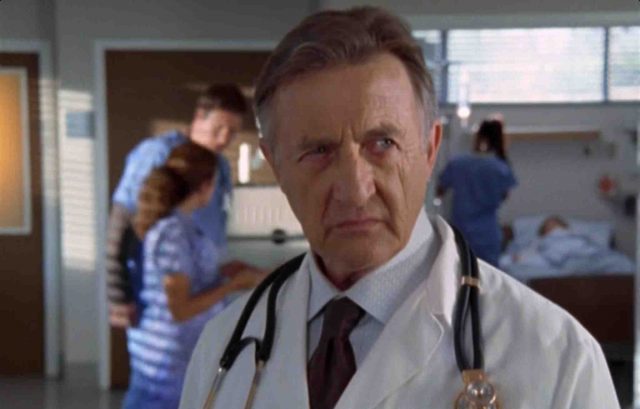 No one bites back as hard
On their anger
None of my pain and woe
Can show through

But my dreams
They aren't as empty
As my conscience seems to be
Nessuno reagisce altrettanto aggressivamente
Preso dalla rabbia
Del mio dolore e della mia amarezza
Non può trasparire nulla
Ma i miei sogni
Non sono così vuoti
Come sembra essere la mia coscienza
Le prove che dietro ai suoi occhi azzurri si nasconda qualcosa sono poche: Bob Kelso è bravo a mantenere l'apparenza di uomo crudele, sfacciato, senza un pensiero per la testa. Un po' per orgoglio, un po' per reputazione e per il ruolo che ricopre e che pesa su di lui in maniera non indifferente, non può permettersi che qualcuno veda oltre la maschera che indossa. Chi prova a minacciare questa armatura finisce con l'essere travolto dalla sua collera.
Eppure ogni tanto una crepa appare, e si riesce a intravedere qualcosa. In Scrubs lo abbiamo visto accadere, come la volta in cui J.D. ha seguito ovunque il Dr. Kelso per trovare qualcosa di bello alla sua presentazione, senza ottenere nulla. Anche se ha dovuto prendere una decisione impossibile – come scegliere tra due pazienti ugualmente malati quale potesse accedere alla cura sperimentale – a sera, appena mette piede fuori dell'ospedale, sorride e fischietta come nulla fosse.
Però, quando il paziente escluso muore qualche tempo dopo, non rimane indifferente: il senso di colpa lo scuote e grava su di lui. Nonostante dia a intendere il contrario è umano, e anche lui soffre per le conseguenze delle proprie azioni. Che riesca a sopportare di trovarsi spesso a essere "il cattivo" della situazione non significa che non ne senta mai il peso. È una responsabilità che ricade su di lui ed è l'unico al Sacro Cuore a poterla comprendere a pieno. Eppure ogni tanto qualcuno capisce.
And if I swallow anything evil
Put your finger down my throat
And if I shiver, please give me a blanket
Keep me warm, let me wear your coat
E se dovessi ingoiare qualcosa di cattivo
Mettimi un dito giù per la gola
E se dovessi tremare, per favore dammi una coperta
Tienimi al caldo, lascia che indossi il tuo cappotto
Ogni tanto qualcuno si accorge che persino Bob Kelso ha bisogno di aiuto. Come il Dr. Cox, che una volta ha spogliato l'anziano primario di tutta la sua autorità rendendolo umano agli occhi dei più giovani. Poi però lo vede così spaesato e miserabile che decide di correre in suo soccorso. Pungola tanto il vecchio leone da risvegliare la sua furia. Da nemesi a nemesi, da un uomo disfunzionale all'altro, riconoscono l'uno la richiesta d'aiuto e l'altro il salvagente ricevuto in risposta.
Essere il cattivo è faticoso, specialmente quando diventa un lavoro a tempo pieno. In un certo senso possiamo dire che, a modo suo, Bob Kelso sia una sorta di eroe. È un vile che sa accollarsi la responsabilità di fare la cosa giusta, un uomo come tanti che si dimostra tosto come pochi. Affronta le bassezze della vita con dignità e, perché no?, anche con una buona dose di spensieratezza. Ma soprattutto è un uomo che, dietro due glaciali occhi azzurri, nasconde un cuore che batte. E ama. E soffre.