Santa Clarita Diet è stata una piacevole scoperta. Come tutte le serie tv targate Netflix uscite nell'ultimo periodo, lascia lo spettatore spiazzato. Pronto a divorare con un sano binge watching ogni singolo episodio dei dieci della prima stagione uscita pochi giorni fa, si troverà ad essere sbranato da una particolare protagonista e da momenti rivoltanti.
Siete pronti a dello schifo lasciato allo stato brado? Adagiato su di un letto di sane risate? E allora il piatto è servito e avete lo stomaco giusto per iniziare a seguire la Santa Clarita Diet.
The Walking Dead ha piazzato zombie tutt'altro che di bell'aspetto sul piccolo schermo. Ha lasciato che anche questi esseri inventati entrassero nel cuore (per così dire) dei telespettatori al fianco di vampiri, licantropi, streghe e quant'altro. Ma la troppa serietà e drammaticità ha uniformato le storie che si sono snodate successivamente, tra libri, film e serie tv. Stavolta unire il genere horror a quello delle comedy ha funzionato.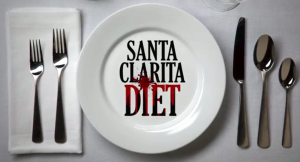 La protagonista quasi-assoluta di Santa Clarita Diet è interpretata dalla mitica Drew Barrymore. Durante la sua carriera ha lavorato in film dai generi più vari: da E.T.-l'extraterrestre a Mai stata baciata, da Scream a Cinderella, da Charlie's Angeles a Scrivimi una canzone. Con una madrina e un padrino d'eccezione, Sophia Loren e Steven Spielberg, la scelta ricaduta sull'attrice non poteva che essere più giusta. Ha dimostrato sul grande schermo di essere brava in ogni ruolo ed interpretare la donna-zombie Sheila non poteva che rientrare nelle sue corde.
Joel, il marito sconvolto e velatamente disperato, è un ottimo personaggio. La bravura di Timothy Olyphant ha sottolineato l'importanza di un uomo nella storia. Sono due agenti immobiliari, che vivono nella tranquilla cittadina di Santa Clarita. Durante il lavoro, Sheila si sente male e, inaspettatamente, inizia a vomitare anche l'anima. La scena non è tra le più leggere viste nella storia delle serie tv e non lascia indifferenti i telespettatori che hanno appena mangiato.
Ma in quel momento esatto si capisce dove l'intera serie vuole andare a parare: AVETE VOLUTO LA BICICLETTA, ORA PEDALATE.
La coppia formata da Joel e Sheila è tra gli elementi più riusciti. La donna, ormai sotto l'effetto dei suoi ormoni impazziti, vuole godersi la vita. L'uomo è la parte razionale, quella che cerca di vedere lucidamente la situazione. In effetti una moglie zombie al massimo la si può trovare in un libro di Stephen King, quindi bisogna correre ai ripari.
Se da una parte gli elementi chiave di ogni episodio sono pezzi di esseri umani qui e lì e succhi al lampone (certo, al lampone), dall'altra frasi, parole, reazioni sono l'umorismo base di Santa Clarita Diet.
"Meno male non è una di quelle malattie che ti rovina la pelle!"
"EH GIA', DIO MISERICORDIOSO"
Le espressioni degli attori e i dialoghi ben costruiti costituiscono una fonte particolare di risate. Non è semplice, in un mondo colmo di sitcom, distinguersi per sana comicità. Invece, ogni episodio, composto da circa 30 minuti, fa assaporare momenti esilaranti, oltre che frullati rossi con ingredienti inusuali. Chi vuole iniziare questa serie deve rassegnarsi al fatto che una comunissima donna sui quarant'anni a cena con il marito e la figlia mangerà carne cruda, tanta carne cruda.
"Se ti manca la pizza, mangia un uomo che ha appena mangiato la pizza"
Semplice. Ma, tranquilli, la trama non è così lineare come potrebbe sembrare. Un morto vivente non può non avere complicanze. Chi dovranno uccidere per far sì che Sheila non muoia di fame? La sua pelle davvero resterà sempre liscia e perfetta? La figlia e il marito la supporteranno (e sopporteranno)?
Altri due personaggi studiati a puntino, ma forse immersi quasi totalmente in un mare di cliché, sono Abby e Eric. La prima è la figlia dei due protagonisti che ha voglia di esplorare il mondo in maniera folle, accompagnando i genitori. Il secondo è il vicino di casa, intelligente, bravo a scuola, impacciato e innamorato di Abby.
Il punto chiave per cui Eric sembra essere un interessante personaggio è quello per cui vede un ragazzo così genuino fan di storie sovrannaturali ed esperto a riguardo.
La colonna sonora è il giusto contrasto per una storia del genere. "Good Morning" è solo una delle canzoni che hanno creato il giusto contrasto nella serie. Sono l'ingrediente che dà alle vicissitudini di Sheila e Joel un sapore tarantiniano.
Non mancano i riferimenti cinematografici, come Star Wars, e televisivi, come Game of Thrones.
Difetti? Potrebbe sembrare che tutti hanno accettato troppo facilmente la situazione tutt'altro che normale. D'altronde Sheila, eccitata ed euforica durante la sua seconda vita, mostra subito al marito e alla figlia gli effetti collaterali. Viene messo immediatamente in chiaro ciò che sta accadendo alla donna e alla famiglia.
Unico consiglio: non iniziate a guardarla mentre mangiate (o dopo), aspettate la digestione. Il trash trionfa, ma nonostante ciò l'abitudine ad una vita così fa risultare pezzi di esseri umani più realistici di un qualsiasi film splatter.