# #
Nell'episodio di questa settimana di "Young Sheldon" (leggi qui le ragioni per cui ci sembra distante da The Big Bang Theory) "A Therapist, a Comic Book, and a Breakfast Sausage" continuiamo a scoprire a poco a poco l'origine delle stranezze del giovane Sheldon Cooper.
# #
Ma soprattutto in questo nuovo episodio abbiamo scoperto com'è nata la passione per i fumetti che ha sempre contraddistinto il Dottor Cooper!
L'episodio è cominciato con una normale colazione in famiglia che è stata però scossa da un terribile evento: il piccolo Sheldon ha rischiato di soffocare a causa di una salsiccia. Il tono pacato con cui Jim Parsons raccontava l'avvenimento strideva con l'agitazione dei due genitori del piccolo che tentavano in tutti i modi di salvarlo. Per fortuna George è riuscito a far sputare a Sheldon il boccone e tutto si è risolto per il meglio. Tuttavia a causa di questo spavento Sheldon ha deciso di smettere di mangiare tutti i cibi solidi che dovessero essere masticati perché temeva che potesse soffocare nuovamente.
# #
All'inizio i genitori hanno deciso di dargli un po' di tempo, credendo che avrebbe superato lo spavento da solo e nel frattempo, per far in modo che si nutrisse,  hanno cominciato a frullargli tutti gli alimenti. Dopo che il loro figlio ha bevuto frullati per diverse settimane, Mary e George hanno però deciso di portare il loro piccolo ragazzo da uno specialista che potesse aiutarlo. Mary ha trovato uno psicologo che potevano permettersi e si è recata da lui insieme al marito e al figlio. Inizialmente sono entrati i due coniugi e hanno spiegato quanto fosse speciale il loro piccolo figlio e quanto fosse intelligente e hanno lasciato Sheldon nella sala d'aspetto.
Qui c'erano solo dei fumetti da leggere e Sheldon, sebbene considerasse infantile questo tipo di letture, ha deciso di dar loro un'opportunità anche solo per passare il tempo.
Il Fato ha voluto che aprisse e leggesse proprio il fumetto degli X-Men: si è immediatamente riconosciuto in quegli strani mutanti che avevano poteri straordinari ma che non riuscivano a essere capiti e accettati dagli umani. Dopo aver terminato la lettura del fumetto, ha deciso che doveva assolutamente leggere il seguito e per questo è uscito dall'edificio senza dir nulla a nessuno e si è recato nella fumetteria più vicina.
I genitori però quando sono usciti e non hanno trovato Sheldon si sono davvero allarmati e hanno cominciato a cercarlo per tutta la città. Nel frattempo Sheldon ha incontrato il suo amico vietnamita e si è immerso totalmente nella lettura, senza accorgersi del tempo che passava. Quando ha visto poi che il suo amico mangiava una caramella, ha desiderato poterne mangiare una anche lui, ma purtroppo la paura di soffocare lo faceva esitare. Alla fine ha deciso di affrontare la sua paura e di provare a mangiarla.
Del resto i supereroi di cui stava leggendo le avventure avevano dovuto superare le loro debolezze e solo così erano diventati forti. Così proprio come il protagonista di un fumetto ha mangiato la caramella e ha superato le sue paure ed è diventato "Il Masticatore". Una volta a casa però ha dovuto spiegare dov'era stato e cosa aveva fatto ai suoi genitori e alla polizia che era stata allertata a causa della sua sparizione.
Quello di questa settimana è stato un episodio notevole proprio come gli altri.
Sebbene sia stato più leggero e divertente rispetto a quello della settimana scorsa, tuttavia "Young Sheldon" si è riconfermato nuovamente uno degli show più interessanti di questa stagione telefilmica. Questo quarto episodio è stato più ricco di riferimenti alla Serie madre: abbiamo ascoltato la celebre frase del dottor Cooper ("You're in my spot!") e abbiamo scoperto com'è nata la passione del nostro amato Sheldon per i fumetti.
Devo dire che ho molto apprezzato questo aspetto dell'episodio. Un bambino solo che ha molta difficoltà a fare anche le cose più semplici e che si sente un alieno sulla Terra è riuscito a riconoscersi negli X-Men e negli altri supereroi e per la prima volta ha creduto di non essere solo. Possiamo immaginare che i supereroi e i suoi amati fumetti abbiano aiutato Sheldon molto durante la sua crescita e che per questo lui gli sia così affezionato. Se guardando "The Big Bang Theory" ci capitava di prendere in giro Sheldon e i suoi amici per questa loro passione così puerile ora possiamo comprenderla meglio.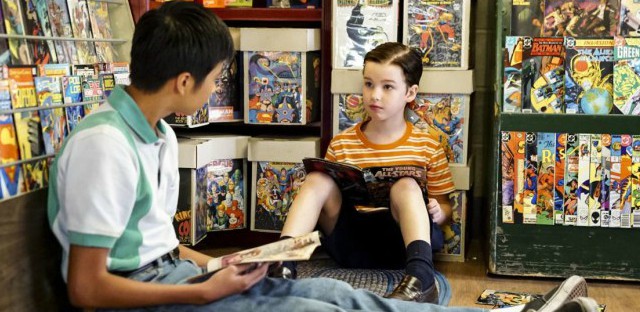 Ma in questo episodio di "Young Sheldon" abbiamo anche potuto capire qualcosa di più su Mary Cooper che finisce per soffocare suo figlio con la sua eccessiva protezione e apprensione. Se il piccolo Sheldon è cresciuto così è stato anche a causa di una madre troppo apprensiva che nel tentativo di proteggerlo dal mondo gli ha anche impedito di confrontarsi con esso e crescere.
Tra l'altro concentrando tutte le loro attenzioni su Sheldon hanno finito comunque per trascurare gli altri due figli George Jr. e Missy. Per fortuna c'è la nonna che cerca di dare loro tutto l'affetto di cui si sentono privati e che è stata anche stavolta uno dei personaggi migliori dell'episodio.
Il racconto delle avventure della famiglia Cooper continua a rivelarsi divertente e godibile. Non mancano mai spunti di riflessione e scene esilaranti che ci fanno ridere a crepapelle. Anche la caratterizzazione del piccolo Sheldon continua a essere interessante e credibile, ma soprattutto coerente con il personaggio che abbiamo conosciuto in "The Big Bang Theory".
"Young Sheldon" si riconferma come un spin-off ben riuscito e non è poco dato che questi esperimenti non sempre riescono bene (leggi qui i 10 peggiori spin-off delle Serie Tv) oltre che un'ottima comedy. Speriamo che il livello non cali nei prossimi episodi.