Ormai abbiamo capito una cosa di "Young Sheldon": non appena crediamo che ci abbia mostrato tutto quello che può dare, nell'episodio successivo ci stupisce nuovamente. Siamo già arrivati al terzo episodio dello spin-off di "The Big Bang Theory" (leggi qui la recensione dell'episodio della settimana scorsa), che racconta l'infanzia del protagonista della Serie Tv di punta della CBS. Ormai ci convinciamo sempre di più di episodio in episodio che quello che stiamo guardando è un ottimo prodotto, divertente, originale e maturo. "Poker, Faith and Eggs", il nuovo episodio di "Young Sheldon" che è stato trasmesso giovedì in America, era uno dei più attesi dai fan.
Guidati sempre dalla voce narrante di Jim Parsons abbiamo potuto finalmente conoscere Costance Meemaw, l'amata nonna di Sheldon!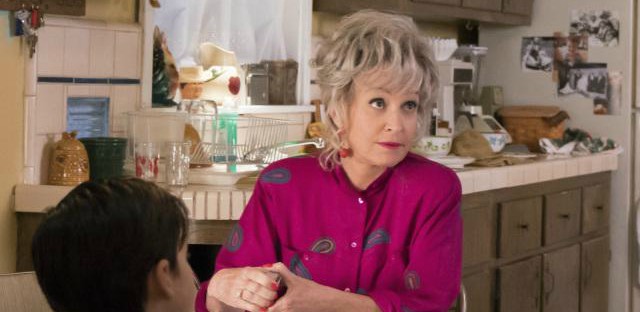 Sheldon in "The Big Bang Theory" aveva spesso citato l'ottimo rapporto che aveva con sua nonna tanto da spingerlo a invitarla a Pasadena per farle conoscere Amy e avere la sua approvazione. Eravamo quindi molto curiosi di vedere che tipo di nonna fosse stata la donna. Devo dire che da questo punto di vista sono rimasta piacevolmente sorpresa: mi aspettavo di vedere una donna all'antica "tutta casa e chiesa", ma Meemaw non è affatto una nonna convenzionale. La nonna è una baby sitter per nulla severa e attenta che permette ai suoi nipoti di restare svegli fino a tardi, di fare quello che vogliono e che insegna persino a Sheldon a giocare a poker, ma che gli dà anche delle importanti lezioni di vita.
"Sheldon, il viso di una persona non sempre riflette ciò che ha nel cuore."
"Beh, questo cambia tutto. Come fai a sapere di chi puoi fidarti?"
"Non lo sai. È questo che rende la vita interessante."
Irresponsabile, divertente e sopra le righe: non avrei mai immaginato che la dolce nonnina di Sheldon potesse essere così.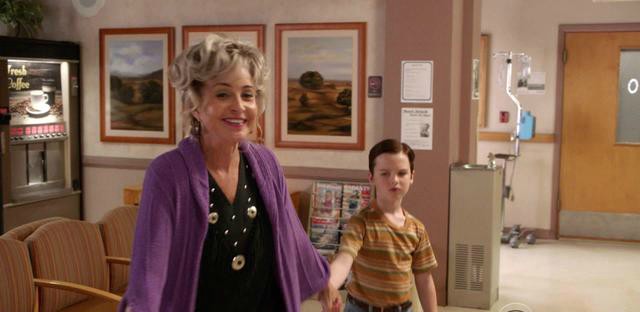 Ma in questo episodio abbiamo anche indagato un altro aspetto molto importante della crescita personale di Sheldon, il suo rapporto con la fede. Infatti quando il piccolo Sheldon ha fatto notare al Pastore della sua Chiesa che aveva confuso il concetto di possibilità e probabilità, è nato tra loro un dibattito sulla religione molto esilarante. Mentre Sheldon sosteneva di non credere nell'esistenza di Dio poiché aveva fede nella scienza, il Pastore Jeff gli ha fatto notare che in realtà molti scienziati credevano in Dio come Darwin e Einstein. Questa scoperta ha spinto il piccolo ragazzino a documentarsi e a leggere il testo della Scommessa di Pascal a favore dell'esistenza di Dio, che ha messo in crisi le convinzioni del piccolo Sheldon.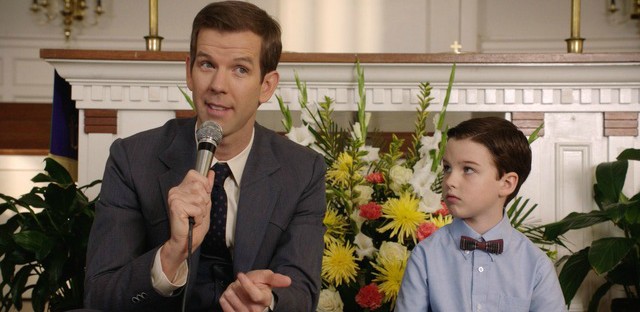 Sheldon non ha vauto il tempo però di riflettere sul pensiero di Pascal perchè una terribile notizia ha scosso la sua famiglia: suo padre George si è sentito male e sua moglie lo ha accompagna in ospedale e ha chiesto ai suoi figli di aspettare a casa con la loro nonna.
 Così Mary Cooper accudiva con tenerezza suo marito in ospedale, a causa di un principio di infarto, mentre la nonna ha cercato di tranquillizzare i nipotini. I tre ragazzini però, dato che erano decisi ad andare in ospedale a vedere come stesse il padre e dato che la nonna non sembrava propensa a volerli accompagnare, hanno deciso di ingegnarsi da soli. Mentre la nonna dormiva in giardino, Georgie ha rubato le chiavi della sua macchina e si è messo alla guida, sebbene non lo avesse mai fatto prima di allora.
In questa avventura in cui abbiamo visto per la prima volta i tre fratelli collaborare e che mi ha ricordato molto la Serie Tv "Malcolm in The Middle" (leggi qui 10 motivi per cui ci manca), i tre sono riusciti solo per miracolo ad arrivare in ospedale. Tra l'altro Sheldon ha raccontato che è stato proprio dopo questa folle notte che ha sviluppato il timore di prendere la patente e mettersi alla guida di un auto.
La nonna grazie a un biglietto lasciato da Sheldon è riuscita a raggiungerli proprio mentre i ragazzi stavano entrando nell'ospedale e ha fatto promettere loro che non avrebbero mai raccontato a nessuno quello che avevano fatto quella notte.
Quando Sheldon ha intravisto il padre soffrire nella camera di ospedale, ha compreso la gravità della situazione e per questo è andato nella cappella dell'ospedale e si è messo a pregare. Come ci ha tenuto a spiegare, in quel momento non ha pregato Dio ma Blaise Pascal che dato che dava tanto credito all'esistenza di Dio avrebbe potuto mediare per lui e chiedergli di far guarire suo padre. Per fortuna George si è ripreso ed è stato dimesso dall'ospedale e Sheldon si è sentito pervaso dallo strano potere della fede per la prima volta. Questo però non lo ha reso affatto un fervente cristiano e ce lo ha dimostrato nell'esilarante scena finale dell'episodio in cui ha avuto un dibattito con il Pastore in cui ha sostenuto la teoria dell'evoluzionismo.
Tirando le nostre solite conclusioni, ormai è evidente come il livello di "Young Sheldon" salga di episodio in episodio!
Nessun episodio di questa Serie Tv è mai banale, nessuna gag è fuori luogo, nessuna scena è ripetitiva. "Young Sheldon" si riconferma non solo un ottimo spin-off, ma soprattutto un'ottima Serie Tv.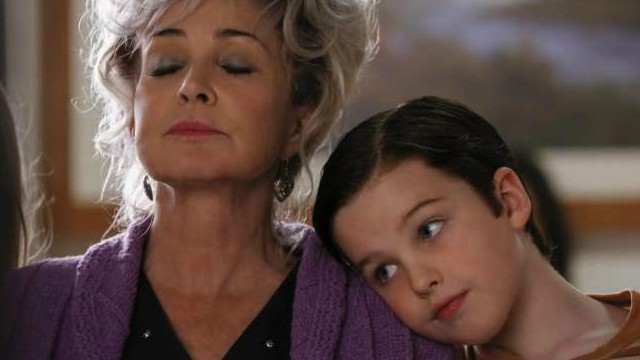 "Young Sheldon" infatti ci fa comprendere meglio come siano nate le paure e le stranezze del dottor Sheldon Cooper che ci ha fatto tanto ridere in "The Big Bang Theory", ma non si limita a fare questo. La Serie Tv racconta prima di tutto la crescita di un ragazzino particolare: il suo rapporto con i suoi familiari, le lezioni di vita che impara di volta in volta, i momenti tristi e quelli più allegri della sua vita. Se nei primi due episodi avevamo potuto osservare il suo rapporto con la madre, in questo terzo episodio invece abbiamo anche visto lo stretto legame tra Sheldon e i suoi due fratelli e il suo affetto per la nonna.
Anche in questo episodio "Young Sheldon" è riuscita a farci ridere di gusto in scene più divertenti, ma ci ha anche intenerito in altre più serie.
Sebbene gli episodi di questa Serie Tv non siano molto dinamici (e infatti ridotta è l'azione, così come sono assai rari i colpi di scena) tuttavia non possiamo che restare incollati allo schermo, stregati da quel piccolo dolce e supponente bambino che ci fa sorridere. Annie Potts ha interpretato alla perfezione una nonna divertente e sopra le righe che è già entrata nel nostro cuore. 
Insomma "Young Sheldon" si riconferma una Serie Tv intelligente, divertente e matura anche questa volta!