Nella nuova puntata di Young Sheldon il piccolo genio si è ritrovato a dover gestire una situazione veramente nuova per lui: ricevere un voto che non rispettava le sue aspettative. E a infliggergli quella punizione è stata proprio una persona che Sheldon stimava, ovvero il professor John Sturgis. Ma anche Mary si è ritrovata in una situazione nuova per lei. Ha infatti sostituito per un giorno il pastore Jeff alla guida della chiesa, poiché l'uomo era malato.
La puntata intitolata A Math Emergency and Perky Palms è stata molto divertente, ma ha anche avuto un finale tristemente inaspettato!
Sheldon Cooper ha spiegato che fin dall'asilo ha sempre preso voti alti in qualsiasi test. Per questo quando ha ricevuto un 95 su 100 al test del professor Sturgis, a lui è sembrato di ricevere una coltellata in pieno petto. È subito andato dal suo professore per chiedere spiegazioni, essendo convinto di avere ragione. Sturgis però ha mostrato a Sheldon l'errore che lo aveva penalizzato e si è rifiutato di cambiargli il voto. Ma il piccolo genio, convinto di essere nel giusto, ha cominciato a fare diverse ricerche nella biblioteca scolastica per dimostrare di non essere in torto. Quando ha trovato la prova che gli serviva ha chiamato il fidanzato di sua nonna e gli ha chiesto di potersi incontrare a casa di Connie per discutere del test.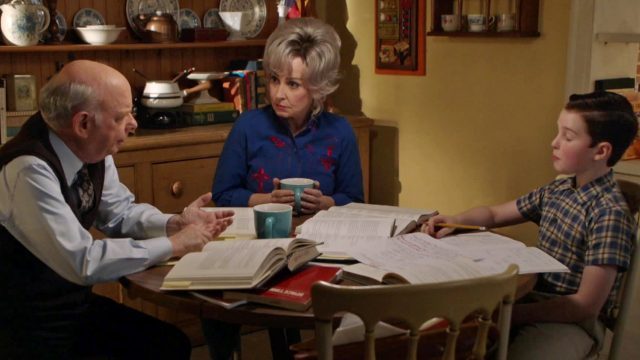 Sheldon a quel punto ha spiegato al suo professore che meritava di ricevere il massimo dei voti al test, dato che non aveva commesso nessun errore. John Sturgis però non ha cambiato idea e ha continuato a sostenere di avere ragione. Quando poi Sheldon e John si sono ritrovati a cena allo stesso tavolo, la situazione si è scaldata e dato che Connie ha difeso suo nipote il professore se ne è andato via "correndo". George allora ha deciso di intervenire e ha spiegato a suo figlio che bisogna mostrare rispetto verso gli adulti, anche quando hanno torto.
Alla fine John ha confessato alla sua fidanzata che Sheldon aveva ragione, ma che lui lo aveva negato perché non voleva riconoscere di avere torto.
Temeva difatti che a causa dell'età avanzata stesse iniziando a perdere colpi, ma Connie lo ha rassicurato, dicendogli che a volte capita di commettere qualche errore e che non doveva preoccuparsi: avrebbero perso colpi insieme. Alla fine John ha deciso di mettere il suo orgoglio da parte ed è andato da Sheldon per rimediare all'errore commesso. In questo modo ha voluto insegnargli che non c'era nulla di male nell'ammettere di avere torto.
Ma in questa puntata di Young Sheldon anche la mamma del geniale protagonista ha appreso una lezione importante!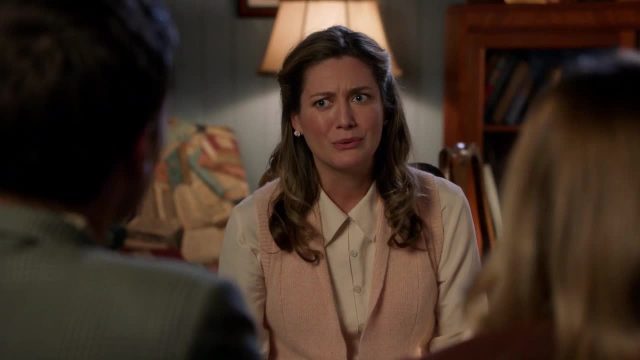 Mary Cooper (leggi qui come è cambiato questo personaggio da The Big Bang Theory a Young Sheldon) è stata incaricata dal pastore Jeff di occuparsi dei fedeli al suo posto per un giorno, dato che lui si sentiva indisposto. La donna ha accettato l'incarico con molto entusiasmo e si è subito prodigata per ordinare le palme più belle e rigogliose per la domenica delle palme. Ha poi dovuto tenere un corso matrimoniale per due novelli sposini che avevano alcuni problemi in camera da letto. Temo però che George abbia compreso meglio la vera causa dei problemi di questa coppia rispetto all'ingenua Mary. Alla fine la donna si è dovuta occupare anche di portare la cena a un parrocchiano che viveva da solo in una casa disordinata e lurida.
Lei ha cercato di essere gentile con il signor Gilford, 

ma l'uomo è stato molto scortese e Mary a quel punto non gliele ha mandate certo a dire.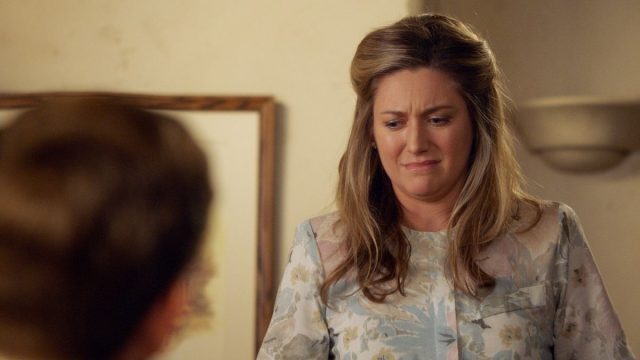 Quando però il pastore Jeff le ha spiegato che quell'uomo si comportava in maniera rude perché non aveva avuto una vita facile e che era stato anche in guerra, la donna allora si è sentita in colpa per averlo trattato male. È andata quindi a casa sua a portargli il pranzo con l'intenzione di scusarsi e di diventare magari sua amica. Una volta aperta la porta però ha fatto una brutta scoperta: l'uomo si era sentito male. Mary ha anche chiamato i medici, ma purtroppo per lui non c'era nulla da fare. La donna comunque ha deciso di omaggiare il veterano e ha invitato la comunità parrocchiale a riunirsi per ricordare la sua vita e le sue gesta in guerra. In ogni caso ha imparato la lezione: mai giudicare una persona senza conoscere il suo vissuto.
La nuova puntata di Young Sheldon ci ha regalato quindi scene buffe, ma anche momenti più seri: un mix perfetto per una comedy intelligente!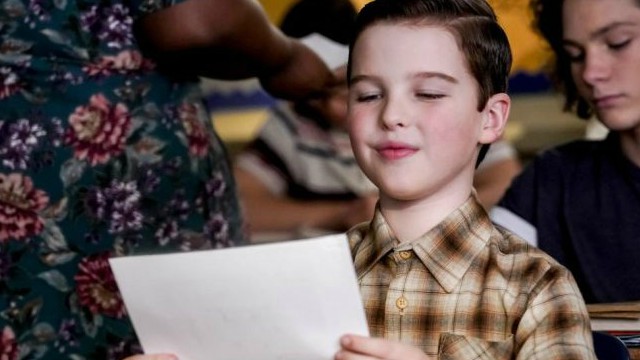 In questa puntata abbiamo compreso che Mary Cooper ha davvero un cuore enorme ed è sempre disponibile ad aiutare gli altri. È stato molto bello vedere quanto si sia premurata per riabilitare la reputazione del signor Gilford, mentre ci ha fatto molto ridere la sua ingenuità quando ha parlato con la coppia di novelli sposi in difficoltà. Ma il personaggio che ho amato di più in questa puntata di Young Sheldon è stato il professor John Sturgis.
Finora avevamo visto solo un dolce e imbranato professore di fisica innamorato di Connie, ma oggi quest'uomo ha cacciato fuori il carattere. Vederlo punire il piccolo Cooper e contestare le sue argomentazioni, mi ha fatto capire quanto sia severo e serio nel suo lavoro. Alla fine però (purtroppo) ha dovuto ammettere di avere torto e ha dato a Sheldon il voto che tanto desiderava e una lezione di vita che il bambino ha presto dimenticato. Le gag sono state poche, ma molto spassose e non sono mancate scene più dolci come quelle tra Connie e John.
La puntata quindi è stata godibile e divertente e può sicuramente essere annoverata tra le migliori della stagione.