Ogni settimana gli autori dello spin-off di The Big Bang Theory ci dimostrano quanto sono bravi nel raccontare in maniera brillante e divertente le avventure di una famiglia del Texas. Anche con la 2×17 Young Sheldon ci ha fatto capire perché ha meritato il doppio rinnovo (leggi qui per saperne di più).
In "Albert Einstein and the Story of Another Mary", Sheldon Cooper e sua madre ci hanno fatto sbellicare dalle risate!
In questo nuovo episodio il piccolo genio di casa Cooper ne ha combinata un'altra delle sue, mandando su tutte le furie i suoi genitori. Proprio come gli altri ragazzi della sua età ha deciso infatti di emulare il suo idolo, ma mentre i suoi fratelli si limitavano a copiare il look dei loro cantanti preferiti, lui ha deciso che avrebbe provato a essere identico ad Albert Einstein. Dopo aver quindi scoperto che il suo beniamino amava suonare il violino e che questo lo aveva aiutato a sviluppare un'intelligenza senza pari, ha deciso di dilettarsi anche lui con questo strumento. È quindi andato a scuola e ha chiesto alla professoressa di musica di insegnargli a suonare il violino. La donna, impressionata dalla passione di Sheldon, gli ha dato un vecchio strumento con cui fare pratica e una VHS intitolata: "Lezioni di violino per principianti".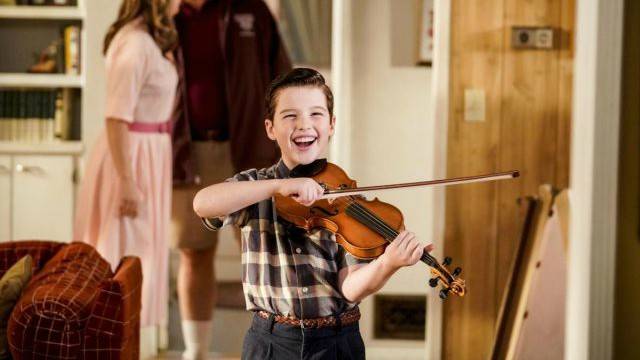 Il ragazzino ha quindi inserito la videocassetta nel registratore e ha seguito tutte le istruzioni che la donna in tv gli impartiva per imparare a suonare, suscitando l'ilarità dei suoi fratelli. Ha cominciato quindi a strimpellare "Twinkle, Twinkle, Little Star", ma ben presto la sua famiglia si è accorta che lui non aveva alcun talento per la musica e che sentirlo suonare era uno strazio. Dopo essersi esercitato tutto il pomeriggio con questo strumento, anche Sheldon si è accorto che non stava migliorando nell'esecuzione. Quando poi ha capito che suonando il violino non stava facendo nessun passo in avanti nelle sue ricerche scientifiche, ha deciso di lasciar perdere. Ha pensato quindi di copiare il grande Albert Einstein nella sfera spirituale e per questo ha deciso di convertirsi all'ebraismo.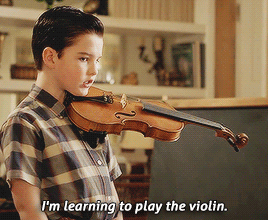 Ha chiamato quindi il rabbino della sinagoga più vicina e gli ha chiesto cosa dovesse fare per diventare ebreo come il suo scienziato preferito. L'uomo ha ascoltato divertito le parole di Sheldon e alla fine gli ha consigliato di smettere di emulare il suo mito e cominciare a essere se stesso.
Sheldon, quando morirai Dio non ti chiederà "perché non sei stato come Albert Einstein?", ma potrebbe chiederti: perché non sei stato Sheldon Cooper?
Il genio allora ha capito che avrebbe fatto meglio a restare se stesso e abbandonare il violino e l'ebraismo con buona pace della sua famiglia.
A dirla tutta Mary e George nella 2×17 di Young Sheldon non hanno avuto molto tempo da dedicare alle strambe idee del loro figlioletto, perché una grande novità li ha tenuti occupati.
Mary ha infatti avuto un ritardo e ha cominciato a temere di essere nuovamente incinta e ha confessato le sue paure a sua madre Connie. La donna l'ha prima tranquillizzata e poi l'ha accompagnata a comprare un test di gravidanza in farmacia affinché potesse scoprire con certezza se fosse in dolce attesa. Lì però Mary ha incontrato la sua vicina di casa Brenda e allora, temendo che potesse sospettare qualcosa vedendola comprare un test, si è nascosta dietro uno scaffale. In un'esilarante scena Connie ha cercato di convincere (ovviamente senza risultato) Brenda che quel test di gravidanza fosse per lei. In poco tempo quindi tutti gli abitanti della piccola cittadina hanno saputo che Mary era incinta ancora prima che lo sapesse George.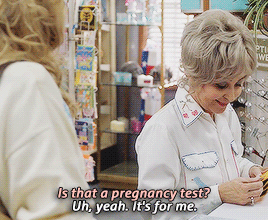 Mary ha scoperto che aspettava un bambino, ma prima di confessarlo a suo marito si è confidata anche con il pastore Jeff e gli ha chiesto di aiutarla ad accettare questa inaspettata notizia. Quando poi ha rivelato al suo compagno di vita la novità, lui non ha reagito bene e si è fatto prendere dal panico. Dopo essersi calmato però ha capito che avrebbero potuto farcela e ha deciso che avrebbe chiesto un aumento al suo capo per poter mantenere anche il nuovo piccolo membro della famiglia.
Ha tranquillizzato sua moglie ed è riuscito a persuadere il preside della scuola ad alzargli lo stipendio. Tutto sembrava risolto, fino a quando i due coniugi Cooper hanno ricevuto una brutta notizia: Mary ha infatti perso il bambino. George ha cercato allora di consolare sua moglie, pur essendo anche lui molto addolorato per la perdita. Alla fine ha spiegato la situazione al suo superiore e gli ha detto di essere pronto a rinunciare al suo aumento, ma l'uomo gli ha permesso di conservare comunque la sua promozione.
La 2×17 di Young Sheldon è stata quindi una puntata ricca di gag divertenti, ma anche di momenti che ci hanno spezzato il cuore.
È stato esilarante vedere Sheldon cimentarsi nel mondo della musica e vederlo osannare il suo fisico preferito. In questa occasione il ragazzino ha appreso una lezione importante e ha capito che essere se stessi dà molti più frutti che cercare di essere qualcun altro. Dopo aver visto in The Big Bang Theory che capace scienziato è diventato, direi che ha fatto bene a seguire questo consiglio.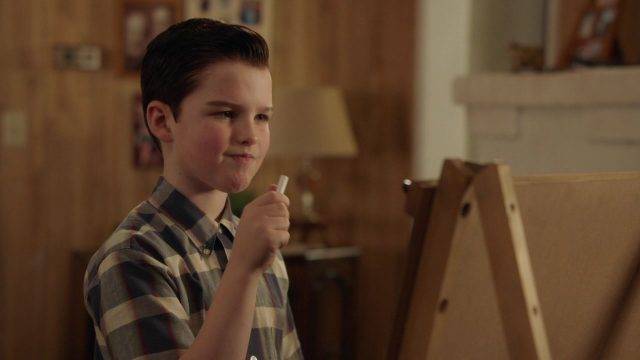 Ma è stata la storyline di Mary e George la più significativa della 2×17 di Young Sheldon. Abbiamo riso vedendo Mary in imbarazzo in farmacia e mentre faceva il test di gravidanza, ma ci siamo commossi quando ha annunciato di aver perso il bambino. Abbiamo inoltre visto per l'ennesima volta quanto il matrimonio tra i coniugi Cooper sia solido e quanto i due si amino. Mi chiedo proprio cosa possa averli separati e cosa possa aver fatto cambiare George.
Anche questa volta, come in ogni episodio, Connie ha rubato la scena a tutti: le sue risate quando Sheldon ha annunciato che sarebbe diventato ebreo mi hanno fatto sbellicare. Meemaw è stata irresistibile ed esilarante in molte gag e ci ha fatto innamorare sempre di più di questo personaggio. In Young Sheldon 2×17 ho sentito la mancanza di Missy e spero che nelle prossime puntate le daranno maggiore spazio.