Young Sheldon dopo una breve pausa è tornato con un nuovo divertente episodio che ha raccontato una delle caratteristiche più note di Sheldon, e che avevamo già avuto modo di conoscere in The Big Bang Theory (leggi qui la recensione del quindicesimo episodio della Serie Tv). Ricorderete tutti, infatti, l'ansia che il dottor Cooper provava ogni qual volta notava che qualcuno starnutiva o tossiva in sua presenza. Grazie al tredicesimo episodio di questo divertente spin-off abbiamo scoperto che Sheldon ha avuto questa fobia fin dall'infanzia e che a nulla sono serviti gli sforzi di sua madre per tentare di eliminarla.
"A Sneeze, Detention, and Sissy Spacek" ci ha fatto divertire, ma ci ha anche scaldato il cuore (soprattutto nella scena finale).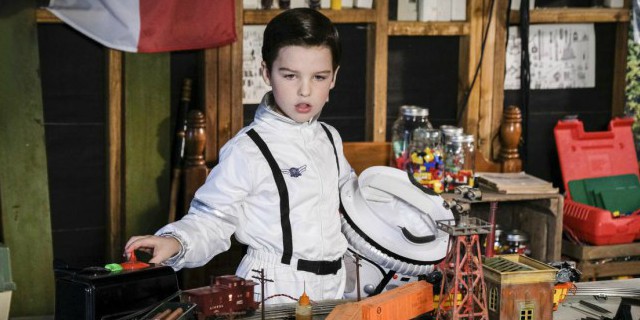 Prima di parlare dell'ultima scena dell'episodio che ci ha mostrato uno dei momenti più attesi di Young Sheldon, sarà bene iniziare dal principio. Sembrava essere un normale giorno di scuola, uno come tanti, quando l'insegnante che stava spiegando la differenza tra la similitudine e metafora comincia a starnutire. Sheldon, avendo una gran paura di ammalarsi, decide di allontanarsi dalla classe pur non avendo ottenuto il permesso di uscire dalla sua maestra. Per questo viene redarguito e costretto a trascorrere un'ora in aula punizioni.
Dopo che suo fratello George gli dà una serie di consigli su come sopravvivere all'ora in castigo e la nonna gli offre dei soldi per convincere i suoi compagni a lasciarlo in pace, si reca nell'aula punizioni. Arrivato nell'aula però vi trascorre poco tempo perché, dopo aver visto che anche il professore comincia a starnutire, Sheldon fugge via e, dopo aver fatto la corsa più lunga della sua vita, viene sospeso per qualche giorno. Nonostante questo non riesce a placare i suoi timori e la madre decide di portarlo dal medico affinché gli dia dei consigli per combattere la fobia di suo figlio.
Sheldon non riesce a risolvere il suo problema e l'unica cosa che capisce, grazie al medico, è che può ridurre la possibilità di ammalarsi indossando una mascherina e dei guanti.
Una volta a casa comincia di nuovo a farsi prendere dal panico e a indossare la mascherina anche a tavola. Dopo aver ascoltato al telegiornale le poco rassicuranti notizie sulla nuova influenza stagionale, decide quindi di rinchiudersi in garage con un minifrigo e un sacco a pelo e di creare una barriera che lo separi totalmente dal mondo esterno e lo protegga dai germi. I suoi genitori tentano in tutti i modi di farlo uscire, ma ogni tentativo sembra essere vano. Sheldon riesce anche a far perdere la pazienza a "Santa Mary" che dopo aver rincorso il figlio invano per tutto il garage, cede ai piaceri dell'alcool e beve una birra per riprendersi.
Alla fine è Costance a risolvere il problema: va da Sheldon e gli spiega che avendo il sangue dei coraggiosi texani nelle vene non può essere così codardo ma deve affrontare i suoi timori. Sheldon si lascia convincere, ma una volta uscito fuori si ammala e prende l'influenza. Tuttavia scopre che essere malati non è la fine del mondo e che anzi la situazione può avere anche dei lati positivi.
Nell'ultima scena infatti vediamo per la prima volta la dolce Mary cantare a Sheldon "Soffice Kitty".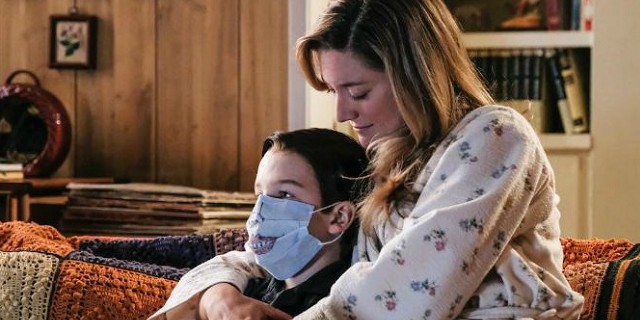 Episodio dopo episodio Young Sheldon ci convince e ci piace sempre di più!
Ho apprezzato che in questa puntata si sia finalmente parlato della germofobia di Sheldon Cooper che avevamo conosciuto già abbondantemente in The Big Bang Theory. È stato sicuramente molto divertente vedere Sheldon fuggire a gambe levate da chiunque mostrasse di avere un malanno di stagione, ma in questo episodio devo dire che ho apprezzato per la prima volta il personaggio di Georgie. Se finora sembrava essere assolutamente inutile, questa volta ci siamo dovuti ricredere. L'ho trovato molto simpatico quando ha approfittato dell'assenza di suo fratello per impietosire le sue compagne di classe per farsi abbracciare e quando ha provato a mangiare il tabacco. Tuttavia è stato anche molto tenero nella scena in cui ha dato qualche consiglio a Sheldon per sopravvivere alla sala punizioni.
Ma n
on c'è bisogno che vi dica chi sia stata la vera star di questo episodio:
la divertente ed esuberante Meemaw.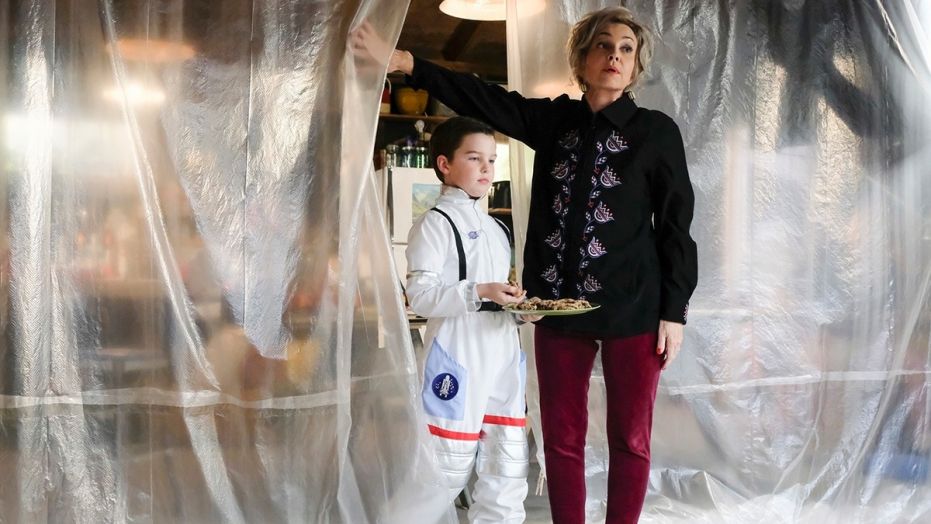 La nonnina è davvero capace di scherzare su tutto e in questo nuovo episodio di Young Sheldon ci ha fatto sbellicare dalle risate. Infatti, mentre Mary cercava di far uscire suo figlio dal garage, Costance non riusciva a non osservare la scena divertita, facendo alcune delle sue solite battute. Senza la sua risata fragorosa di sottofondo quella scena non sarebbe stata ugualmente esilarante! Un altro personaggio che ho apprezzato è stato Mary che mi è sembrata un po' meno rigida e impostata del solito. E' stata buffa nelle parti più divertenti, ma anche molto dolce nelle scene in cui ha mostrato tutto il suo amore materno al piccolo Sheldon.
È stato interessante il nuovo episodio di Young Sheldon che è riuscito ad approfondire il personaggio di Sheldon, facendoci scoprire l'origine di uno dei suoi disturbi e delle sue abitudini. Allo stesso tempo però non sono mancate le gag più spassose e le scene più tenere, un bel connubio che si dimostra sempre più riuscito.
Young Sheldon è stata capace di stupirci di nuovo! E ora che abbiamo visto già più di metà Serie possiamo, senza timore di sbagliarci, promuovere a pieni voti questo spin-off (leggi qui perché non è vero che tutti gli spin-off fanno pena).