Mancano ormai pochissimi giorni e potremo finalmente vedere il nuovo episodio della seconda stagione di The Handmaid's Tale (leggi qui cosa hanno detto i produttori sulla nuova stagione). Il 25 aprile potremo finalmente scoprire dove il furgone nero condurrà Difred, se verso la libertà o verso una nuova schiavitù. Per ingannare l'attesa ho deciso di ricordare una delle scene più belle e indimenticabili della prima stagione di questa Serie Tv a partire da una canzone.
Sto parlando della famosissima Feeling Good che ha accompagnato uno dei momenti  più carichi di pathos di The Handmaid's Tale.  Questa canzone è stata composta da Anthony Newley e Leslie Bricusse per il musical The Roar of the Greasepaint – The Smell of the Crowd ma è stata resa celebre da molti artisti famosi come Nina Simone, Michael Bublé e dalla rock band Muse. La meravigliosa Feeling Good ha accompagnato tante scene di famose Serie Tv come Person of Interest, Legion o Sense8. 
Ma è nel decimo episodio di The Handmaid's Tale (leggi qui il segreto del suo successo) che le parole di questa canzone assumono un significato nuovo e più importante. Grazie alla canzone e allo sguardo fiero della protagonista riusciamo ad avvertire anche noi la sensazione di benessere e libertà che le ancelle provano per la prima volta dopo tanto tempo.
É molto significativo tra l'altro che sia Nina Simone a cantare una canzone della colonna sonora di questa Serie Tv che parla di femminismo e ribellione all'oppressione. Proprio questa cantante afroamericana è stata infatti molto nota per il suo attivismo all'interno del  movimento per i diritti civili. Con le sue canzoni e il suo esempio ha sostenuto il Black Power e ha denunciato le discriminazioni razziali negli anni in cui il clima era molto teso negli Stati Uniti.
Ma ricordate cosa è accaduto in quella scena? Le ancelle sono state convocate da Zia Lydia per un avvenimento molto importante: dovevano infatti punire Janine che aveva tentato di fuggire con il suo bambino determinata a non lasciarlo al suo padrone. Le ancelle inorridite non sono riuscite a scagliare delle pietre contro una loro amica che aveva agito in quel modo solo a causa delle assurde leggi di Gilead. Diglen si è rifiutata di commettere quel gesto orribile ed è stata brutalmente punita per quella sua ribellione.
Zia Lydia quindi ha esortato le altre ragazze a compiere il loro dovere e a punire Janine, ma quando Difred si è avvicinata alla sua amica invece di scagliare la pietra ha preferito lasciarla cadere a terra.
Quindi ha guardato quella tiranna negli occhi e ha detto semplicemente "Mi spiace, zia Lydia". Le altre ancelle hanno seguito il suo esempio e una dopo l'altra hanno fatto cadere la pietra e ripetuto la medesima frase. Zia Lydia ha assistito per la prima volta alla ribellione delle sue ancelle e non potendole punire tutte, le ha invitate a tornare e a casa  a meditare sul loro terribile gesto.
Mentre le ancelle tornano insieme a casa possiamo ascoltare le parole di Feeling Good.
Birds flying high you know how I feel
Sun in the sky you know how I feel
Breeze driftin' on by you know how I feel
Questa canzone accompagna la marcia trionfale delle ancelle che sono consapevoli di aver innescato con un piccolo gesto una vera rivoluzione. Quelle donne sono state rapite, hanno subito ogni tipo di tortura e sono state indottrinate dal regime di Gilead che le ha anche private della loro identità. Hanno perso tutto: i loro cari, la loro libertà, il loro nome e sono diventate delle semplici marionette nelle mani dei loro padroni. Si sono ridotte a essere delle semplici macchine sforna figli e hanno smesso di essere degli esseri umani. Tuttavia è bastato un solo gesto, un coraggioso atto di ribellione per restituire loro tutto quello che avevano perso. E questo le ha trasformate in un esercito compatto.
Non avrebbero dovuto darci un'uniforme, se non avessero voluto farci diventare un esercito.
Hanno provato in tutti i modi a separare e a mettere l'una contro l'altra le ancelle: le hanno spinto a controllare le compagne, a non fidarsi di nessuno, a odiarsi a vicenda.
Per la prima volta però le ancelle si sono unite contro Gilead e anche le più fedeli a zia Lydia le hanno disobbedito. Indomite e a testa alta, scosse dalla brutalità del gesto che stavano per compiere, hanno detto no.
Le tre parole rivolte alla loro carceriera in realtà nascondevano molti significati nascosti. "Scusa Zia Lydia". Scusa ma non voglio farlo, scusa ma non sono la tua schiava. Scusa ma sono una persona e ho un'anima, scusa ma sono una donna con una testa e un cuore oltre che con un utero, scusa ma non sono Difred, il mio nome è June.
È stata lei, June, a dare inizio alla rivolta e a ribellarsi per prima al sistema. Lei che nel primo episodio aveva detto che aveva intenzione di non cambiare nulla dato e di sopravvivere per sua figlia Hannah, è stata la scintilla che ha portato al cambiamento. June, che è stata piegata e sottomessa dai coniugi Waterford in ogni modo possibile, ha dato alle altre il coraggio di ribellarsi. Lei che sembrava ormai stanca di combattere ha ispirato le altre.
E questo l'ha fatta sentire dannatamente bene.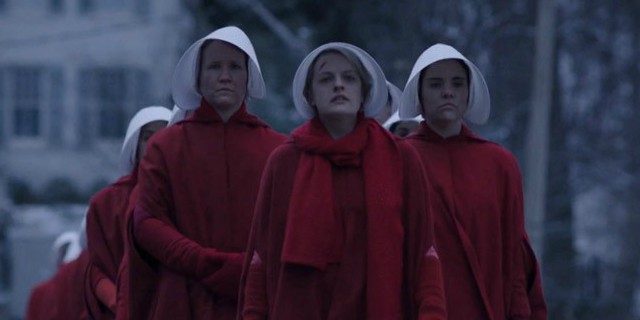 You know how i feel
It's a new dawn
It's a new day
It's a new life
For me
And I'm feeling good
Anche se l'idea di riprendersi sua figlia le sembrava più impossibile che mai, anche se nessuno sembrava aiutarla, anche se la sua gravidanza stava per complicare tutto, quel momento le ha dato speranza. Era come il principio di un nuovo giorno in cui tutto sarebbe potuto accadere. A casa June nel silenzio della sua stanza appoggiata a quella finestra, la stessa davanti alla quale nel pilot di The Handmaid's Tale ci aveva fatto conoscere il terribile mondo di Gilead e ci aveva raccontato la sua storia, ha confessato le sue speranze:
Potrebbe essere l'ultima volta che mi tocca aspettare, ma non so cosa sto aspettando. Suppongo la mia punizione. Abbiamo detto no. Non abbiamo fatto il nostro dovere, uccidere Janine. E saremo punite per questo peccato, ne sono certa. Sono in disgrazia che è l'opposto della grazia. Dovrei essere terrorizzata ma mi sento serena. C'è qualcosa che somiglia alla speranza anche nelle banalità. Ho provato a rendere le cose migliori per Hannah, a cambiare il mondo anche solo per un po'.
Sono sicura che nei nuovi episodi potremo vedere molte altre scene emotivamente devastanti come questa e non vediamo l'ora.
Sotto il suo occhio.
Leggi anche –