Eccoci al secondo appuntamento settimanale con The Flash. Mercoledì scorso è andato in onda in America sul canale The CW l'episodio 6×02 intitolato A Flash of the Lightning. La prima puntata, avevamo detto, ci aveva lasciati con un bel po' di dubbi circa lo sviluppo della stagione, riguardanti soprattutto la sorte di Flash, che come annunciato da Monitor, lo straniero, dovrà compiere un sacrificio e morire per salvare l'intero Universo.
Questa puntata si apre, dunque, con questo interrogativo ancora aperto e con la voglia di Barry e Iris di scoprire quanto sia fondata la notizia appena ricevuta. Flash dopo un primo tentativo di viaggiare nel futuro fallito a causa di un muro energetico composto da una sostanza chiamata Anti-Materia, decide di andare su Terra-3 da Jay Garrick, il doppelganger del padre, per cercare di capire cosa stia succedendo all'Universo. Nel mentre, il resto della squadra aiuta Cecile con un caso giudiziario: una giovane meta umana è stata ingiustamente accusata di omicidio.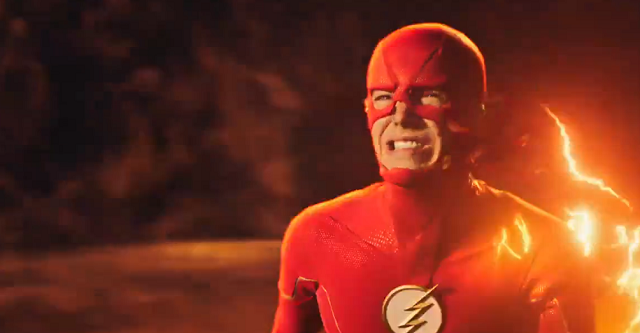 Questo episodio è stato sicuramente migliore del primo, sia dal punto di vista della narrazione che dal punto di visto emotivo. Abbiamo capito che questa prima parte di stagione è un enorme conto alla rovescia che andrà a esaurirsi il 10 dicembre, la data dell'inevitabile morte di Flash, una morte che si fa sempre più concreta, soprattutto dopo le immagini di questa puntata. Barry, aiutato da Jay e successivamente anche dalla Nora Allen di Terra-3, riesce a viaggiare con la mente nel futuro, un'esperienza traumatica che lo danneggia gravemente non solo dal punto di vista fisico, ma anche sul piano emotivo e mentale.
L'uomo assiste contemporaneamente a miliardi di possibili scenari in ognuno dei quali, in un modo o nell'altro, l'intero Universo andava scomparendo, comprese le persone che egli ama, facendolo soffrire enormemente. L'unico scenario nel quale tutti riescono a salvarsi è quello dove lui effettivamente si scarifica e muore.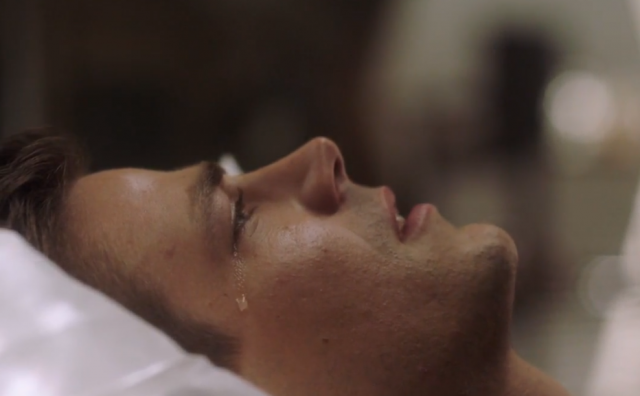 Grant Gustin è stato molto bravo in questo episodio, è riuscito a rendere bene la sofferenza e la presa di coscienza del destino del suo personaggio. Riusciamo a notare come gli autori stanno cercando di muovere la narrazione verso tematiche e situazioni più serie e profonde, mostrandoci un lato della serie più intimo. Barry sta attraversando uno dei momenti più difficili della sua vita, si trova davanti alla prova schiacciante della sua fine, una fine oltretutto dolorosa, solitaria e assolutamente prematura. È sicuramente spaventato, non vuole lasciare Iris e la sua famiglia, ma è pronto a accettare il suo destino proprio per loro. Grazie anche a Joe e al suo discorso, Barry si fa coraggio e decide di non mollare, lotterà fino allo stremo, affiancato anche da una squadra di eccellenze, ma quando arriverà la sua ora, sarà pronto a dirci addio.
Non siamo noi a scegliere di morire. Non è una nostra scelta. Ma quando sentiamo che il dovere chiama, siamo pronti a fare quel sacrificio. Questo non è arrendersi, Barr. Questa si chiama resilienza, e so che tu ne hai da vendere.
Questa nuova trama orizzontale più intima e drammatica è comunque intervallata da momenti più leggeri e situazioni dal più ampio respiro. In questo episodio gli intermezzi comici hanno visto come protagonista la nostra Killer Frost che, dopo il via libera di Caitlin, è pronta a fare esperienze di vita. Non avendo molto a cui attingere, cerca come prima cosa di esprimersi attraverso l'arte e il disegno, purtroppo non le riesce benissimo, le riesce meglio comprare opere artistiche con le carte di credito di Caity. Piccole scenette simpatiche che hanno l'intento di provocare il sorriso del pubblico e smorzare la tensione della puntata.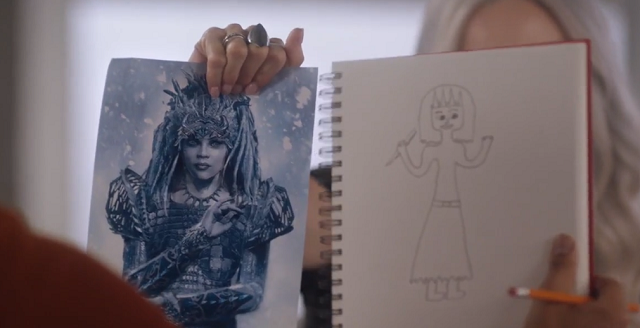 Ma analizziamo velocemente le novità e le teorie/domande che la puntata ci ha lasciato qua e là
È stato introdotto un nuovo personaggio. La giovane meta umana che il Team Flash ha salvato questa settimana dall'accusa di omicidio colposo, Allegra Garcia, è entrata a far parte come tirocinante nella redazione del giornale online The Citizen di Iris, a fianco alla fotografa Kamilla Hwang, la ragazza di Cisco. Chissà se in futuro entrerà a far parte della squadra. L'unica cosa che sappiamo è che, il vero autore dell'omicidio, la cugina della ragazza, Esperanza, è una killer professionista che lavora per un'organizzazione segreta che sfrutta le capacità dei meta umani. Un altro ostacolo che il Team Flash dovrà sicuramente fronteggiare. Chissà se questa storia è collegata in qualche modo con lo strano "robot umano" visto la scorsa puntata.
Inoltre, non in molti lo hanno notato, ma vediamo in uno dei brevi scenari confusi che Barry ha del futuro un piccolo dettaglio che spero porterà prossimamente a qualcosa di buono. Quando vengono mostrate le persone care a Flash che piano piano "svaniscono" a causa di un raggio letale luminoso e rossastro, vediamo tra questi Killer Frost, Ralph, Iris e Vibe. Non vediamo Cisco con i suoi vestiti normali, ma lo vediamo indossare la sua vecchia tuta da supereroe. Io spero moltissimo che l'uomo in un modo o nell'altro riesca a recuperare i suoi poteri, magari proprio in vista della terribile crisi, ma in realtà potrebbe trattarsi anche in questo caso di un doppelganger: un Cisco che non ha preso la cura meta umana proveniente da un'altra terra venuto in soccorso del Team Flash. Non so tra le due quale sia l'opzione migliore, l'importante è avere una piccola dose di Cisco Ramon in ogni episodio.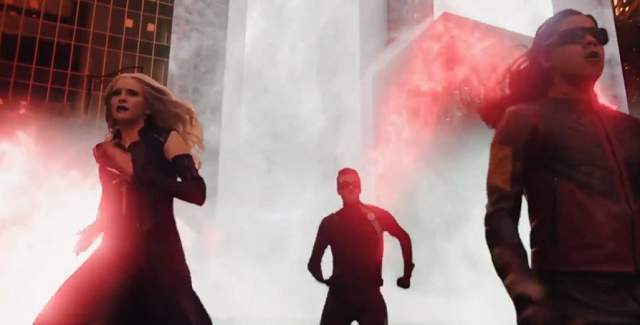 Infine, nella scena post credit si è deciso di dare ancora un piccolo spazio alla storia di Ramsey Rosso che abbiamo visto per la prima volta la settimana scorsa. Gli autori stanno costruendo il suo background un poco alla volta, ci stanno facendo vedere come si evolve lentamente in sordina il suo personaggio. Dobbiamo forse pensare che sarà un tassello importante per la crisi imminente o che forse il suo personaggio degenererà come villain della stagione tra qualche settimana?
Bene, amici, siamo arrivati anche oggi alla fine di questa puntata. Una puntata più seria, toccante e più attenta alla sua parte emozionale. Un episodio sicuramente migliore del precedente anche se il tutto deve ancora ingranare per bene. Nel mentre ci salutiamo e ci diamo appuntamento la prossima settimana, sempre qui, sempre con The Flash.