# #
"The Big Bang Theory" ultimamente ci stava proponendo episodi noiosi e ripetitivi, tanto da far nascere in noi il terribile quesito a cui non volevamo dare una risposta: perché continuiamo a seguirla? Perché, anche se la Serie Tv non funziona più come prima, ci siamo affezionati ai personaggi e perciò non ce la sentiamo di abbandonarli. Però talvolta "The Big Bang Theory" (leggete qui cosa non sta funzionando nella decima stagione) riesce a stupirci e ci regala un episodio come quello di questa settimana, che ci fa davvero ridere come ai vecchi tempi. Allora cominciamo a credere che ci sia ancora speranza per la nostra sitcom preferita e siamo felici di non averla abbandonata.
# #
"The Recollection Dissipation" ci ha sorpreso positivamente, ma soprattutto ci ha fatto capire che The Big Bang Theory ha ancora tutti gli elementi per fare un ottimo lavoro. Deve solo usarli.
Tutti i fan che rimpiangevano la comicità delle prime stagioni, che rendeva speciale la Serie, sono stati accontentati con questo episodio molto "old style".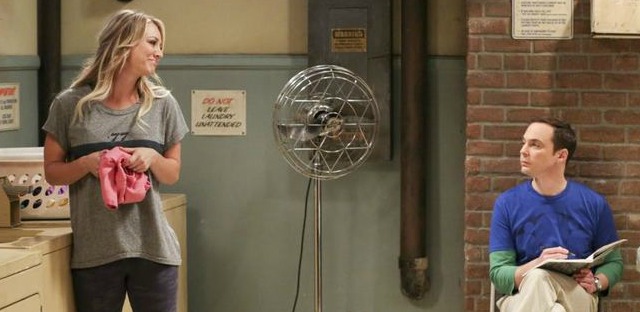 # #
Piccola avvertenza: la recensione potrebbe contenere degli spoiler per chi non ha ancora visto il nuovo episodio. Quindi andate avanti a vostro rischio e pericolo!
Sheldon (guarda qui le sue 10 T-shirt che vorremmo avere) è tornato in sè! Da quanto tempo non vedevamo il nostro pazzo genio e le sue stranezze? Da un bel po' era stato sostituito da un ragazzo ordinario, ma finalmente lo scienziato che ci aveva fatto tanto ridere all'inizio sembra essere riapparso e in questo episodio ha dato il meglio di sé.
Sheldon sta lavorando a due progetti: sta cercando di realizzare insieme a Howard e Leonard il sistema di navigazione per il Colonnello Militare, ma ha anche accettato di collaborare con Amy e aiutarla con il suo lavoro. Ma come fa il Dottor Cooper ad essere in due posti contemporaneamente?
Sheldon elabora un modo per risparmiare tutto il tempo inutile e poter aiutare tutti e tre i suoi amici. Mette in spalla una borsa termica contente una bevanda e della zuppa per poter evitare le pause pranzo e concentrarsi solo sul lavoro. Inoltre fa avanti e indietro da un laboratorio all'altro e incredibilmente riesce a capire in pochi secondi quello che per ore aveva bloccato i suoi colleghi senza risultato. Sheldon lavora senza sosta e per questo finisce per ammalarsi. Si rifiuta però di mettersi a letto e recuperare le forze, ma prende lo sciroppo e va a lavoro.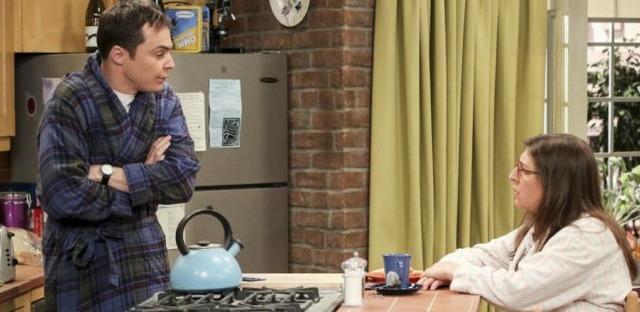 Improvvisamente, però, si sveglia sul divano di Leonard senza pantaloni e mutande e non ricorda cosa ha fatto per tutto il giorno. A peggiorare la situazione si aggiunge la scoperta di aver perso il quaderno pieno dei segreti riguardanti il progetto militare.
Allora Raj controlla sul cellulare di Sheldon i suoi movimenti e scopre che nel corso della giornata è stato in un locale texano. Il dottor Cooper e i suoi amici allora vanno lì e scoprono che Sheldon ha ballato la quadriglia con i clienti del locale e che ha raccontato loro tutti i segreti sul progetto militare, facendo promettere però ai presenti di mantenere il segreto. Lì però per fortuna trova il quaderno e quindi può tornare tranquillo a casa. Molto divertente il riferimento alla saga "Una notte da leoni" quando Penny ha consigliato a Sheldon di controllare che non avesse tatuaggi, dato che non ricordava nulla di quello che aveva fatto per tutto il giorno.
The Big Bang Theory però stavolta non ci ha regalato solo una storyline degna di nota! Infatti anche le scene dedicate a Howard e Bernadette ci hanno fatto divertire. E devo ammettere che questa volta ho trovato anche Stuart meno fastidioso del solito.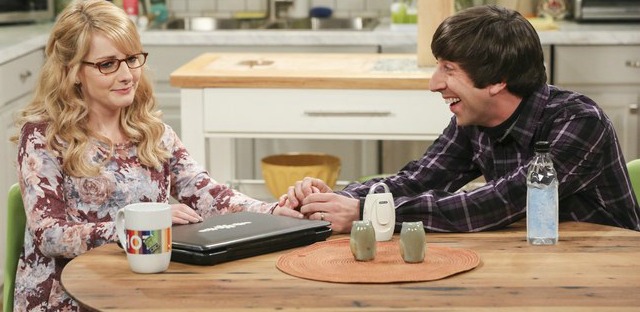 È arrivato il momento per Bernadette di tornare al lavoro e, sebbene sia entusiasta, la neomamma è molto triste al pensiero di separarsi da sua figlia e ha paura che Halley possa soffrire per il distacco. Così si confida con Stuart, ma gli impedisce di raccontare a Howard le sue pene per evitare di farlo preoccupare. Howard però, vedendo sua moglie turbata, teme che possa aver scoperto qualche suo errore. Confessa allora a Stuart la cosa più orribile che abbia mai fatto: ha dimenticato di avvisare Bernadette che sua zia era morta e da allora le manda un bigliettino ogni Natale da parte della defunta.
Alla fine però Howard affronta sua moglie e le chiede chiaro e tondo cosa c'è che non va. Bernadette finalmente si toglie questo peso e racconta a suo marito le sue pene; in risposta Howard le confessa che aveva le medesime preoccupazioni anche lui, quando è tornato al lavoro. Alla fine, con le sue consuete battute, Howard riesce a risollevare il morale di Bernadette. La scena più divertente però è stata quella finale in cui Amy, per aiutare Sheldon che era malato, gli ha cantato "Soffice Kitty". È stata una grande emozione poter riascoltare dopo tanto tempo "Soffice Kitty" ed è stato molto buffo ascoltarla in tedesco e in mandarino.
Questa settimana The Big Bang Theory ci ha regalato un episodio divertente come non se ne vedevano da tempo!
Come vi ho anticipato all'inizio di questa recensione, l'episodio è stato un gradito ritorno ai vecchi tempi. Il personaggio di Sheldon sembra aver riacquistato la sua genialità e i suoi punti di forza, che lo avevano reso uno dei personaggi più particolari delle Serie Tv. Abbiamo inoltre potuto rivedere uno scambio di battute esilarante tra Penny e Sheldon nella lavanderia. Diciamo che l'episodio non brilla per originalità, ma riprende i migliori elementi delle prime stagioni e li amalgama con le novità della nuova stagione. Nonostante tutto però questo episodio funziona: messi da parte i drammi di Leonard e Penny e lasciato spazio al personaggio simbolo della Serie Tv (Sheldon ovviamente) otteniamo un episodio davvero divertente. Degne di nota anche le battute di Howard che riesce sempre a lasciare il segno anche quando ha uno spazio ridotto.
Una cosa è certa: se in The Big Bang Theory ci fossero altri episodi così, sarei entusiasta di seguire altre due stagioni.