Strappare lungo i bordi è la prima serie animata del noto fumettista italiano Zerocalcare. La produzione è stata curata dalla Movimenti Production e la serie distribuita da Netflix nella giornata di ieri, 17 novembre. Si tratta di un progetto molto ambizioso che vede Zerocalcare alla sua seconda trasposizione dopo l'uscita, nel 2018, del film La profezia dell'armadillo, tratto dall'omonimo fumetto. La serie sostanzialmente segue lo scheletro narrativo della suddetta opera, con alcuni significativi cambiamenti di trama. A colpirci fin da subito, è stato il suo perfetto modo di adattarsi al formato della serialità. Gli episodi sono in tutto 6, della durata di 15-20 minuti circa l'uno, per un totale di poco più che 90 minuti di visione, ed il risultato è una piccola perla che si divora in poco tempo ma che, nella sua frenesia, lascia lo spettatore positivamente imbambolato di fronte alla geniale spontaneità narrativa tipica dell'autore, capace di arrivare al pubblico immediatamente, travolgendolo e coinvolgendolo pienamente nonostante il poco tempo a disposizione. Ecco qui la nostra recensione.
PS: se non volete spoiler, non proseguite con la lettura!
Strappare lungo i bordi: un commovente viaggio attraverso la mente del tormentato Zero
Il protagonista è Zero, l'avatar dell'autore, e attraverso un turbolento viaggio in cui è accompagnato dai fedelissimi Secco e Sarah, racconta tramite una serie di flashback alcuni episodi segnanti della sua vita, tutte situazioni ed accadimenti che hanno a che fare con la sfera quotidiana, ma che vengono sviscerati con la tipica autoironia di Zerocalcare per rendere l'idea del profondo senso di smarrimento e frustrazione del protagonista. Attraverso gli esilaranti e talvolta profondamente tristi aneddoti di Zero, siamo accompagnati in un viaggio che ha come obiettivo finale il ricongiungimento con Alice, primo ed apparentemente unico vero amore del protagonista. Tra i personaggi principali, e per chi ha familiarità con il background di Zerocalcare non è sicuramente una novità, c'è anche L'armadillo, nient'altro che l'ingombrante proiezione della coscienza di Zero, colui che tenta di far ragionare il protagonista sul finire delle sue turbolente giornate, o in generale nei suoi momenti di difficoltà, tentando di fargli aprire gli occhi con discorsi volutamente cinici ed esagerati. A proposito dell'armadillo, si tratta di una delle poche voci non appartenenti allo stesso Zerocalcare nel doppiaggio, che in pratica ha svolto ogni ruolo possibile in fase di produzione, bensì a Valerio Mastandrea.
Il pungente realismo di Zerocalcare funziona eccome in una serie
La tipica autoironia che ha reso celebre il fumettista funge da filo conduttore in uno spaccato sul mondo di un ragazzo comune, a contatto con i problemi della quotidianità, descrivendoci però il complesso profilo di un giovane insoddisfatto della propria condizione, che convive con il perenne senso di incompletezza e di inadeguatezza nei confronti dell'opprimente società della quale è figlio.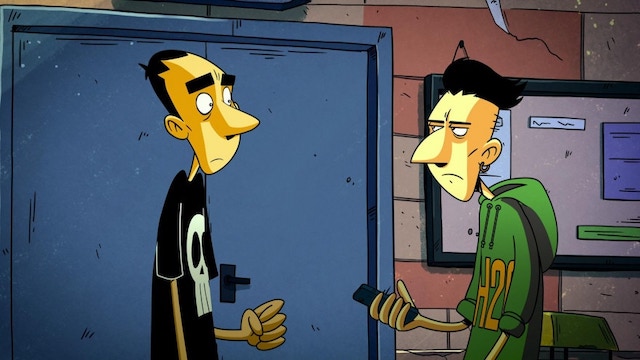 Le puntate appaiono autoconclusive, ma in realtà pian piano fanno emergere, attraverso il tema del viaggio e del rapporto tra Zero ed Alice, ciò su cui si vuole andare a parare. La comicità è geniale perché passa, con totale nonchalance, da menzionare l'utilità di un ipotetico cane robot che scoreggia, per ironizzare sul problema dell'accumulazione seriale del protagonista, a citare Platone e il Mito della caverna nel fare una riflessione sul profondo tema della paura dell'ignoto. Gli sketch hanno la capacità di travolgere lo spettatore, incantandolo con la propria paradossale assurdità per poi rivelarsi sensati sul finale, giusto per citarne uno, il vaneggio sul libero arbitrio con la metafora della scelta della pizza è, senza ombra di dubbio, un autentico capolavoro. C'è della genialità in tutto ciò, Zerocalcare non si cura di porre dei freni alla sua comicità, riuscendo a rimanere autentico anche in questa dimensione, cosa per niente scontata e che anzi, rappresentava probabilmente il più grande ostacolo da superare nella nuova avventura seriale.
L'attualità referenziale di Strappare lungo i bordi
A partire dalla colonna sonora, abilmente curata e mirata a raccontare una parte di sé, si viene da subito investiti dalla potente abilità narrativa della serie, (ovviamente) indiscutibile in termini di animazione, ma che si serve di una serie di elementi di contorno che inconsciamente danno una grande mano alla narrazione. La colonna sonora, appunto, ricalca perfettamente l'identità visiva della serie, basti pensare alla sigla curata da Giancane, al brano Haut les coeurs, cornice perfetta della mancata love story tra Zero ed Alice, ma anche a The Funeral nella straziante scena finale. L'ambientazione molto underground che già avevamo visto ed apprezzato in La profezia dell'armadillo, prende a piene mani dalla gioventù dell'autore, mescolata con l'attualissima realtà dei giovani d'oggi, non troppo diversi da quelli di un tempo, tra iperconnessione, che si tratti di MSN, WhatsApp o Netflix, e perenne senso di inadeguatezza nei confronti del mondo esterno.
Strappare lungo i bordi racconta l'attualità, tra comicità e poesia
Zero: "Io per questo mandavo i curriculum. Per convincermi che la vita mia stava ancora seguendo quella linea tratteggiata. Ma strappavo senza guardare perché avevo il terrore che se abbassavo gli occhi, vedevo che invece mi stavo allontanando dalla guida, che stavo strappando tutto a cazzo e quel foglio stava diventando sempre più un casino".
La poetica metafora dello "strappare lungo i bordi" del titolo, descrive in modo esaustivo la condizione del protagonista, incapace di concludere qualcosa di concreto nella vita e consapevole di essere l'unico colpevole della propria incompiutezza, perché nonostante la critica sociale, Zero si rende conto di essere completamente immobile, di non aver mai fatto niente di realmente utile per se stesso. E di ciò si accorge quando si riapre una ferita mai del tutto rimarginata, quella del suo cuore. La semplicità schematica della narrazione riesce in modo assolutamente naturale a regalare al pubblico un colpo di scena significativo, seppur accennato e intuibile prima, ma che colpisce fino in fondo soltanto quando viene svelato. La morte di Alice fa apprendere a Zero, Secco e Sarah una triste verità, secondo la quale nella vita ci sono diversi tipi di persone: chi riesce a strappare il proprio foglio seguendo bene le linee, e dunque realizzandosi personalmente, chi nonostante non riesca a farlo non si perde d'animo, o quantomeno non se ne cura, e chi, invece, decide che è meglio rinunciare a tutto, come ha fatto Alice.
Strappare lungo i bordi è una gran bella sorpresa del made in Italy di Netflix di quest'anno. E' un piccolo gioiello dal sapore dolce amaro, da guardare ed ammirare tutto d'un fiato, dal quale apprendere e con il quale ridere e sorridere di gusto. Noi già non vediamo l'ora che Zerocalcare ci regali un altro capitolo, perché avremmo bisogno di più prodotti di questo tipo.
Scopri Hall of Series Plus, il nuovo sito gemello di Hall of Series in cui puoi trovare tanti contenuti premium a tema serie tv!