Eccoci giunti alla fine di questo nostro lungo percorso. La seconda stagione di Pose è ufficialmente giunta al termine, e dopo Pose 2×10 possiamo solo aspettare che Netflix aggiunga tutti gli episodi al suo catalogo.
Episodio di un'ora come per l'inizio, con questa puntata abbiamo potuto conclamare una verità assoluta: in ogni fine c'è un nuovo inizio. Ciò che ci sembra concluso per sempre, in realtà nasconde l'avvio di qualcosa di più grande, forse migliore. Almeno nella maggior parte dei casi.
Pose 2×10 rimette effettivamente insieme tutti i pezzi del puzzle, risistemando ciò che era rimasto a metà in vista di una nuova stagione. Un nuovo inizio, ancora una volta.
Mentre qui potete trovare la recensione della penultima puntata, noi procediamo con il gran finale. Scattiamo di otto mesi in avanti, arrivando a maggio del 1991. Tante cose cambiano, ma a volte certi rapporti si possono ricostruire, diventando addirittura migliori.
È il caso di Blanca e Pray Tell, che finalmente ritornano a parlare tra loro. Mother Evangelista ora riceve appuntamenti a domicilio come estetista, e la relazione tra Pray e Ricky sembra andare a gonfie vele. Ciò che sembra andare male, invece, è proprio la salute di Blanca.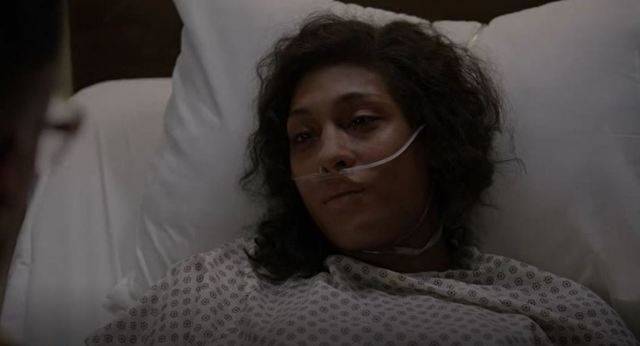 La sua permanenza in ospedale riesce a mettere in evidenza, in un certo senso, l'essenza di Pose: battersi l'uno per l'altro, fianco a fianco, nelle gioie come nei dolori, anzi, soprattutto in questi momenti. Lo stato di Blanca corre agli ultimi istanti della sua vita, inevitabilmente.
Come abbiamo già detto, però, non è la fine. Così come non lo è per sua figlia Angel. Diciamocelo, nemmeno lei se la passa troppo bene, e il suo segreto svelato alla signorina Ford sembra mettere la parola fine alla sua carriera da modella. Come dice lei, però,
The world don't change. People change it.
È con la forza di questo pensiero, e con l'aiuto di Papi, che anche Angel ritorna in pista, se possibile anche più forte di prima. Quella che era nata come una disgrazia si è rivelato essere un miglioramento, una liberazione dalle catene e un trampolino di lancio verso nuovi lidi, verso l'Europa.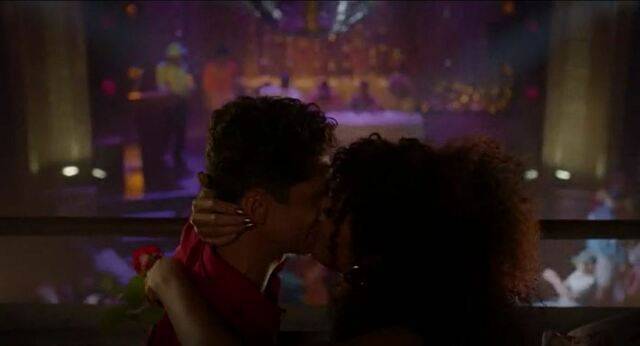 Quello di Papi e Angel è probabilmente il miglior finale possibile: una carriera in comune ricostruita con le loro forze, un ingaggio in Europa e un matrimonio: il loro! La scena della dichiarazione tra i due è commovente, e nel momento in cui si fanno la proposta a vicenda non puoi non applaudire come un forsennato.
Nel finale vediamo anche la chiusura di altre storie. Blanca riesce a superare la sua polmonite e a uscire dall'ospedale, anche se costretta a camminare poco perché ancora molto debole date le sue basse difese immunitarie. Damon è tornato da Parigi appositamente per aiutare sua madre, e ha diverse novità.
Non solo sarà coreografo del nuovo video di Malcom McLaren, ma è diventato father, e dunque fondatore, di una House of Evangelista parigina. Un passo avanti molto grande per una persona che non aveva nulla solo dieci anni prima!
L'ultima mezz'ora di puntata si struttura come l'apoteosi della gioia. Non solo la proposta di Angel e Papi, ma migliaia di momenti che, se descritti tutti, farebbero perdere il gusto della visione. Ciò che possiamo fare è citarne uno in particolare: Blanca che partecipa nella categoria lip sync.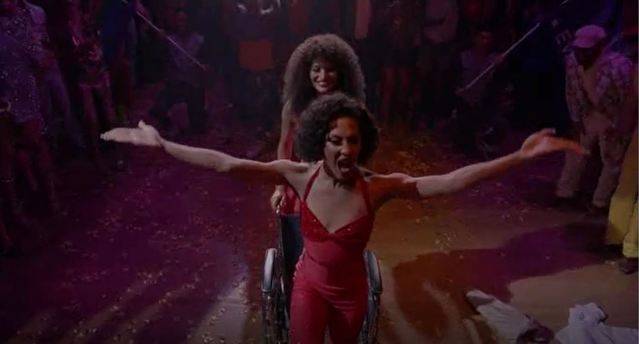 E così, tra una Florida Ferocity che vince la categoria Fem Queen Vogue (e io dietro allo schermo a urlare "AMAZON" e esultare per mother Leiomy) e un'Elektra Abundance che fa l'MC per una categoria runway diversa dal solito, si conclude anche Pose 2×10.
Non prima però di averci lasciato con un'altra novità per l'imminente terza stagione: l'arrivo di due nuovi giovani ragazzi, che Blanca decide di portare a casa con sé. La House of Evangelista sta rinascendo? Penso che l'anno prossimo ne vedremo delle belle.
Prima di concludere definitivamente, permettetemi di spendere due parole su quanto sia stata bella la scelta di inserire la categoria "Butch Queen up in drag first time in a ball". All'inizio ero scettica, pensavo fosse un modo di dare il contentino alle donne della ballroom scene fingendo di sentirsi come loro.
Mai avrei pensato che si riuscisse a fare passare un messaggio serio, di inclusione totale tra i due generi, che si spinge oltre creando un senso di vera e propria famiglia. È una sensazione rara da trovare, ma nel momento in cui la senti puoi dire di sentirti a casa.
Questo è ciò che il voguing e la ballroom scene hanno da sempre cercato di trasmettere: l'accettazione totale di sé stessi e degli altri, e penso che Pose sia stato in grado di spiegarlo perfettamente! Vi ringrazio per avermi seguito e spero di ritrovarci alla prossima stagione!