Attenzione: questa recensione contiene spoiler altamente infiammabili per tutti coloro che hanno fatto il grave errore di non vedere ancora la doppia puntata 6×21/22 'The Final Battle' di Once Upon a Time.
Prima di leggere la recensione delle ultime puntate, potete rinfrescarvi la memoria, leggendo qui quella della scorsa settimana.
Ogni santissima volta che leggo il titolo di quest'ultima doppia puntata i miei occhi si intrecciano, forse anche consapevole del fatto che si tratta dell'ultima puntata con tutto il cast, e leggo The Final Countdown.
Perciò Oncers,
vecchi e nuovi, sopravvissuti e non, questo è
THE FIIIINAL COUNTDOOOOOOWN
TU RU TU RUUUUUUUU TURUTUTTUTTUUUU
L'ultima puntata di questa sofferta sesta stagione è arrivata, e noi sopravvissuti siamo qui a riflettere sul più grande dilemma di tutti i tempi:
ce la faremo a guardare la settima stagione di Once Upon a Time senza Emma, i Charmings e ZELENAA?
(Per Henry non ce ne importa un fico secco ammettiamolo!)
Adesso a Storybrooke rimangono solo Regina, Hook e il nano barbuto (di cui non ricordo mai il nome).
A questo punto facciamo fare a quei due geni di Adam e Edward un bello spin-off su Regina e sulla Evil Queen che si sdoppiano e si raddoppiano come se non ci fosse un domani così siamo tutti contenti e forse finalmente riusciremo a rivedere l'Once Upon a Time delle prime stagioni.
Ah ecco, il nano si chiama Leroy, l'annunciatore di maledizioni, che ogni volta grida 'IT'S here!' ed io torno a pensare a 'IT'S THE FIIIIIINAL COUNTDOOOOOWN TURUTURU TURUTTUTTUTTUUU!'
Tutto adesso mi fa pensare al Final Countdown degli Europe.
Per certi versi Once Upon a Time finisce qui, il cast per come lo conoscevamo non ci sarà più e la storia cambierà. Una parte dei fan smetteranno di seguirla e un'altra parte, come me, non potrà fare a meno di continuare questa avventura, anche perché ci sarà ancora Regina e ne vale la pena anche solo per lei.
Lo ammetto, ho cercato di rimandare questo momento il più possibile, ma ahimè dobbiamo cominciare a parlare della puntata. Anzi, delle puntate.
Dopo un malinconico riassunto dall'inizio dei tempi – quando Henry era ancora un bimbo carino e coccoloso – fino all'happy beginning di Emma e Hook, ci addentriamo immediatamente nella Foresta Incantata, dove una bambina a noi ancora sconosciuta viene incaricata di raccontare le storie del famoso libro che abbiamo sempre visto in mano ad Henry.
E a proposito di Henry, il suo faccione dà il via alla puntata. Lui sembra l'unico ad essersi svegliato a Storybrooke. E l'unico a sapere la verità, come sempre.
Emma è in manicomio e la Fata Corv…ehmm volevo dire, Fiona, è sindaco e madre di Henry. Quasi quasi posso dire che è molto più inquietante in Once Upon a Time piuttosto che in Dexter.
Ah, dopo sei anni a scorazzare ovunque per Storybrooke, nelle foreste e in altri regni, adesso! Adesso si accorgono che Henry marina la scuola?!
Nella foresta incantata, il resto della famiglia, ZELENA e Snow con la sua fantastica acconciatura, complottano contro Fiona cercando di utilizzare il cappello del cappellaio matto, e qui si scopre l'arcano: la battaglia finale sta proprio nel distruggere l'anima e la speranza di Emma. Una volta bruciato il libro tutti i regni scompariranno.
Nel mentre a Storybrooke:
BISCOTTI ALL'AVENA E UVETTA?!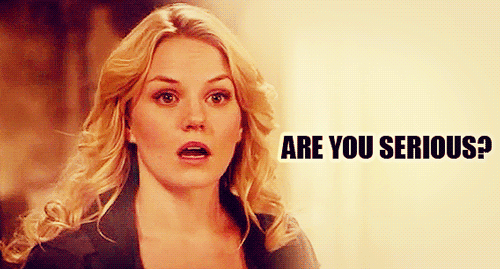 Gold sembra essere entrato in una sorta di trance da innamoramento nei confronti di Fiona. E Belle? Non si sa.
Intanto Hook scappa dal noioso meeting tra la gente di tutti i regni seguito da David e, dopo averlo convinto delle sue nobili motivazioni, cominciano la scalata insieme per trovare il fagiolo magico.
Henry cerca disperatamente di far tornare la memoria ad Emma ma, come era prevedibile, non è così semplice.
A questo punto scopriamo che Belle è scomparsa dopo aver detto a Gideon che sarebbe uscita a comprare le sigarette (poi sappiamo tutti come va a finire, sempre la solita storia). Anche se la Fata Corva cerca di confondere Gold mostrandogli delle foto compromettenti, photoshoppate alla grande, di Belle in giro per il mondo.
Il piano della Corva continua e dopo aver spinto Henry dalle scale, convince Emma a bruciare il fidanzato di Henry il libro. La maledizione arriva quindi anche nella Foresta dove la ex-Evil Queen si sacrifica per tutti facendo guadagnare tempo per salvare il fagiolo.
Dopo aver combinato un disastro, Emma torna a Boston (adoro la porta del suo appartamento!)
E quando pensa di aver finalmente lasciato Henry nel passato, trova un libro che ha disegnato e scritto lui stesso (avevamo già parlato delle sue 'doti' da scrittore, adesso abbiamo la conferma di quanto sia lontano dal diventare Shakespeare).
Nell'attesa della fine, nella Foresta Incantata, Neal dice le sue prime parole:
NGUEEE
Mentre assistiamo a questo lieto evento, la Corva traduce i geroglifici di Henry e scopre la fine della Battaglia Finale. Ma non fa neanche in tempo a farsi dare qualche soddisfazione dal nipote che viene disintegrata da Gold. FINALMENTE!
Gideon quindi, è destinato a combattere contro Emma, che però viene salvata in un primo momento dal POTERE DELL'ESTINTORE, lanciato da Henry contro la testa dell'adolescente.
E così, spezzata la maledizione, tutti tornano a Storybrooke (evidentemente appena usciti da un galà).
Per la prima volta nella storia di Once Upon a Time, Gold vuole fare la cosa giusta, ma niente, proprio non ci riesce. Ma dopotutto avevamo bisogno di rivedere Rumple e le sue rughe ancora una volta!
In superficie, Emma si sacrifica per il bene della luce. Ma la sua morte non dura neanche dieci secondi, grazie al bacio del Vero Amore, si risveglia e dà a tutti un lieto inizio. Sorprendentemente anche a Gold e Belle, che ritrovano Gideon in fasce.
Arrivati sin qui, i Charmings vivono felici nella casa di Clark Kent (con tanto di fienile rosso), Henry torna a scuola, che tanto avrà fatto più di 50 assenze, quest'anno lo bocciano di sicuro, e la ex-Evil Queen riceve una proposta di matrimonio da Robin.
Ma quello che succede alla fine…
quello che succede alla fine…
la bimba sconosciuta che abbiamo visto ad inizio puntata ricompare, e lo fa come fece Henry nel primo episodio, bussando alla porta di suo padre… HENRY MILLS!
Cosa dire?!
È stata un'avventura fantastica, una di quelle alla Once Upon a Time.
Siamo partiti dalla prima puntata di questa sesta stagione fino ad arrivare alla fine, o meglio, ad un nuovo inizio, a tanti nuovi inizi. Sappiamo che tante pedine del cast non saranno presenti nella prossima stagione, ma vedere OUAT è sempre qualcosa di magico.
Ebbene Oncers, vi dedico un arrivederci,
a chi seguirà la prossima stagione e a chi si pentirà di non averlo fatto e comincerà a vederla postuma.
E ricordate…
L'happy ending non è nella fine, ma nello stare insieme