Mentre tutti in America (e non solo) festeggiavano il rinnovo di How To Get Away With Murder per un'altra stagione, io, in Italia, cercavo di fare mente locale sull'ultimo episodio andato in onda e, con questa recensione delirante, provo un po' a riassumervi tutto.
L'episodio inizialmente si sviluppa su due sfondi diversi, difatti: Frank, Bonnie e Annalise sono impegnati in tribunale; mentre Michaela, Connor, Oliver, Asher e Laurel, invece, si trovano al memoriale organizzato dall'Università in onore di Wes. Sia nel primo che nel secondo caso le cose non vanno per il meglio, infatti, Laurel da di matto nel bel mezzo della commemorazione e Annalise, a sua volta, non viene rilasciata su cauzione.
A nulla sono servite le esercitazioni davanti allo specchio di Bonnie prima di recarsi in tribunale, poiché quest'ultima, proprio come uno studente qualsiasi sotto esami, proprio nel bel mezzo dell'udienza è stata colpita da quella che gli esperti chiamano "la sindrome di Luca Giurato". E' una patologia molto diffusa, più di quanto si possa immaginare, e i sintomi sono:
confusione
offuscamento della mente
balbuzie e problemi nella comunicazione (anche quella più elementare)
La diagnosi è facile!
Il problema si manifesta tutte quelle volte che – prima di un esame e/o di un intervento importante – il soggetto, esercitandosi a casa (quando nessuno vede o ascolta) agisce e si comporta come il figlio dotto di Piero Angela, mentre poi in pubblico finisce con:
avere dei dubbi sul proprio nome e cognome
sbagliare la coniugazione semplice del verbo essere
avere le stesse abilita linguistiche di – appunto – Luca Giurato (dal quale la patologia prende il nome stesso)
Ma a proposito di malattie (e giuro che dopo questa la smetto!) …
Ma Laurel che va in giro senza scarpe? Per quanto la situazione possa averla scossa, come ha fatto a non pensare a tutte le infezioni che avrebbe potuto prendere attraversando la città a piedi nudi?
In questo episodio di How To Get Away With Murder assistiamo inoltre ad una vera e propria trasformazione del personaggio di Oliver che, anche se trascinato verso il fondo, riesce a tener alta la testa e a non affondare.
Posso dire di averlo letteralmente rivalutato in questa puntata?
Prima di tutto perché alla commemorazione è stato così bravo a togliersi dai piedi quell'avvoltoio – mi riferisco al compagno di corso di Wes –  che ho subito pensato: "anche io voglio un Oliver nella mia vita che salta fuori dal nulla per cacciare via la gente che mi innervosisce".
E secondo poi perchè finalmente – possiamo dirlo – ci sta un personaggio in How To Get Away With Murder che reagisce come tutti reagirebbero quando c'è di mezzo un omicidio e si è sospettati dalla polizia, ovvero: avendo un attacco di panico!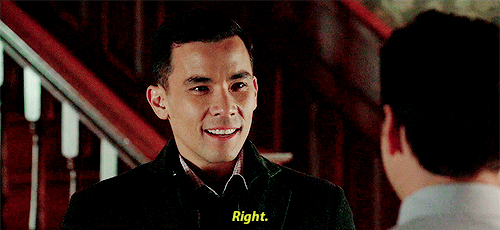 Sempre rimanendo in tema di personaggi – protagonisti di questo episodio, non posso non citare la mamma di Annalise!
La figlia è accusata di omicidio e cospirazioni varie? Va bene, ma in prigione la fanno mangiare?
Ma questo è How To Get Away With Murder, non deve avere tutto un senso! Come non ha avuto alcun senso il discorso fatto dal padre di Annalise che, durante un colloquio in prigione con la figlia, se ne esce con la seguente affermazione:
"se volessi aiutare veramente tua mamma, faresti qualcosa per uscire fuori da questa prigione"
PRONTO???!!! Qualcuno spieghi al signore come funzionano i gradi di appello in un giudizio e che le persone detenute non possono di fatto "scegliere" quando e come uscire di prigione, a meno che non stia suggerendo alla figlia di darsi alla latitanza.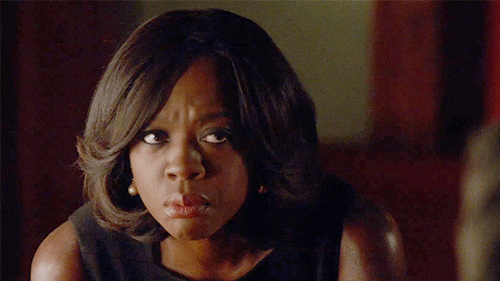 Non è un segreto che How To Get Away With Murder spesso ci confonda le idee (più di quanto non lo siano già), ma vi giuro che quando ho visto il cadavere dello sconosciuto, al posto di quello di Wes, per un attimo ho pensato di trovarmi nel Tempio della Gilda, in uno spin – off di Game of Thrones … Ma questa è un'altra storia che, se volete approfondire, potete leggere qui.
Arrivati a questo punto, dopo la scarcerazione di Annalise, quello che ci interessa sapere veramente a noi fan è: Nate ha davvero ucciso Wes? Che non fosse stato Frank io lo avevo già detto nella precedente recensione delirante della puntata 3×10 di How To Get Away With Murder, e persino sulla lucidità di Nate già in passato ho avuto da ridire! (E se non ci credete cliccate qui… Ho le prove!).  Voi invece? Avevate o avete qualche sospetto?
Intanto Shonda ci prende in giro con i suoi di deliri!
O forse sta solo cercando di suggerirci qualcosa?
Lo scopriremo solo soffrendo!