Il settimo episodio della prima stagione di Game of Thrones non lascia spazio a interpretazioni sbagliate e ci dice chiaramente quello che sembra essere il fulcro centrale dell'intera Serie: nel gioco dei Troni, o vinci o muori. Cersei dice queste parole a Ned, che sembrano essere più una previsione che un avvertimento, forse conoscendo il grande onore del Lord Stark, incapace di giocare carte false, di mettere da parte la lealtà per ottenere ciò che è giusto per il Regno.
Tutti bramano il Trono di Spade, i motivi sono differenti e ancor più differenti sono i mezzi per arrivarci. Ma per vincere al gioco del Trono, devi essere pronto a tutto. Devi essere furbo, manipolatore, bugiardo e sempre un passo avanti agli altri. È così che Ditocorto si fa strada tra i grandi Lord, alleandosi verso la parte che vincerà, per giungere al suo obiettivo: Io voglio tutto, confessa durante la conversazione con due delle sue prostitute, ed è disposto a tutto pur di ottenerlo. Come lui, anche Cersei è dello stesso pensiero. Non ci pensa due volte a uccidere indirettamente il marito pur di tenere il suo segreto al sicuro. Non per il pudore, non per il giudizio delle persone, semplicemente per arrivare al potere, al Trono, attraverso il figlio illegittimo Joffrey Baratheon.
D'altronde è solo questo che vogliono i Lannister: il potere. Non importa il mezzo, l'importante è che il nome continui a essere uno dei più potenti dei Sette Regni. Tywin lo dice senza giri di parole al figlio Jaime, una volta morti "Non rimane niente della tua gloria o del tuo onore, rimane la famiglia", ovvero il nome e quello che suscita. E Cersei è d'accordo con il padre.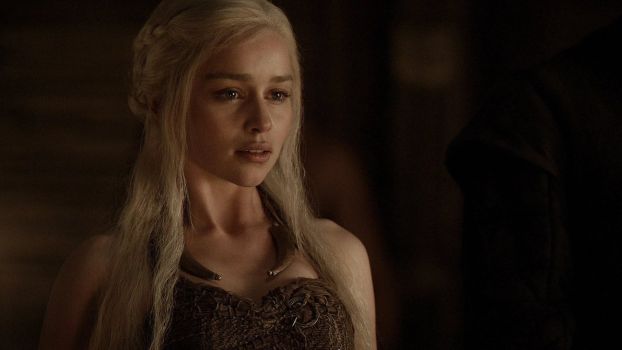 Al gioco dei troni sembra partecipare anche Daenerys Targaryen dall'altra parte dei mari. Scampata alla morte, Daenerys vuole vincere insieme al suo Khal. Ultima della casata Targaryen e figlia del Re Folle, la Khaleesi sembra essere la vera erede al Trono, ma è troppo lontana per rivendicarne la legittimità. Il suo desiderio è momentaneamente "in sospeso", mentre il desiderio di Jon Snow di essere un Ranger, viene distrutto. Gli viene assegnato il compito di attendente del comandante Mormont. Ancora una volta, il potere prevale su tutto il resto, e Jon accetta il compito suo malgrado, per rispetto.
Contemporaneamente, anche il desiderio di Eddard Stark, di avere un Re legittimo e degno, va in frantumi. La notizia della morte di Re Robert non fa in tempo a spargersi che Joffrey siede già sul Trono come nuovo Re. L'ultimo volere del defunto Re, scritto e firmato su pergamena, viene deriso, strappato e disonorato in un batter d'occhio. Non esiste lealtà, non esiste rispetto, esiste solo il gioco in Game of Thrones. E, per ora, Cersei Lannister sembra aver vinto.