C'è indubbiamente una relazione tra la cultura pop e la percezione dei prodotti a cui assistiamo. Un'influenza che è in grado di alterare la portata della nostra conoscenza, da un lato, e delle aspettative, dall'altro. Nel momento in cui ci si approccia a una serie intitolata Ragnarok la nostra reazione immediata è quella di associarla alla produzione di successo della Marvel. Questo collegamento, non necessario ovviamente, ma molto probabile, non è a priori un limite. Anzi. Potrebbe addirittura essere un trampolino per apprezzare ulteriormente quello che stiamo per vedere.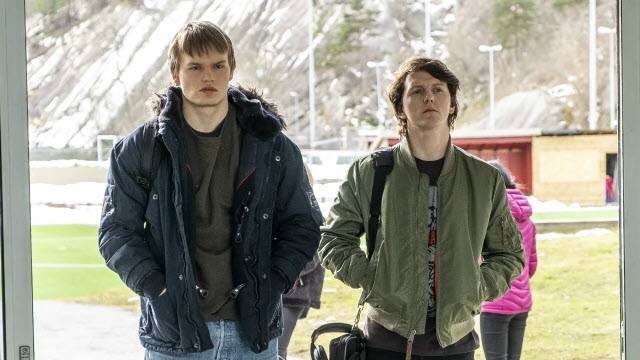 Questa serie originale norvegese non ha nulla a che fare con l'opera del gigante dei fumetti, ad eccezione ovviamente dei riferimenti alla mitologia norrena.
Partiamo dall'inizio. Ragnarok è la storia di due fratelli Magne (David Stakston) e Laurits (Jonas Strand Gravli) Seier. Ma tecnicamente si parla quasi esclusivamente di Magne. Laurits svolge principalmente un ruolo passivo-aggressivo che culmina in modo un po' didascalico e scontato nel finale. Magne, dunque. Soffre di dislessia, il che gli fa prendere alcuni pessimi voti a scuola, e si iscrive al liceo della piccola città di Edda a cui ritorna con la madre e il fratello dopo averla abbandonata da bambino. A pochi giorni dal suo arrivo, dopo aver incontrato una strana vecchia coppia il primo giorno, iniziano ad accadergli strane cose. Fermiamoci un attimo. Il vecchio sulla sedia a rotelle con una benda sull'occhio e la moglie vogliono rappresentare il padre degli dei norvegesi, Odino, e la veggente Heimlaug. Quest'ultima è infatti colei che apre la mente di Thor ai suoi poteri latenti. Non tutti conoscono la mitologia norrena quindi queste associazioni sono appannaggio di pochi spettatori.
Fin da subito però s'insinua nel pubblico la certezza che Magne possa essere il nostro Thor moderno che, presto, renderà giustizia al suo popolo e alla sua terra che arrancando sotto l'oppressione dei giganti.
Uno dei punti salienti attorno al quale ruota la narrativa di Ragnarok è l'uso del simbolismo mitologico in ogni occasione possibile. Cercando in questo modo di ridisegnare in chiave moderna i topoi narrativi classici dell'antica tradizione norrena. Un meccanismo già visto e non sempre riuscito con successo. Basti pensare al recente Dracula di Mark Gatiss e Steven Moffat.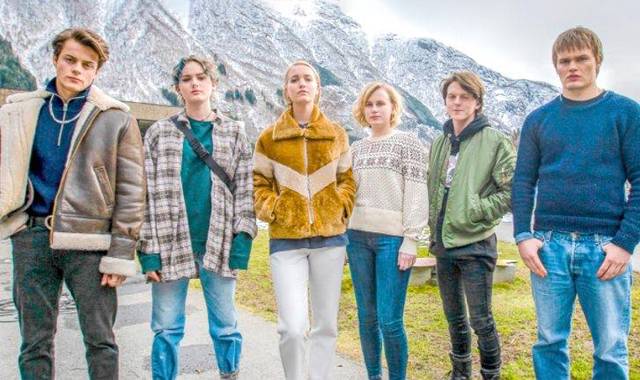 L'idea comunque non è sbagliata a priori. E l'ambientazione si presta a questo gioco d'incastri tra antico e moderno. Prendendo ad esempio la famiglia Jutul, quando si pensa alla parola "giganti" ai giorni nostri, ci sta di pensare a una famiglia influente e potente della società. Qualcuno che ha la capacità per dominare e controllare tutto ciò su cui può mettere le mani. Lo stesso cane spettrale dei Jutuls, Trym, vuole rappresentare e incarnare l'immagine del mitologico lupo Fenrir. Ma anche lo stesso fratello di Magne, Laurits, dovrebbe rappresentare Loki. Il problema è che i riferimenti mitologici non riescono mai a diventare i fili che intrecciano e sostengono la trama moderna. Il tentativo di creare un arazzo di fantasia, storia, azione e cambiamenti ambientali risulta solamente parziale e molto claudicante.
Le caratterizzazioni dei personaggi sono spesso solamente abbozzate o quanto meno spiegate molto goffamente. Magne, viene mostrato in quasi tutte le scene sin dall'inizio come un'adorabile ragazzo impacciato che non farebbe male a una mosca. Il tentativo di farci capire che sotto quella coltre ci possa essere un carattere più ambiguo e a volte violento ci viene solo raccontato. Nello specifico dalla madre durante un colloquio con il preside della scuola. Ma nulla nella narrazione ci lascia pensare che sia veramente così.
Allo stesso modo la famiglia Jutul, composta da una coppia di genitori gelidi e autoritari e i loro figli un po' troppo cool per la scuola, risultano dei villain semplicistici e un po' scontati. Si salva giusto Fjor che riesce almeno un poco più conflittuale e tridimensionale man mano che la serie procede.
Anche la madre di Magne e Laurits (Henriette Steenstrup), come molti altri cittadini di Edda, non si sviluppa mai al di là di una debole impressione iniziale. Questo è uno dei punti più fallimentari della serie e sorprende viste le altre opere del creatore di Ragnarok, Adam Price. Chiunque abbia visto, ad esempio, Borgen, il suo magistrale dramma di intrighi politici, non può che restare sorpreso dal trattamento riservato a questi personaggi piatti e superficiali.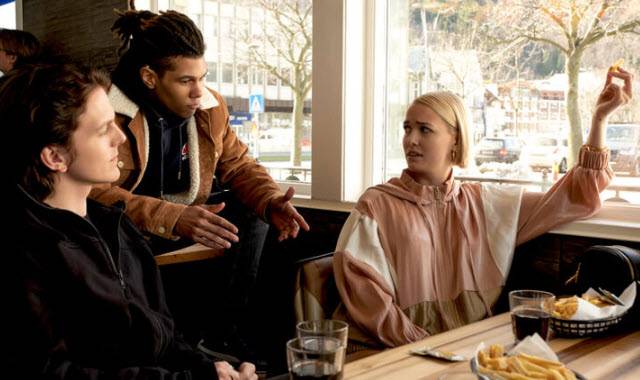 Un ulteriore aspetto che ha decisamente reso poco felice il progetto Ragnarok è la costante e reiterata didascalicità dei contenuti. L'ostentazione di cliché ripetuti allo stremo per essere sicuri che arrivino al pubblico. Come se il pubblico non fosse in grado di decodificare situazioni ambigue o di chiaro scuro e necessitasse di essere accompagnato per mano nella drammaturgia dell'opera. Per quanto il target di questa serie sia un pubblico giovane stride l'ambizione del contenuto con questa semplicità di resa che rende il tutto molto più vicino a teen-drama come Twilight che non a opere più ambiziose.
Solo per fare alcuni esempi basti pensare se già nelle prime due puntate assistiamo all'esibizione sovrannaturale del lancio del martello da parte di Magne. Se da un lato è necessario mostrare l'acquisizione dei suoi nuovi poteri, insistere in modo così sfacciato all'utilizzo proprio di un martello è un modo troppo diretto e scontato di dichiarare fin da subito la sua reale identità. Il martello è un simbolo troppo conosciuto e codificato, rispetto alla figura di Thor per non risultare didascalico. Ma anche la gestione del villain principale soffre del medesimo trattamento.
Vedere quello che potrebbe essere il cattivo principale, già a inizio serie, spogliarsi nudo per cacciare, uccidere e strappare il cuore a un caribù, per poi mangiarlo urlando in cima a un scogliera, chiarisce abbastanza bene che le sottigliezze narrative e le ambiguità non sono certo una priorità assoluta per Ragnarok.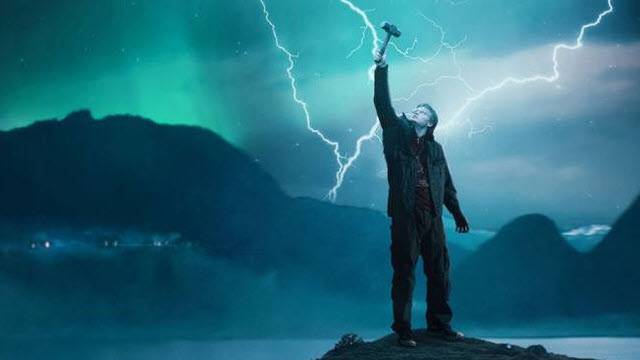 Ma questo, come detto, non è un punto a favore. Si può essere semplici e diretti senza risultare banali. Cosa in cui purtroppo Ragnarok scade troppo facilmente. In sei episodi la necessità di correre dietro alle vicende della trama forse non aiuta, ma da un autore capace come Adam Price è lecito aspettarsi molto di più. Ha già dimostrato ampiamente di maneggiare con grande cura e sapienza l'intrigo, l'intreccio e la suspense.
Ragnarok è l'ultima produzione del genere relativamente recente di cli-fi (climate fiction), che immagina e racconta il disastro climatico. Genere sdoganato da pellicole come The Day After Tomorrow e Snowpiercer (prodotta da Netflix nel 2013 per la regia del recente premio Oscar Bong Joon-ho) o da serie tv come The 100 o 12 Monkeys. Ma Ragnarok tra questi, almeno nelle intenzioni, è lo spettacolo raro che rende il cli-fi la premessa principale, mantenendo la concentrazione sul cambiamento e su ciò che possiamo fare prima che sia troppo tardi, piuttosto che mostrarci cosa succede dopo il punto di non ritorno. Come detto il risultato non è all'altezza dell'ambizione, ma diamogli merito del tentativo. Almeno.
LEGGI ANCHE – Ragnarok: la nostra recensione della prima stagione