Party of Five (Cinque in famiglia) è stata una delle serie tv più amate degli anni 90. Il racconto era incentrato sulle vicende dei cinque fratelli e sorelle Salinger, rimasti orfani all'improvviso e impegnati a prendersi cura l'uno dell'altro dopo la perdita dei loro genitori.
Nel gennaio 2018 l'emittente Freeform (che dovrebbe trasmettere anche la seconda stagione di Pretty Little Liars: The Perfectionists) ha ordinato la messa in cantiere di un reboot pilot della serie del 1994 e lo scorso febbraio 2019 ha avuto inizio la messa in cantiere dello show.
Adesso, dopo ben venticinque anni dall'uscita della prima stagione, il reboot di Party of Five è realtà: e abbiamo una release date!
La nuova serie riproporrà il dramma dell'improvvisa solitudine di cinque fratelli e sorelle e le loro quotidiane difficoltà nell'affrontare la vita senza i genitori. Ma il nuovo Party of Five avrà un elemento di forte distacco dalla serie originale: infatti i genitori dei cinque non verranno a mancare all'improvviso a causa della loro morte. La famiglia Acosta verrà distrutta in seguito alla deportazione dei genitori in Messico in ottemperanza alle politiche migratorie dell'attuale presidenza degli Stati Uniti.
Questa nuova impostazione darà allo show un'impronta contemporanea e sociale molto marcata e c'è da credere che farà parlare molto di sé. Lo scorso maggio è stato rilasciato un trailer della serie, che stando a quanto mostrato si aprirà con i giovani Acosta che assistono alla condanna di deportazione dei loro genitori.
Un evento che scuoterà le loro vite.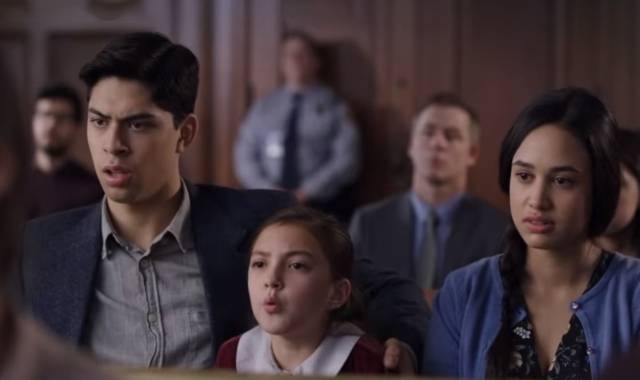 Li trascinerà verso un addio straziante e causerà un impatto fortissimo sulle abitudini e sulla stabilità dei cinque ragazzini. L'uscita negli USA del primo dei dieci episodi che andranno a comporre la serie, è attesa per l'8 gennaio prossimo. Il Presidente dell'emittente Freeform ha rilasciato recentemente un'intervista a EW spiegando cosa significhi per lui la nuova serie di Party of Five:
Party of Five rappresenta il cuore e l'anima di ciò che vuol dire essere una famiglia nei momenti di bisogno.Abbiamo la fortuna che la nostra emittente faccia da casa a questa storia reinventata che continua a rappresentare la resilienza dei giovani adulti e l'importanza di combattere per far sentire la propria voce nei momenti di dubbio. Non vediamo l'ora di condividere questo stupendo racconto creato da Amy e Chris (i creatori prima della serie originale e ora del reboot Christopher Keyser e Amy Lippman N.D.R).
Non ci resta che attendere una data d'uscita italiana per tornare dopo tanti anni ad emozionarci con Party of Five.