Settimo appuntamento con le pagelle della prima stagione di Game of Thrones, ricorrenza che ormai da sette settimane ci accompagna alla riscoperta delle vicende del Trono di Spade. Come i più attenti di voi avranno già intuito leggendo tra le righe (la prima e la seconda, per la precisione), parleremo con poca cognizione di causa della settima puntata.
Lo confesso, iniziare ogni pagella di Game of Thrones con un'introduzione brillante e coinvolgente per creare l'atmosfera giusta non è per niente semplice, le idee scarseggiano e la mente è già in modalità "Vacanze di Natale", quel particolare momento dell'anno caratterizzato dal dirottamento di ogni minima briciola di energia laddove ce n'è più bisogno, ossia dal sistema nervoso centrale all'apparato digerente.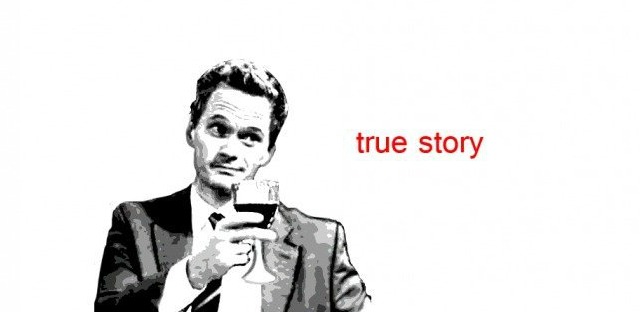 Quindi, per questa volta, mi affiderò alla causa di natalità più alta nell'America degli anni '70/'80: il creatore di atmosfere per eccellenza AKA Barry White.
Ovviamente, la canzone non poteva che essere a tema…
LE PAGELLE DELLA 1×07 DI GAME OF THRONES
GOD SAVE THE KING – VOTO 7
Dove eravamo rimasti? Ah sì, Ned ha scoperto che tutti i figli di Cersei Lannister non sono del Re, ma del di lei fratello gemello Jaime. I due sono i rampolli della casata più potente di tutti i sette regni, ricca, ambiziosa e spietata nel raggiungere il suo scopo: conquistare il Trono di Spade.
La regina è la donna più pericolosa dell'intero continente occidentale, con killer prezzolati al suo servizio e una montagna di denaro per comprare tutto e tutti, e il nostro con una mossa degna del Kissinger dei giorni migliori (di demenza senile) decide di minacciarla apertamente mettendo sul piatto tutte le carte che aveva in mano.
Nelle prossime settimane, da non perdere gli Spin-Off esclusivi sul complicato rapporto tra Stark e diplomazia:
"Ned Stark dà della fighetta a Putin"

"Ned Stark e le origini messicane di Trump"

"Ned Stark e il cicciotto paffutello con gli occhi a mandorla: cronaca del suo viaggio in Corea del Nord"
Possiamo comunque comprendere il saggio uomo del Nord, del resto sta per perdere il suo migliore amico. Cersei rigira il coltello nella piaga, ricordando a lui come prima del matrimonio Robert fosse "agile, snello, con la barba ben curata" e a noi come le scelte sbagliate e uno stile di vita immorale possano rovinare l'esistenza.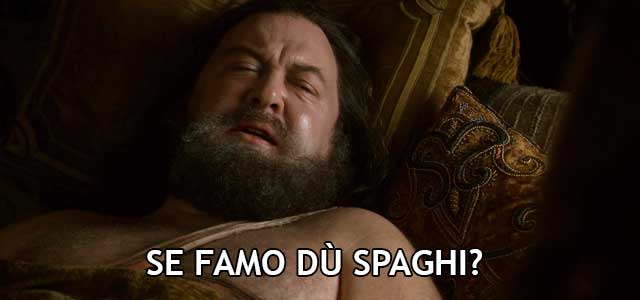 APPELLO SOCIALE: ragazzi, non fate come il Re Robert Baratheon, primo del suo nome. Non sposatevi mai.
Al capezzale del Re la processione di tutti quelli che gli hanno voluto davvero bene. No, non c'è coda tranquilli.
Poco prima di morire, l'amato sovrano fa in tempo a nominare Ned protettore del Reame fino alla maggiore età di Joffrey, e cambia idea sulle sorti di Daenerys. Ovviamente, come è prassi in storie di questo tipo, prima fa uscire dalla sua stanza ogni possibile testimone che possa supportare le tesi di Ned di fronte alle legittime autorità.
Cose che capitano, c'est la vie.
Rimanendo nella capitale, Petyr Baelish è impegnato a fare un colloquio. Ok, avrei decisamente dovuto studiare risorse umane.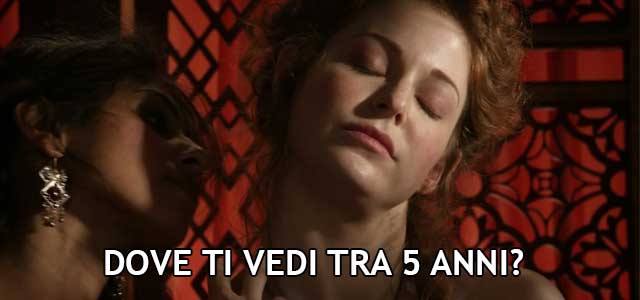 Scusate la deglutizione, si sarà mica sentita?
DITOCORTO SCRITTORE DI PUNTA DEGLI HARMONY – VOTO 9 (settimane e mezza)
AD APPRODO DEL RE LE CAMPANE SUONANO A LUTTO. JOFFREY SIEDE SUL TRONO. AH, DOVREBBE ANCHE ESSERE MORTO ROBERT – VOTO 3
IL DITO SARÀ ANCHE CORTO, PERÒ È PARECCHIO FASTIDIOSO – VOTO 4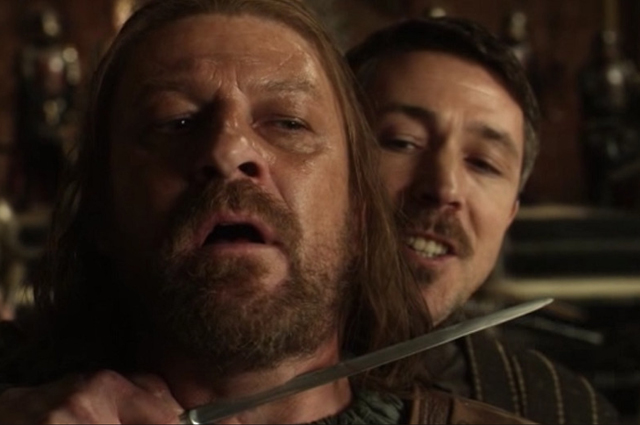 NOTTE PRIMA DEGLI ESAMI – VOTO 15/15
È una splendida mattina al campo Lannister. Tywin è stato invitato da Ned per un apericena prenatalizio, ma vista la compagnia non ha troppa sbatta di andare. E come dargli torto. Il capofamiglia ricorda al proprio erede come un leone non debba dare peso alle opinioni di una capra. E nemmeno a quelle di un cervo, a quanto pare.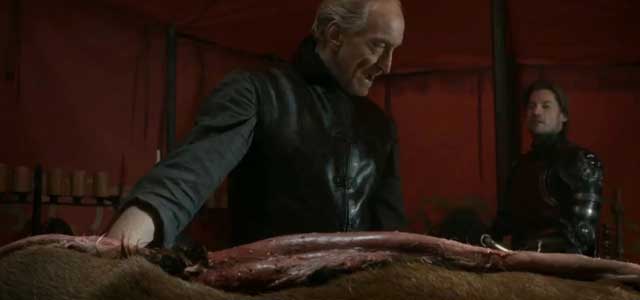 Dall'altra parte del mondo, Dany va a fare la spesa da brava massaia. Scopriamo che in un'altra vita Jorah Mormont deve essere stato un finanziere.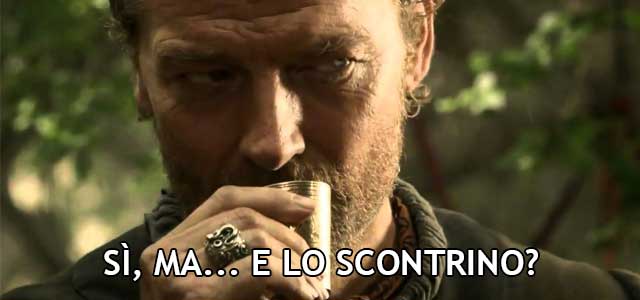 In attesa dei venti di guerra che spireranno inevitabilmente da Sud, lo sport nazionale in quel di Grande Inverno sembra essere il "Blasta Theon" (allego supporto musicale per rendere più coinvolgente questa parte della storia).
Il regolamento è semplice: l'ultimo discendente maschio della casata Greyjoy apre la bocca e tu gli ricordi quanto inutile sia la sua esistenza.
Iscrizioni aperte a tutti, dai vecchi maestri alle serve analfabete. Tanto, vincere è facile.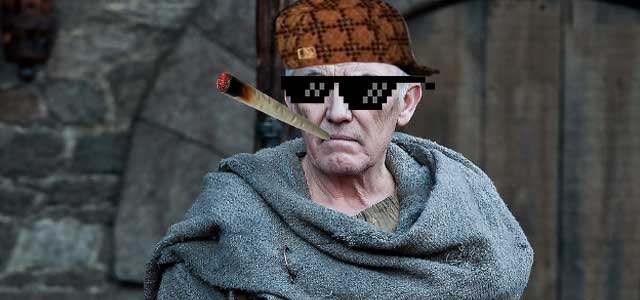 Al Castello Nero le cose sono decisamente più divertenti. Tra gli ormoni di Sam a palla e l'imminente fine dell'anno scolastico, scopriamo che il buon Tarly forse ha mentito sui motivi del suo arrivo tra i Guardiani della Notte. In qualche polveroso cassetto deve trovarsi una compromettente denuncia per stalking.
Prima di entrare ufficialmente nell'ordine, i guerrieri devono prestare giuramento. Una formula da dire tutta d'un fiato, a memoria. Occhio a sgarrare, pena la morte.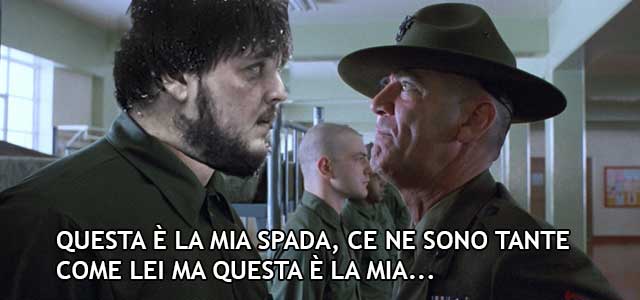 Alla consegna dei diplomi, Jon scopre che non avrebbe dovuto cazzeggiare durante i Test Attitudinali. Farà il badante per il comandante, Voucher per 3 ore al giorno, il resto in nero. Occhio a Jorah.
Alla fine della cerimonia, Spettro vorrebbe fare un regalo al suo padrone, ma in tempi difficili come quelli di Game of Thrones trovare topi è un casino, quindi si arrangia come può.
OSHA CONVINCEREBBE SALVINI DI ESSERE UN CLANDESTINO – VOTO 8
LE USCITE ESTEMPORANEE DEL TARLY – VOTO 5
La citazione della settimana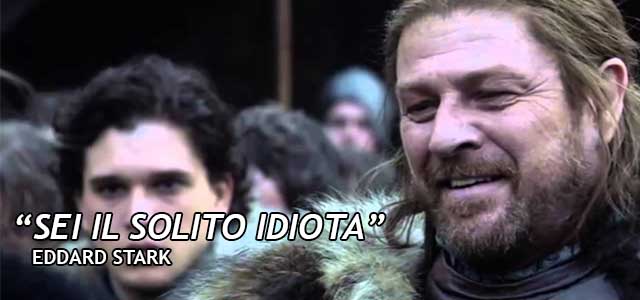 Le previsioni del Gufo con Tre Occhi
Dopo ogni episodio elargiremo profezie sui destini dei protagonisti di Game of Thrones. I quali potranno tranquillamente risponderci, se sono capaci di scrivere sulla tastiera con una mano sola…
Jon dimostra di credere moltissimo al valore della famiglia, farà di tutto per tenerla unita. Struggente il volere suo zio a tutti i costi, il desiderarlo ardentemente. Sì, zio, ho detto zio.
I corvi ci mettono troppo a portare questi messaggi, sarà un limite nella serie.
Joffrey è solo un bambolotto nelle mani di sua madre. Cersei comanderà davvero ad Approdo del Re, peccato, forse suo figlio sarebbe stato un regnante giusto e corretto.