Toss A Coin To Your Witcher

Oh, valley of plenty,

Oh, valley of plenty, oh
È questo il motivetto ipnotizzante che è entrato in testa a tutti, ma proprio a tutti (tanto che neanche l'interprete di Ranuncolo riusciva a liberarsene). La ballata è diventata quasi il simbolo di The Witcher, serie tv targata Netflix che ha debuttato sulla piattaforma lo scorso dicembre ed è stata ben presto rinnovata per una seconda stagione che dovrebbe arrivare nel 2021. La serie, in realtà, è tratta dai libri di Andrzej Sapkowski ed è prevalentemente conosciuta grazie ai videogiochi realizzati da CD Project Red.
Toss A Coin To Your Witcher, la canzone più famosa della serie, è diventata un vero e proprio fenomeno pop virale ancor prima di essere divulgata su Spotify.
Ora, a seguito degli innumerevoli video, meme e cover realizzati dai fan in tutte le salse e lingue del mondo, arriva finalmente il video ufficiale della canzone di The Witcher.
Essenzialmente il video è composto da una pergamena sulla quale compaiono via via i versi di Toss A Coin To Your Witcher accompagnati dalla splendida voce di Joey Batey (interprete di Ranuncolo). Fornendoci al contempo sia il testo ufficiale della canzone, sia il video.
La ballata racconta le epiche avventure di Geralt di Rivia, il Witcher che si guadagna da vivere combattendo contro i mostri più disparati in cambio di denaro. Tuttavia, la tempra burbera e l'aura di mistero che lo circondano gli fanno una brutta pubblicità, è proprio per questo che interviene il fedele Ranuncolo (che non è l'unico tormentone della serie).
Il cantastorie, infatti, addolcisce l'immagine del Witcher con le sue ballate orecchiabili e ipnotiche.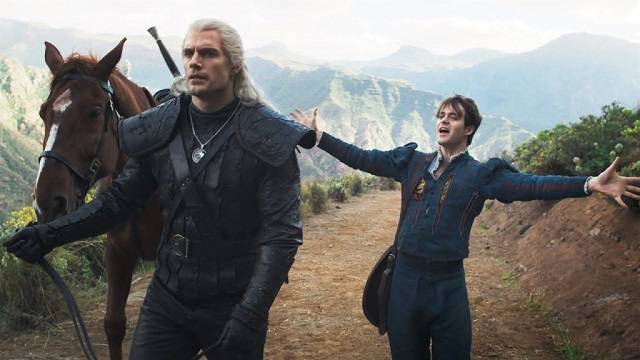 Riesce a trasformare, con l'arte della musica, un temuto mutante in un vero e proprio eroe amico degli uomini. Nel frattempo a noi non resta che aspettare la seconda stagione canticchiando i suoi versi.