# #
Durante il San Diego Comic-Con tenutosi nei giorni scorsi sono state annunciate, come ogni anno, tante novità. Ad attirare maggiormente l'attenzione sono state sicuramente le novità sulle nuove serie e film del Marvel Cinematic Universe, ma ovviamente c'è molto altro. Tra il mare di trailer e nuovi debutti, si è discusso anche dei possibili sviluppi di molte serie tv, tra cui The Walking Dead.
# #
Durante un'intervista a Jeffrey Dean Morgan è stato chiesto se ci fosse la possibilità di un film su Negan, e questa è stata la sua risposta:
So che se ne è parlato. Dovremmo farlo prima che invecchi ancora, insomma, molto presto non potrò più interpretare Negan da giovane.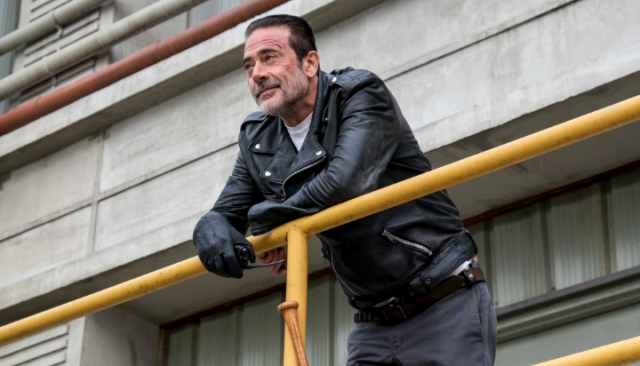 Si è già parlato in passato della possibilità di uno spin-off su Negan e il materiale su cui basarlo non mancherebbe di certo. Questo personaggio ha una backstory ricchissima, raccontata in volume dei fumetti di The Walking Dead dedicato solo a lui, e l'autore Robert Kirkman si è mostrato interessato alla possibilità di un adattamento di questa storia.
# #
Da tenere in considerazione anche la possibilità che un live-action su Negan potrebbe trattare del suo futuro invece del suo passato, o di entrambe le cose contemporaneamente.
Nell'ultimo capitolo della serie di fumetti di The Walking Dead è entrato in scena un Negan molto più anziano, e si è già discussa la possibilità di una nuova serie a fumetti incentrata su di lui dopo gli eventi della serie originale.
In un eventuale film su Negan potremmo dunque vedere il personaggio in ambientazioni nuove e lontano dagli eventi della serie principale, un po' come dovrebbe essere per Rick Grimes nel film incentrato su di lui, di cui ancora non si sa praticamente nulla. Le possibilità di uno spin-off su Negan sono quindi buone, considerando la presenza di buon materiale. Inoltre non sarebbe il primo. C'è già in programma, appunto, il film su Rick Grimes, m non solo. Oltre alla serie Fear the Walking Dead potebbe arrivare una nuova serie spin-off. Tratterà di un gruppo di giovani sopravvissuti alle prese con l'apocalisse zombie.