Le parole pronunciate da Rick nell'ultimo episodio della settima stagione di The Walking Dead risuonano ancora nelle nostre orecchie (clicca qui se ti serve un recap!):
Te l'ho già detto: io ti ucciderò. Vi ucciderò tutti. Magari non oggi, magari non domani ma niente cambierà questo fatto. Niente. Siete già tutti morti.
L'ottava stagione di The Walking Dead sembrerebbe dare (finalmente) inizio allo scontro tra Rick e Negan. Lo conferma anche il poster ufficiale presentato al San Diego Comic-Con in questi giorni. L'intensità dello sguardo con cui Rick sfida Negan e la sicurezza con cui il Salvatore sostiene il confronto non lasciano dubbi: la guerra ci sarà. E tutti sono pronti a combattere.
Il poster contiene un altro dettaglio importante: la data première dell'ottava stagione di The Walking Dead. Il 22 ottobre la Serie Tv tornerà sull'AMC, mentre in Italia sarà disponibile il giorno seguente. Il primo episodio dell'ottava stagione rappresenta un traguardo importante. Si tratta infatti del centesimo episodio della Serie Tv. Dovrà succedere qualcosa di memorabile!
Cosa sappiamo finora sull'ottava stagione di The Walking Dead? Siamo a conoscenza del fatto che, inevitabilmente, anche nei prossimi episodi dovremo dire addio ad alcuni personaggi. Nulla è ancora certo, ma alcune indiscrezioni provenienti dall'America rendono alcuni nomi più papabili di altri (clicca qui per saperne di più!). Sappiamo inoltre che, secondo quanto dichiarato da un membro del cast, l'ottava stagione potrebbe essere la migliore di sempre (ne abbiamo parlato qui!).
Naturalmente, l'AMC si guarda bene dal trapelare qualche possibile spoiler relativo ai nuovi episodi. Tuttavia, sono state pubblicate due foto scattate durante le riprese dell'ottava stagione. Rick e Maggie si scambiano uno sguardo di supporto, mentre Daryl e Carol si riuniscono (finalmente!).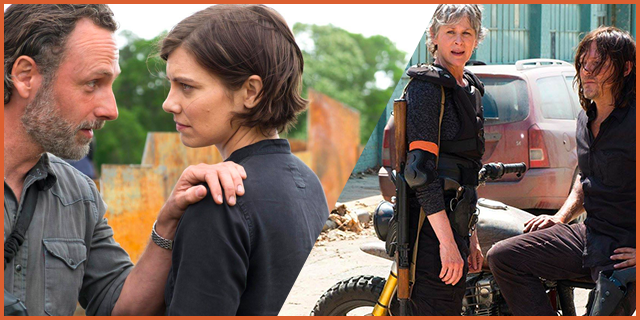 Al San Diego Comic-Con la produzione ha deciso di cancellare i numerosi incontri fissati con la stampa. Il motivo risiede nella recente morte di uno stuntman, che aveva fermato le riprese dei nuovi episodi. La produzione è ripartita in questi giorni (ne abbiamo parlato qui!). Tuttavia, era presente il cast della Serie, che ha assistito alla messa in onda del trailer ufficiale della prossima stagione.
Ecco il trailer ufficiale dell'ottava stagione di The Walking Dead, presentato oggi al San Diego Comic-Con:
Che la guerra abbia inizio!
Non dimenticatevi di passare da qui: Norman Reedus Italia, The Walking Dead ITA . The Walking Dead-Italy , The Walking Dead Italia , Caryl Italia, Andrew Lincoln Italy e FIGHT the Dead. FEAR the living – The Walking Dead gdr . The Walking Dead Pagina Italiana . Le migliori frasi di Negan . Il Regno di Ezekiel e Shiva . Le migliori frasi di Rick Grimes ! In più vi consigliamo un canale YouTube di un nostro affiliato Don't Open Dead Inside  e il gruppo The Walking Dead – Safe Zone !
Partecipiamo all'iniziativa #ItalyWantTWDtoo con il gruppo su Facebook!