Dopo l'annuncio a marzo del 2018, sono finalmente uscite le prime foto dal set di The Spanish Princess. Di stampo storico, la miniserie prodotta da Starz si basa sui romanzi di Philippa Gregory Caterina, la prima moglie (The Costant Princess) e La maledizione del re (The King's Curse).
La trama ruota intorno alla figura di Caterina d'Aragona, interpretata dalla bellissima Charlotte Hope (Myranda in Game of Thrones). L'intento dei produttori è però quello di rappresentarla sotto una nuova ottica. Dall'immagine topica della bisbetica moglie ostracizzata, a quella di una donna forte, passionale e determinata: una Regina a tutto tondo.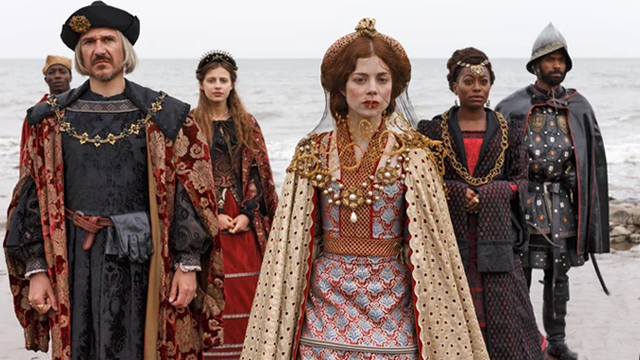 Emma Frost, co-produttrice, a tal proposito ha dichiarato:
Nessuno ha scritto di lei quando era una giovane donna, ed è sempre stata caratterizzata come la vecchia borsa indesiderata, ma era un personaggio incredibile. In realtà è un personaggio molto moderno. È stato emozionante raccontare la storia di questa donna che era così determinata a forgiare il proprio destino.
Affiancati nelle riprese dallo storico Onyeka Nubia, il produttore Matthew Graham ed Emma Frost hanno sviscerato le vicende più nascoste dell'Inghilterra quattro-cinquecentesca, tra lotte di potere e immigrati.
Questa è una storia sugli immigrati ed è stata un'opportunità meravigliosa poter mettere al centro della serie le persone di colore. Il nostro lavoro è usare i fatti per creare dei personaggi del sedicesimo secolo in grado di conquistare il pubblico del ventunesimo.
Le riprese, itineranti tra Inghilterra e Spagna, sono iniziate a fine maggio alla Cattedrale di Wells. Mentre lo show, con una regia tutta al femminile, uscirà sul piccolo schermo nella primavera/estate del 2019.
Nel cast di The Spanish Princess, ad accompagnare Charlotte Hope, avremo Angus Imrie nel ruolo del principe Arthur, mentre il futuro Enrico VIII sarà interpretato da Ruairi O'Connor. Nei panni di Elisabetta di York e di Enrico VII avremo Elliot Cowan (Lorenzo de' Medici in Da Vinci's Demons) e Alexandra Moen (Lucy Saxon in Doctor Who); George Henley, la piccola Lucy Pevensie in Le Cronache di Narnia, sarà infine Margherita Tudor.