Nuovo anno, nuovo revival per NBC! In un periodo in cui la produzione seriale si concentra tanto sulle Serie inedite quanto sui revival NBC scommette su The Office.
Visti i successi televisivi dei ritorni di Will&Grace (di cui abbiamo parlato qui) e quello di Una Mamma Per Amica (di cui puoi leggere qui), anche NBC vuole provare a riportare in auge The Office.
La Serie originale è andata in onda per ben 9 stagioni, dal 2005 al 2013, e per 7 stagioni il protagonista indiscusso è stato Steve Carell e la sua comicità più unica che rara.
Per questo revival sembra che l'attore candidato all'Oscar nel 2016, non sia stato preso in considerazione e si stia cercando il volto che possa prendere il suo posto come degno erede.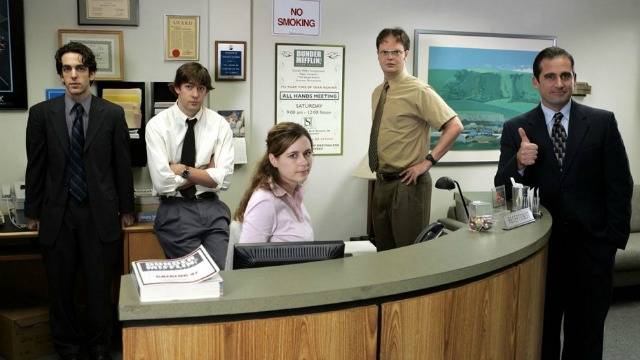 Il nuovo The Office sarà ambientato nella stessa assurda filiale di tutte le sue stagioni, ossia gli uffici della Dunder Mifflin di Scranton in Pennsylvania. Inoltre, nonostante la mancata presenza di Steve Carell, i protagonisti saranno un miscuglio di personaggi vecchi e nuovi, per non lasciare andare del tutto la Serie originale.
La notizia della preparazione del revival per la stagione televisiva 2018/2019 di NBC ancora non ha ricevuto una conferma ufficiale, ma soltanto qualche indizio sparso quà e là nel tempo, come un tweet di Carell a Gennaio che faceva intuire aria di revival.
Inoltre ad Agosto il presidente di NBC Bob Greenblatt aveva dichiarato di aver desiderio di un revival di The Office con queste parole:
"Abbiamo parlato spesso di The Office, ho consultato Greg Daniels almeno quattro volte negli ultimi anni. Ci diciamo sempre 'forse un giorno, ma non adesso'. Ci stiamo riflettendo su, ma non c'è niente di concreto. Se vuole, lo farà."
In questo ultimo periodo sembra che se le emittenti televisive non pubblichino almeno un revival non siano al passo con tempi! Spesso le Serie che ne escono sono interessanti, ma alcune volte sarebbe stato meglio lasciar perdere, su quale lato della medaglia si ritroverà questo revival di The Office?