The Mandalorian con questa seconda stagione si sta rivelando una delle serie tv più amate e chiacchierate del momento. Se nella prima stagione Baby Yoda aveva intenerito e fatto innamorare il pubblico, nei nuovi episodi il suo personaggio è stato inondato da critiche molto feroci. Una settimana fa è andato infatti in onda il secondo episodio della seconda stagione (leggi qui la nostra recensione) intitolato Il passeggero che non è stato molto apprezzato dai fan.
In questa puntata il Mandaloriano ha deciso di permettere a Lady Frog di viaggiare con lui e Baby Yoda. La rana doveva raggiungere la vicina luna Trask per portare lì le sue uova dove suo marito avrebbe dovuto fecondarle. Questa era l'unica speranza per loro di portare avanti la loro specie che era a rischio d'estinzione. Quando però il piccolo Baby Yoda ha visto le uova ha provato a mangiarne una e dopo averla assaggiata, non ha potuto fare a meno di mangiarne altre.
Gli spettatori si sono infuriati però perché il Bambino aveva mangiato le uova che Lady Frog cercava di difendere con tanta cura.
La scena doveva essere una semplice gag ma ha fatto infuriare molti spettatori che hanno giudicato crudele il comportamento del piccolo protagonista. Altri lo hanno accusato di aver compiuto un vero e proprio genocidio, decimando le possibilità di quella specie di continuare a esistere. Il produttore e regista Kevin Smith ha voluto prendere in giro queste polemiche postando un meme che diceva cerco di spiegare a mio figlio che Baby Yoda che mangia quelle uova non è una cosa tenera, ma è genocidio.
Alcuni hanno cercato di difendere il comportamento di Baby Yoda (scopri qui cosa pensa il regista sul suo vero nome), elaborando una teoria piuttosto fantasiosa secondo la quale il Bambino starebbe proteggendo le uova. Peter Sciretta, il blogger di SlashFilm, ha scritto:
So che alcuni di voi sono rimasti disgustati alla vista di Baby Yoda che mangia le uova di Lady Frog. Nella nostra live chat qualcuno ha avanzato una teoria divertente: il serbatoio e le uova saranno distrutte e Baby Yoda rigurgiterà le uova in stile David Blaine. Si scoprirà che non le stava mangiando, in realtà le stava proteggendo.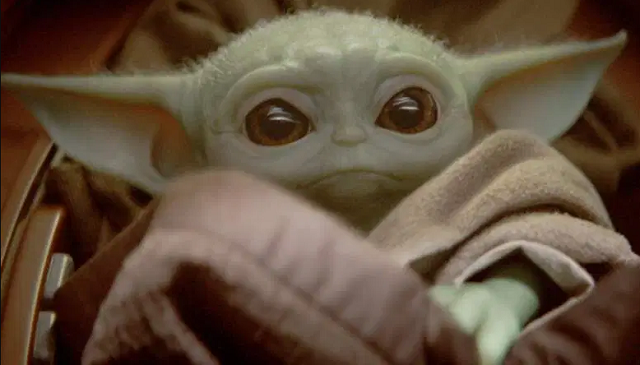 La polemica ha assunto delle dimensioni tali da arrivare alle orecchie della Lucasfilm. Per questo il direttore creativo Phil Szostak ha deciso di intervenire per difendere il comportamento del personaggio. Ha scritto infatti su Twitter:
Per la cronaca, il Capitolo 10 di The Mandalorian spiega fin da subito che le uova di Frog Lady non sono fecondate, come le uova di gallina che piacciono a molti di noi. Ma, ovviamente, le galline non sono esseri senzienti e il Bambino che mangia le uova è intenzionalmente inquietante, per fini comici.
Speriamo che le sue parole servano a placare queste assurde critiche che hanno colpito The Mandalorian.