The Haunting of Hill House è una serie tv antologica prodotta da Netflix basata su una serie di romanzi e racconti dell'orrore. La sua prima stagione, rilasciata nel 2018, ha avuto un discreto successo, ed è subito iniziata la lavorazione per il suo sequel: The Haunting of Bly Manor.
Sono passati due anni ma oggi, grazie ad un poster ufficiale di Netflix, sappiamo finalmente che The Haunting of Bly Manor uscirà questo autunno. Non conosciamo ancora una data precisa, che ci verrà probabilmente svelata quando verrà rilasciato il trailer della nuova serie tv.
The Haunting of Bly Manor sarà un capitolo completamente scollegato dal precedente, anche se vedrà alcuni volti già noti in Hill House come l'ipnotica Victoria Pedretti (che in attesa del secondo capitolo è stata impegnata con la serie televisiva You) e Henry Thomas. Questa volta avremo una nuova casa infestata e nuovi personaggi.
Questo secondo capitolo è tratto dal romanzo horror Il giro di vite (The Turn of the Screw) scritto da Henry James nel 1898. Racconta la storia di due bambini orfani perseguitati da alcuni fantasmi in una villa di campagna. Proprio come in The Haunting of Hill House l'aspetto legato al sovrannaturale non sarà preponderante, ma verrà dato molto peso alla sfera psicologica. Questa stessa impostazione viene usata da Henry James nel suo libro che ne fa molto di più di un semplice libro gotico dell'orrore.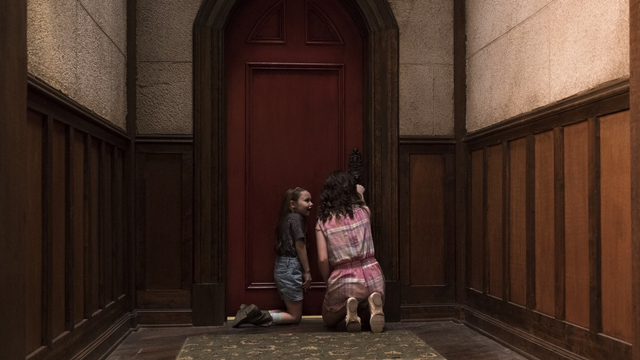 Il libro è infatti una delle pietre miliari del genere gotico e per gli appassionati un titolo imperdibile. Con questa premessa, la serie difficilmente potrebbe deludere, soprattutto dopo un primo capitolo come Hill House, tecnicamente davvero ben fatto (e ne abbiamo parlato qui).
Questo autunno, il terrore tornerà a bussare alla nostre porte, e chissà se non sarà proprio la notte di Halloween a regalarci la sorpresa.