Non molto tempo fa abbiamo avuto finalmente qualche notizia su cosa potremo vedere nella quarta stagione di The Handmaid's Tale e di quanto dovremo aspettare per vederla (ne abbiamo parlato in questo articolo). Per ora, infatti, l'arrivo è previsto per questo autunno. Le novità però non sono finite.
Nei giorni scorsi è stato annunciato che il terzo episodio della quarta stagione vedrà un importante debutto alla regia; stiamo parlando di Elisabeth Moss, interprete in The Handmaid's Tale della protagonista, June. La notizia è stata riportata in esclusiva qualche giorno fa da The Hollywood Reporter. Ecco cosa ha detto l'attrice:
Sono davvero emozionata per l'opportunità che i miei partner Bruce [Miller] e Warren [Littlefiield] mi hanno dato, e del supporto di tutti i produttori e di Hulu/MGM. Significa davvero tanto per me, e non prenderò questa responsabilità alla leggera. Condurre e produrre questo show nei tre anni scorsi è stata una gioia immensa, e mi ha dato la possibilità di imparare tantissimo dai registi con cui abbiamo lavorato. Non vedo l'ora di mettermi alla prova e lavorare con i miei collaboratori da questa nuova prospettiva perché sono fortunata ad avere con me il cast e la crew migliori del mondo.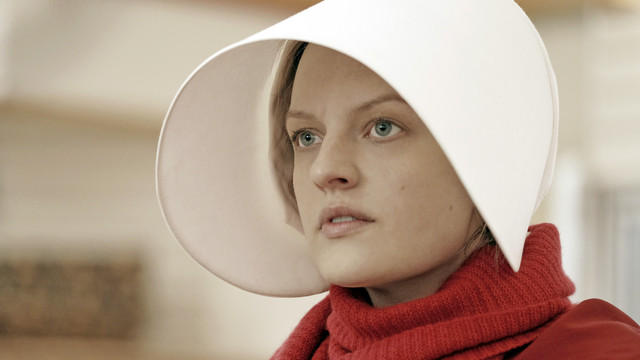 A tutta questa emozione aggiunge poi una nota di autoironia:
Il mio unico problema potrebbe essere lavorare con l'attrice protagonista: ho sentito dire che è parecchio esigente. Auguratemi buona fortuna!
Anche Bruce Miller, produttore esecutivo e showrunner di The Handmaid's Tale, ha commentato la notizia:
Siamo davvero fortunati a trovarci nella posizione, nella serie, di poter dare a Elisabeth Moss la possibilità di dirigere. Come executive producer dello show è riuscita a creare un ambiente incoraggiante che permette agli artisti di fare al meglio il proprio lavoro. Elisabeth stessa sta beneficiando dell'atmosfera incredibilmente generosa e ambiziosa che ha contribuito a creare. Ha u talento straordinario, è una tosta, una lavoratrice instancabile. Sono certo che stenderà tutti con il suo debutto alla regia.