Julian Fellowes, creatore di Downton Abbey, debutta su Netflix con un altro period drama, The English Game, che racconta le origini del calcio inglese.
Arrivato su Netflix il 20 marzo 2020, The English Game è così descritto dalla sinossi sulla piattaforma streaming:
Alla fine dell'800 due giocatori di classi sociali diverse affrontano crisi personali e professionali, trasformando per sempre il calcio e l'Inghilterra stessa.
Il trailer ci anticipa cosa vederemo negli episodi:
La miniserie, in sei episodi da circa 50 minuti l'uno, traccia le origini del calcio e mostra come le persone coinvolte nella creazione di questo gioco siano riuscite a superare le divisioni in classi sociali, fino a fare del calcio lo sport più popolare del mondo.
Protagonisti della storia sono Arthur Kinnaird e Fergus Suter, due persone realmente vissute tra la fine dell'800 e l'inizio del '900. Kinnaird è stato il primo presidente della Football Association, la federazione inglese, e ha mantenuto per 33 anni questo ruolo. Molti lo considerano la prima stella del calcio britannico. Suter ha giocato fino al 1889, con la maglia del Blackburn. Kinnard era di origine nobile, mentre Suter uno scalpellino; i due usarono il loro talento sportivo per cambiare il gioco del calcio e l'intera società inglese.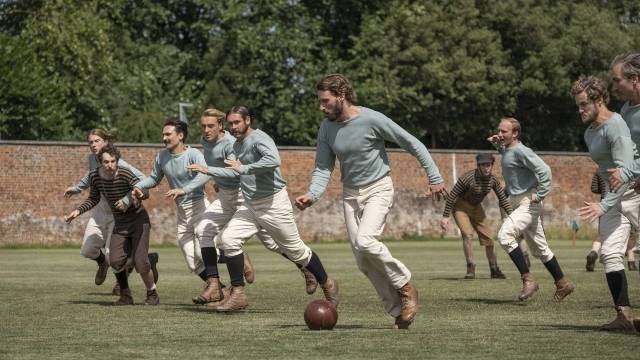 A interpretare i due protagonisti di The English Game troviamo Edward Holcroft (Gunpowder) e Kevin Guthrie (The Terror).
Nel cast numerosi altri attori, tra cui Charlotte Hope (Game of Thrones), Craig Parkinson (Black Mirror: Bandersnatch), James Harkness (Rogue One: A Star Wars Story), Niamh Walsh (Jamestown), Gerard Kearns (Last Kingdom), Joncie Elmore (Downton Abbey), Daniel Ings (The Crown) e Kate Phillips (Peaky Blinders).
Oltre a Downton Abbey, Fellowes è creatore anche di altri due period drama: Belgravia, che va in onda su ITV dal 15 marzo, e di The Gilded Age.