Attenzione: la lettura di questo articolo contiene spoiler su Sons of Anarchy!
Il personaggio interpretato da Charlie Hunnam in Sons of Anarchy, Jax Teller, è morto nel finale di Serie guidando la sua moto contro un camion. Tuttavia, potrebbe comparire in qualche episodio di Mayans MC, spin-off della Serie (clicca qui per saperne di più!). L'attore lo ha infatti dichiarato durante una recente intervista!
Hunnam non ha ufficializzato la notizia di un eventuale cameo nella nuova Serie di Kurt Sutter, ma ha ammesso di essere disponibile a farlo. Ecco il suo commento:
Farei qualsiasi cosa per Jax, amo quel ragazzo, ma credo sia morto ormai. Ma se dovessero chiamarmi per recitare la parte di un ricordo, di un sogno…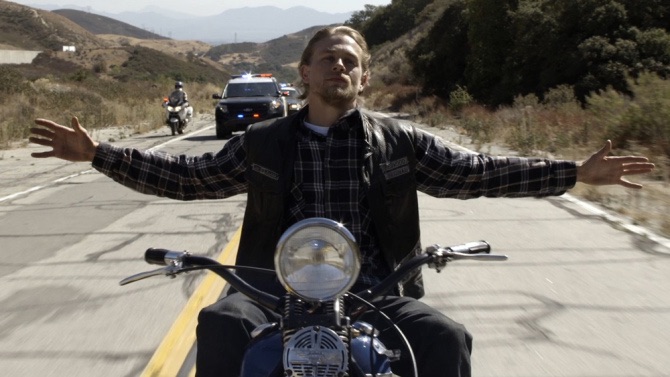 Mayans MC si concentrerà sui motociclisti fuorilegge guardandoli attraverso le lenti della cultura latina. Il personaggio principale è EZ Reyes, un prospect del charter Santo Padre (affiliato al Mayans MC) operante al confine tra California e Messico. Il protagonista dovrà lottare contro il bisogno di vendetta nei confronti del cartello, guadagnandosi allo stesso tempo il rispetto da parte della sua famiglia. Si vocifera che FX abbia già richiesto il pilot dello spin-off.
Come avverrà il collegamento tra i Mayans e i Sons? Sappiamo che gli eventi narrati in Mayans MC hanno luogo dopo quanto accaduto in Sons of Anarchy, quindi nell'epoca post-Jax-Teller. Considerando appunto la morte di Jax, è difficile immaginare che il personaggio possa ritornare sul piccolo schermo, se non in un flashback o in un sogno. Sutter potrebbe però decidere di indagare maggiormente sulla storia di Jax nello spin-off. In particolare, le decisioni che ha preso prima di morire potrebbero avere un grosso impatto sulla vita di EZ. C'è infatti una buona possibilità che le azioni di Jax abbiano avuto un forte impatto sull'organizzazione dei Mayans. Anche se Charlie Hunnam non dovesse fare un cameo nella nuova Serie, è possibile che lo facciano altri personaggi di Sons of Anarchy.
Sebbene quanto dichiatrato da Charlie Hunnam non possa far altro che rallegrarci, non c'è ancora alcuna notizia ufficiale in merito alla sua apparizione nella prima stagione di Mayans MC. Fino a quando non avremo qualche informazione in più, possiamo consolarci sapendo che Hunnam accetterebbe la proposta!