Per Peaky Blinders è un momento magico: Thomas Shelby ha fatto fuori l'ennesimo nemico e si appresta a sbarcare nel mondo della politica, pronto a divorarlo. La quinta stagione è appena uscita e sta già raccogliendo i primi consensi e sempre più personaggi del mondo dello spettacolo vogliono partecipare alla serie. Dopo Adrian Brody nei panni di Luca Changretta, fuoriuscito dal cast nella precedente stagione, Peaky Blinders potrebbe vedere entrare nel suo cast due rapper, Snoop Dog e A$AP Rocky.
Snoop Dog, in particolare, ha già omaggiato Peaky Blinders scrivendo una cover della sigla di apertura, Red Right Hand. Il creatore della serie, Steven Knight, non potrebbe essere più contento e ha commentato così la cosa:
Ho ricevuto parecchie telefonate, da Snoop Dog ad A$AP Rocky. Tutti mi chiedevano una parte in Peaky Blinders. E penso che nella prossima stagione apriremo le porte anche a star ma dovranno essere adatti: scelgo solo gli attori migliori e funzionali per il ruolo. Così come abbiamo fatto con Sam Claflin per il ruolo di Mosley, a dir poco perfetto.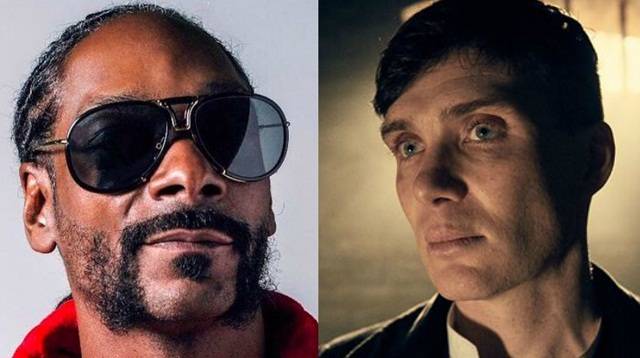 Ma la vera bomba potrebbe arrivare da un'altra telefonata ricevuta da Knight, e da un personaggio di tutt'altro spessore nel mondo del cinema. Reduce dagli applausi per C'era una volta… A Hollywood e pronto a bissare il successo con Ad Astra, nel cast di Peaky Blinders potrebbe entrare nientemeno che Brad Pitt.
Abbiamo i brividi anche solo a scriverlo: Brad Pitt nel cast della serie già diventata un cult assoluto! Sarebbe troppo bello per essere vero, e infatti aspettiamo conferme ufficiali da Knight in persona. L'attore avrebbe infatti telefonato personalmente al creatore della serie per chiedergli di fargli interpretare un ruolo. Siamo abbastanza sicuri che un divo come Pitt non si lasci dire di no facilmente.
Non ci resta che incrociare le dita e attendere fiduciosi, by the order of the Peaky fuckin' Blinders!