La storia di Jamie e Claire continua nel Nuovo Mondo. Outlander torna con la sua quarta stagione sulla Starz il 4 novembre 2018.
Dopo il primo trailer ufficiale, la Starz ha rilasciato un altro trailer che mostra scene inedite della nuova vita di Jamie (Sam Heughan) e Claire (Caitriona Balfe). Alla fine della terza stagione, infatti, i due sono sbarcati dopo una violenta tempesta in quello che è lo stato del North Carolina.
Whatever awaits in the new world, Claire and Jamie will face it together. #Outlander returns to @STARZ November 4. https://t.co/GEqYWkh3e3 pic.twitter.com/qkYxgQF2l5

— Outlander (@Outlander_STARZ) 10 settembre 2018
"Questo è l'inizio di quel che l'America sarà" dice Claire, che è ben consapevole di come diventerà l'America. "Milioni di persone arriveranno qui. Tutte che sperano nel sogno americano".
Nel loro viaggio in America Jaime e Claire incontreranno Jocasta (interpretata da Maria Doyle Kennedy), zia di Jamie, che li accoglierà nella sua tenuta di River Run. In questa nuova vita i due si scontreranno con la questione della schiavitù; decideranno di andarsene dalla tenuta e vivere "come vogliamo noi".
Nel nuovo mondo incontreranno anche Stephen Bonnet (interpretato da Ed Speelers), pirata e contrabbandiere. Che cercherà di avvisarli: "Fate attenzione. I viaggiatori che passano in questi boschi possono incappare in criminali e ladri".
Nonostante le disavventure, il rapporto tra Jamie e Claire si rafforzerà. Nel trailer vediamo infatti Jamie dire alla sua amata: "Non posso cambiare il mondo senza di te, Sassenach".
Nel ventesimo secolo, invece, la figlia Brianna (Sophie Skelton) e Roger (Richard Rankin) scoprono alcune cose che potrebbero alterare le vite dei Fraser.
La Starz ha rilasciato anche il poster ufficiale: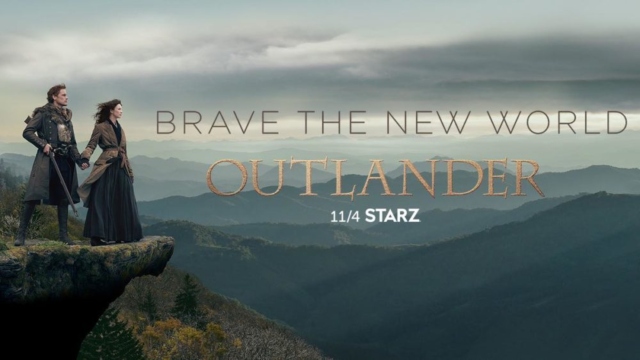 Nella quarta stagione vedremo anche nuovi personaggi, tra cui uno interpretato da Billy Boyd, famoso per il ruolo di Peregrino Tuc ne Il signore degli Anelli.
Outlander, in onda dal 2014, è basata sulla saga omonima scritta dall'autrice Diana Gabaldon. La quarta stagione si baserà sul romanzo del 1996 intitolato Drums of Autumn (edito in Italia nei volumi Tamburi d'autunno e Passione oltre il tempo).