In produzione dal 2013 Orange is the New Black è una delle serie tv originali di maggior successo di Netflix. La serie, però, sta per giungere a conclusione: la settima stagione sarà l'ultima. A rivelare la notizia sono state proprio le attrici protagoniste, in un video rilasciato sui social network.
Ma potrebbe non essere la fine per Orange is the New Black: potrebbe esserci un sequel. Kevin Beggs, presidente della Lionsgate TV Group (che produce la serie), ha infatti rivelato che si sta pensando alla realizzazione di un sequel della serie creata da Jenji Kohan:
"Siamo molto contenti della lunga durata che Orange is the New Black ha avuto. È una delle serie tv più viste di Netflix. Si concluderà con un gran finale.

Stiamo già parlando con Jenji Kohan di un potenziale sequel e, quando arriverà il momento giusto, ne discuteremo più a fondo".
Alcune voci vicino alla Lionsgate TV rivelano che lo studio e Kohan già da un po' di tempo stanno discutendo a proposito di un seguito, ma niente è attualmente certo o già in lavorazione.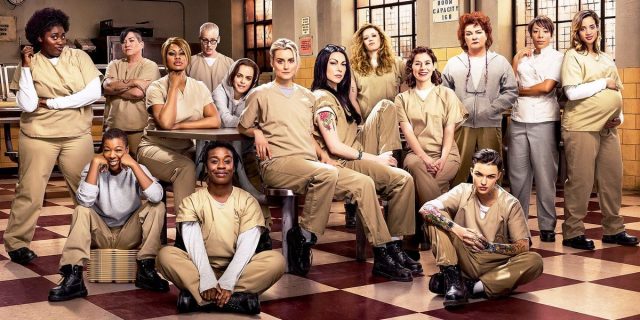 Tara Herrmann, produttrice esecutiva, dopo il finale della sesta stagione aveva raccontato in un'intervista a The Hollywood Reporter che il team di Orange is the New Back stava considerando idee per gli spinoff, tra cui una produzione di Broadway, oppure un progetto focalizzato su Larry Bloom e Polly Harper o Cal e Carol Chapman.
Tuttavi in quell'occasione la Herrmann affermava di non voler espandere l'universo narrativo prima della conclusione della serie madre. "Vogliamo che le persone si concentrino sulla serie tv che stiamo creando, non un numero musical con Piper e Alex. Ma potrebbe succedere nel futuro… chi lo sa!"
Insieme a House of Cards, Orange is the New Black ha contribuito molto all'ingresso di Netflix nel panorama dei contenuti originali. L'ultima stagione sarà rilasciata nel 2019.