# #
Possiamo certamente dire che George R.R. Martin è un uomo molto impegnato. E, come se non bastasse, ha come hobby l'aggiunta di ulteriori impegni alla sua lista. Il creatore di Game of Thrones sta attualmente completando (si spera) il prossimo libro di A Song of Ice and Fire, The Winds of Winter. Inoltre, sta lavorando a cinque possibili spin-off di Game of Thrones con cinque diversi sceneggiatori. Ma non è finita qui. Uno dei suoi lavori più recenti, un racconto dal titolo Nightflyers, sta per essere adattato al piccolo schermo da SyFy (ne abbiamo parlato in questo articolo). In questi giorni, Martin ha pubblicato gli ultimi aggiornamenti del progetto!
# #
Per chi non lo sapesse, George R.R. Martin comunica con i suoi fan utilizzando Not A Blog. Tra gli ultimi post, uno riguarda proprio Nightflyers. Il racconto ha luogo nello spazio ed è stato precedentemente adattato al grande schermo, nel 1987. Ora è compito di SyFy realizzarne la Serie Tv. Lo scrittore ha incontrato le menti che si occuperanno del progetto: Jeff Buhler (Pet Sematary) e Daniel Cerone (Dexter, The Mentalist).
Parlando del modo in cui SyFy è riuscita a ottenere i diritti per la realizzazione della Serie, Martin ammette che all'inizio l'idea non lo convinceva, visto che alla fine del suo racconto quasi tutti i personaggi hanno incontrato la morte (non lo avrei mai detto…). Ma dopo aver letto lo script proposto dagli showrunner, lo scrittore ha pensato a un modo per realizzare diverse stagioni della Serie. Crede fortemente nel progetto e ha pubblicato anche una foto per mostrare che aspetto avrà l'astronave Nightflyer:
# #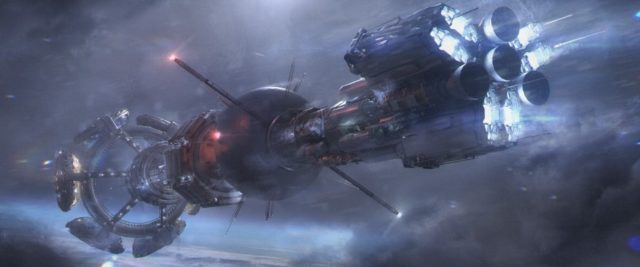 Come per Game of Thrones, le riprese di Nightflyers saranno effettuate nell'Irlanda del Nord. George R.R. Martin ha inoltre suggerito la possibilità di vedere alcuni attori di Game of Thrones nel cast della nuova Serie. Scherzando (ma non troppo) ha infatti dichiarato:
Considerando quanti personaggi abbiamo ucciso in Game of Thrones, molti attori dovrebbero essere disponibili.
Il debutto di Nightflyers è previsto per luglio 2018, su SyFy e su Netflix. Considerando le capacità di George R.R. Martin non possiamo che aspettarci un capolavoro. Speriamo tuttavia riesca a porre fine a tutti i suoi progetti!