I fan di Westworld sono sempre molto attenti, perché sanno che ogni trailer racchiude in sè molteplici misteri. L'ultimo caso di cui vi avevamo parlato è quello dei sei parchi, in questo articolo. Ci viene anticipata l'esistenza di 6 mondi all'interno del parco divertimenti creato dal Dottor Ford. L'unico che sicuramente vedremo nella seconda stagione è il Mondo dei Samurai, che ci è già stato anticipato nel finale della prima stagione e che abbiamo visto accennato nel nuovo trailer. La seconda stagione di Westworld si avvicina e i Jonathan Nolan e Lisa Joy non lasciano più nulla al caso.
In occasione della pubblicazione del trailer della seconda stagione, i fan più accaniti hanno notato un messaggio cifrato sullo sfondo. Se guardate bene nel dettaglio, potrete notare una serie di numeri e lettere. Il testo esadecimale è questo 687474703A2F2F6269742E6C792F3246447A696567, usando un programma di traduzione del testo come Hex Code Translator otteniamo questo link: https://discoverwestworld.com/findthedoor/. Altro non è che un trailer di 40 secondi in cui viene ulteriormente ribadito il motto della seconda stagione. In questo articolo, vi abbiamo riportato l'intervista dei produttori che hanno anticipato il titolo di questa nuova stagione che sarà: The Door. A differenza della prima stagione in cui il titolo era The Maze (Il Labirinto) che si è rivelata essere un puzzle ben orchestrato, The Door potrebbe rappresentare il viaggio che compiranno alcuni personaggi per uscire dal parco.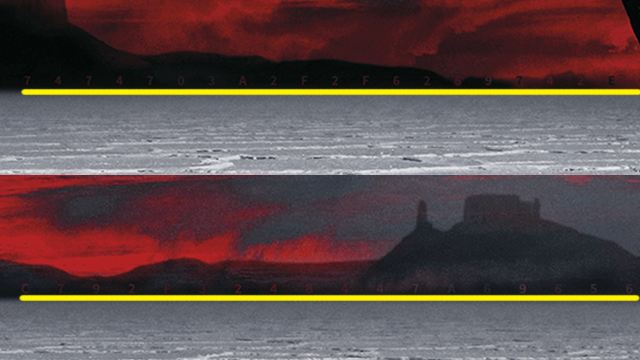 Sempre sul sito discoverwestworld.com in basso a destra un gentile bot di nome Aeden si metterà a nostra disposizione per qualunque domanda relativa al parco. Se provate a scrivere il nome del co-fondatore del parco, Arnold, il nostro caro amico Aeden vi risponderà che:
Non si conosce molto di Arnold, ma il parco non sarebbe quello che è oggi senza il suo contributo. Perché non parliamo di qualc-
Il bot si interrompe e compare questa scritta: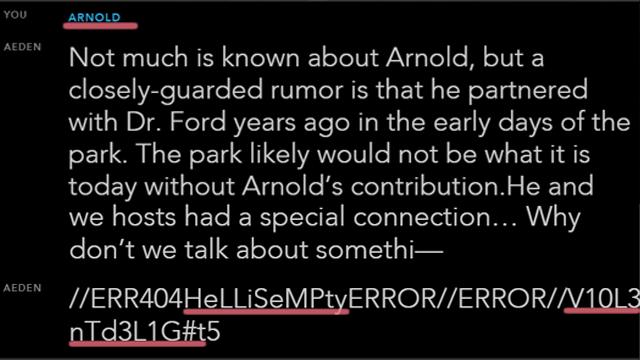 Ma gli indizi non sono finiti qui. Come potete vedere dal messaggio di errore si formano due frasi: Hell is Empty e Violent delights. Sono entrambe citazioni di Shakespeare e in Westworld sono dette rispettivamente dal padre di Dolores nel primo episodio della prima stagione e da Dolores stessa a Ashley Stubbs riproponendo sempre le parole del padre. Una frase che potrebbe essere la base che ha avuto inizio alla ribellione nella prima stagione, voluta da Ford in persona.
Westworld debutterà con la sua seconda stagione il 22 aprile.