Abbiamo amato Sons of Anarchy e la notizia di un suo spin-off ci ha esaltati. Il 4 settembre, dopo una lunga attesa, abbiamo finalmente visto Mayans MC. Considerando che è stata realizzata dallo stesso creatore di Sons of Anarchy, Kurt Sutter, le nostre aspettative erano molto alte. Dopo i primi episodi possiamo certo dire che queste sono state superate alla grande!
Buone notizie per i fan di Sons of Anarchy e Mayans MC: lo spin-off è stato rinnovato per una seconda stagione da FX.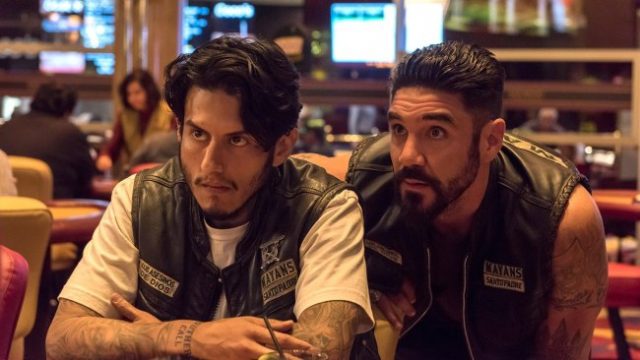 FX ha infatti deciso di trasmettere una seconda stagione della serie, lo spin-off di Sons of Anarchy che sta dimostrando di ottenere dei ratings più alti della serie madre (ne abbiamo parlato in questo articolo). Il rinnovo è arrivato al quarto dei dieci episodi che compongono la prima stagione.
Nick Grad, presidente della programmazione originale di FX Networks e FX Productions, ha rilasciato queste parole:
Mayans MC sta andando molto bene, è stata una prima stagione fantastica. La première ha ottenuto i migliori risultati di quest'anno e continua ad avere una fan base affezionata, riflettendo il talento di Kurt Sutter. Siamo davvero entusiasti di portare questo viaggio in una seconda stagione.
Sutter ci aveva avvisati: la mitologia di Sons of Anarchy sarebbe stata presente sin dal primo episodio. Ci sono stati dei cameo e degli easter egg che ci hanno rimandato alla serie madre. Ma cosa ancora più importante i temi trattati e i simboli utilizzati dal creatore rispecchiano proprio quelli di Sons of Anarchy. Probabilmente è per questo motivo che molti fan sono rimasti affezionati a questo spin-off: perché hanno potuto vedere l'eredità lasciata da Sons of Anarchy.
La seconda stagione di Mayans MC arriverà nel 2019, sperando che non ci siano ulteriori posticipi come accaduto per i primi episodi!