In questi giorni è stata annunciata la produzione della prima stagione di Mayans MC, spin-off di Sons of Anarchy. Saranno 10 gli episodi che ci porteranno a conoscere meglio il mondo di questo club, già incontrato nella Serie madre. Secondo quanto riportato da John Landgarf, CEO dei Network FX, l'arrivo dello spin-off è previsto per fine estate/inizio autunno di quest'anno (clicca qui per ulteriori dettagli!).
I 10 episodi che andranno a comporre la Serie saranno ambientati in epoca post-Jax-Teller. Il protagonista sarà EZ Reyes, un prospect del charter "Santo Padre" (affiliato al Mayans MC) operante al confine tra California e Messico. Lo seguiremo in questa nuova esperienza, in cui la sua vita viene presentata come costantemente in bilico: deve contemporaneamente vendicarsi contro il cartello locale e guadagnarsi il rispetto della famiglia.
Sons of Anarchy, il biker drama di FX, si è concluso con un'ottima settima stagione nel 2014. Chi ha amato questa Serie sa che non è semplice riprendersi da quanto visto. Il creatore Kurt Sutter, che sta lavorando anche a Mayans MC, riuscirà a portare lo spin-off al livello della Serie madre? È quello che noi fan ci auguriamo. Ed è quello che si augura anche il cast di Sons of Anarchy.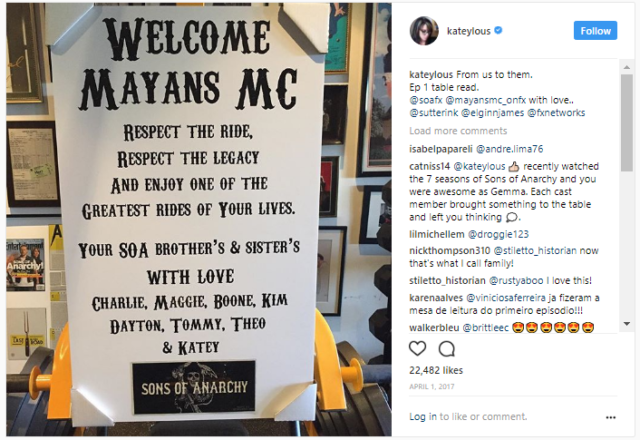 Katey Sagal (Gemma Teller in Sons of Anarchy e moglie di Kurt Sutter), al momento della realizzazione di Mayans MC, ha condiviso un pensiero speciale per dare il benvenuto alla nuova Serie e ai membri del cast. La scritta recita:
Rispetta la corsa, rispetta l'eredità e goditi una delle più belle corse della tua vita.
Queste parole, in stile SAMCRO, riflettono i desideri di mamma Gemma. È importante, per i fan, che lo spin-off mantenga lo stesso livello della Serie madre. Ed è evidentemente importante anche per il cast di Sons of Anarchy, che ha vissuto le emozioni che la Serie ha saputo dare.