Mayans MC è lo spin-off di Sons of Anarchy, per il quale sono stati recentemente ordinati i primi 10 episodi (ne abbiamo parlato qui!). L'arrivo della Serie è previsto per fine estate/inizio autunno su FX (clicca qui per vedere il primo teaser trailer!). La mente dietro questi nuovi episodi sarà Kurt Sutter, creatore di Sons of Anarchy.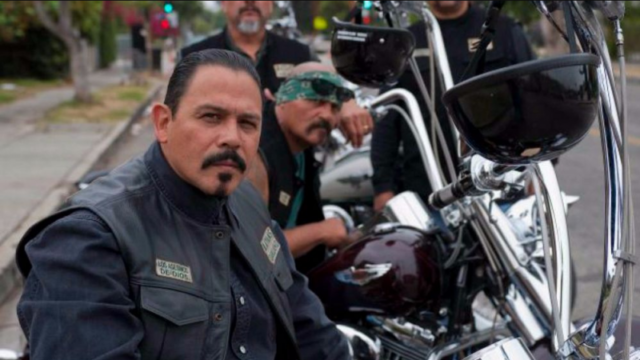 Sons of Anarchy rimane la Serie più vista nella storia di FX. Mayans MC è il suo primo spin-off, incentrato su un club che nel corso delle sette stagioni di Sons of Anarchy ha avuto dei rapporti altalenanti con i SAMCRO.
Mayans MC avrà luogo nell'epoca post-Jax-Teller, ma le vicende non si svolgeranno nel North California, come nella Serie madre. Lo spin-off sarà infatti ambientato nel South California, vicino al confine con il Messico.
Come collegare Sons of Anarchy a Mayans MC? L'arduo compito spetta a Emilio Rivera (Marcus Alvarez)!
Emilio Rivera tornerà a vestire i panni di Marcus Alvarez, presidente e fondatore del club dei Mayans. Ecco le dichiarazioni di Kurt Sutter:
[Emilio Rivera] è la mia chiave di volta per fondere le due mitologie. È così bello poter nuovamente lavorare con lui e creare di nuovo una tale energia, perchè mi ricorda il motivo perchè facciamo quello che facciamo.
Per quanto riguarda gli altri personaggi, Mayans MC vedrà dei nuovi protagonisti. Rivera avrà un ruolo chiave, quello di unire lo spin-off alla Serie madre. Kurt Sutter non ha mai escluso la possibilità di vedere anche altri personaggi di Sons of Anarchy in Mayans MC. Charlie Hunnam (Jax Teller) ha già rilasciato qualche dichiarazione in merito a una sua eventuale apparizione (ne abbiamo parlato qui). Speriamo di rivedere i SAMCRO sopravissuti alle sette stagioni di Sons of Anarchy!