La notizia della scomparsa di Luke Perry diffusa ieri ha colpito tutti quanti, ovviamente non soltanto i fan di Beverly Hills 90210 o di Riverdale.
Sono tantissimi gli amici e i colleghi che lo conoscevano personalmente. Luke Perry era stato colpito da un grave ictus, proprio il giorno in cui la FOX aveva confermato una produzione del franchise di Beverly Hills 90210.
I colleghi si sono stretti attorno alla famiglia dell'attore pregando in una guarigione, che già sembrava difficile viste le sue condizioni.
Shannen Doherty, sua compagna in Beverly Hill 90210, ha dichiarato di aver preso dolorosamente la notizia e ha spronato amici, colleghi e fan a "continuare a mandargli messaggi positivi".
L'attrice ha provato in qualche modo a ricambiare l'appoggio e l'affetto provato quando Luke Perry le è stato vicino durante il suo tumore al seno.
I social sono stati invasi di messaggi di dispiacere dopo la diffusione della notizia della sua morte.
Ian Ziering ha scritto:
"Carissimo Luke, ricorderò per sempre con affetto i momenti amorevoli che abbiamo condiviso negli ultimi trent'anni. Che il tuo viaggio possa essere arricchito dalle magnifiche anime che ti hanno preceduto, proprio come hai fatto tu qui per quelli che lasci indietro."
Dearest Luke,
I will forever bask in the loving memories we've shared over the last thirty years. May your journey forward be enriched by the magnificent souls who have passed before you, just like you have done here, for those you leave behind.

— Ian Ziering (@IanZiering) 4 marzo 2019
Anche Christine Elise McCarthy, co-star di Beverly Hills 90210, ha scritto il suo pensiero per Luke Perry:
"Sono ancora scioccata e riesco solo a dire che era una persona davvero gentile. In tanti lo piangeremo e non lo dimenticheremo, mancherà a tutti quelli che lo conoscevano e ai milioni che lo amavano. Il tuo tempo qui è stato troppo breve."
Il cast di Riverdale ha espresso il suo dolore anche tramite le parole dello sceneggiatore Roberto Aguirre-Sacasa:
"Sono distrutto dalla morte di Luke. Era un padre, un fratello, un amico e un mentore. Ogni sera prima di girare una scena, mi chiamava e parlavamo di tutto. Mi mancheranno quelle chiamate. E il mio pensiero va a tutta la sua famiglia e ai suoi amici."
L'account Instagram ufficiale della serie, invece, ha dedicato un post a Luke Perry, che interpretava Fred Andrews.
Lili Reinhart, infine, ha espresso il suo dolore sia su twitter che nelle sue storie di Instagram.
I'm finding it hard to grasp that he will no longer be around to give long hugs and share his wisdom and kindness with all of us.

I'm thinking of his family. His children.

I pray for them to heal and find peace in this devastating loss.

— Lili Reinhart (@lilireinhart) 4 marzo 2019
Ecco il lungo pensiero di Lili Reinhart:
"è strano vedere il mondo muoversi.
quando qualcuno che ami, ti viene portato via.
e la circonferenza che ti circonda è bloccata.
congelato in un momento
di perdita
e shock
eppure le persone che ti stanno attorno si stanno muovendo a tutta velocità.
non sentirono la terra tremare? o girare lentamente?
Possono ascoltare i pensieri che mi urlano nella testa?
il suo nome
la sua faccia
i ricordi
lampeggiano
di un amico
un amico perduto
ci aspettiamo sempre che la terra sia ancora ferma
perché l'universo soffre i cari che abbiamo perso, insieme a noi
ma continua a muoversi
forse come un segno che dovremmo farlo anche noi
il movimento se  gli estranei, come un'onda, ci portano con loro
così fluttuiamo e fluttuiamo con il passaggio degli altri, allontanando la loro energia e conservando la nostra
perché è troppo difficile dare qualcosa in questo momento
ad ognuno
tranne lui
quello che abbiamo perso
e prego che si muova silenziosamente con noi
guidandoci attraverso le onde anche quando non possiamo nuotare."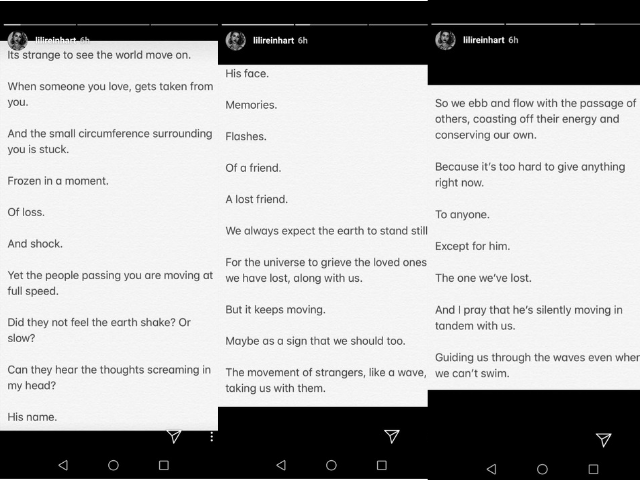 Una morte quella di Luke Perry che ha colpito in molto nel mondo dello spettacolo anche per il suo impegno negli anni nella lotta contro l'AIDS. La perdita di una persona estremamente attiva nel sociale, prima ancora che un attore talentuoso.