Dopo il debutto della straordinaria quarta stagione di Lucifer su Netflix, cominciano ad arrivare le prime notizie e indiscrezioni sulla quinta e, purtroppo, ultima stagione.
Qualche tempo fa fu annunciato l'ingresso nel cast di Matthew Bohrer nel ruolo di Donovan Glover (qui i dettagli). Quale sia la sua funzione ai fini della storia non è stato ancora rivelato. Nelle ultime ore, è stato annunciato l'arrivo di altro nuovo membro nel cast della stagione finale di Lucifer. Si tratta dell'attrice Brianne Davis che interpreterà il ruolo della Detective Dancer e dovrebbe fare la sua prima apparizione nel terzo episodio intitolato ¡Diablo!.
Anche lei, come il collega Bohrer non è un volto particolarmente noto. Ha recitato in Six e preso parte a serie come True Blood, CSI: Scena del Crimine, The Mentalist e NCIS: Los Angeles. Sin dal momento dell'annuncio, i fan si sono sbizzarriti presentando su Reddit delle teorie che possano spiegare la sua presenza nella serie.
Casting news for #LuciferSeason5 !!

Brianne Davis (@thebriannedavis) has been cast as Detective Dancer in the final season of the show! pic.twitter.com/9hFEWW85ew

— What's on Netflix (@whatonnetflix) October 11, 2019
C'è chi ci ricorda e precisa che ai tempi della prima stesura del copione e nella prima versione del pilot, il nome della tanto amata Chloe Decker era in realtà Chloe Dancer, insinuando che ci possa essere un collegamento tra le due cose. Chi crede che la detective Dancer sia Lillith, la madre dei demoni, sotto mentite spoglie. C'è chi pensa si tratti dell'interesse amoroso di Dan. Altri addirittura credono che, trattandosi pur sempre di Los Angeles, la detective Dancer possa essere un'attrice che interpreta la detective Decker in un film dedicato a lei. Puntualizzando che in fin dei conti la storia di un'attrice che diventa una detective possa essere una trama interessante per un film.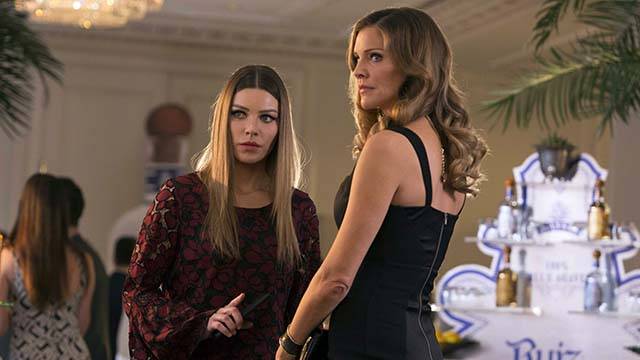 Ma l'annuncio dell'ingresso di Brianne Davis nel cast non è l'unico interessante sviluppo relativo a questa quinta stagione. Sembra proprio che un volto familiare e amato possa fare il suo ritorno. Poche ore fa, Tricia Helfer, interprete della compianta Charlotte Richard/Dea del creato, ha scritto un tweet che ha subito acceso la curiosità dei fan, anche perché è stato ritwittato e commentato da Lauren German, l'interprete della detective Chloe Decker.
I love this talented woman @trutriciahelfer you're a special gem, I love ya ?❤️ https://t.co/6RYLqIPOp6

— Lauren German (@LaurenGerman) October 12, 2019
Mi sono divertita così tanto sul set oggi. Non posso dire per cosa… ancora… ma è stato adorabile giocare (o recitare) ed essere circondata da persone meravigliose.
Ha scritto la Helfer e la German ha ritwittato il post aggiungendo:
Adoro questa donna di talento @truetriciahelfer, sei una gemma speciale, ti voglio bene
Che gli sceneggiatori abbiano trovato un modo per riportare la Helfer e la sua Charlotte nella serie? Non ci resta che attendere una conferma ufficiale e sperare che sia esattamente così.