**QUESTO ARTICOLO POTREBBE CONTENERE SPOILER SULLA SECONDA STAGIONE DI WESTWORLD**
"Bring yourself back online" 
"Tornate in linea"
Gli ultimi avvenimenti della seconda stagione di Westworld ci hanno lasciato davvero a bocca aperta e non mi riferisco solo alla scoperta fatta con la fine del quarto episodio "The Riddle of the Sphinx", già preannunciata nella recensione della 2×03 di Hall of Series. I fan della Serie Tv di Nolan e Joy dovrebbero essere abituati a cospirare teorie e aneddoti su Westworld e per farlo utilizzano Reddit. Episodio dopo episodio viene creato un post per agglomerare tutte le teorie analizzate. Ma questa volta a creare il post è stata la stessa Lisa Joy. Come vi avevamo preannunciato in questo articolo, durante un'intervista fatta alla coppia avevamo scoperto che Lisa Joy avrebbe diretto il quarto episodio della seconda stagione.
Il momento è arrivato e Lisa reduce dalla sua prima esperienza come regista ha creato questo post: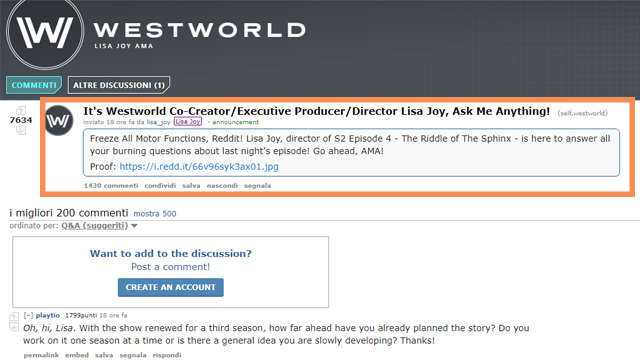 Inutile dirvi che i commenti sono in continuo aggiornamento, ma tra gli innumerevoli fan che chiedono delucidazioni, spunta fuori un nome a noi conosciuto: Jeffrey Wright. Il nostro Bernard non si è lasciato sfuggire l'occasione ed ha lasciato un messaggio alla produttrice, che vi riportiamo qui sotto: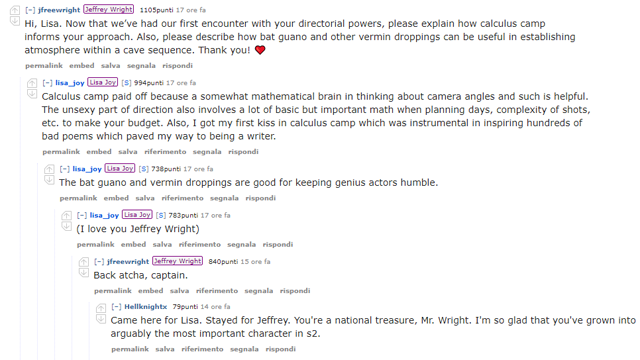 "Ciao Lisa. Adesso che abbiamo avuto il nostro primo riscontro con i tuoi poteri direttoriali, potresti spiegare come il tuo approccio si basi sul campo di calcolo. Inoltre, potresti descrivere come il guano di pipistrello e altri escrementi di parassiti possono essere utili per stabilire l'atmostrera all'interno della scena nella grotta. Grazie <3".
Questo è il commento che Jeffrey ha rivolto a Lisa che ha dato inizio ad uno scambio di complimenti tra i due (come vediamo nella foto).
"Il campo di calcolo ripaga perché una mente matematica aiuta a pensa alle angolature della telecamera. La parte meno sexy dell'essere regista include molti calcoli matematici di base importanti quando si pianificano giorni, complessità delle riprese, ecc. Ma il guano di pipistrello e gli escrementi sono buoni per mantenere umili gli attori geniali. Ti voglio bene Jeffrey Wright."
"Anche io, capitano." risponde Jeffrey. Ma l'epicità di tutto ciò viene raggiunta quando Jonathan Nolan preso del tutto in disparte, commenta così: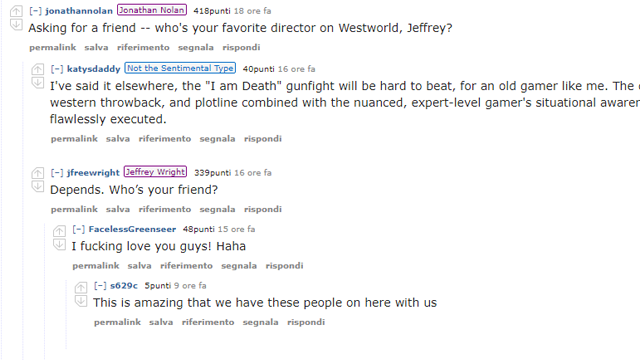 "Lo chiedo per un amico — chi è il tuo regista preferito di Westworld, Jeffrey?"
"Dipende. Chi è il tuo amico?"
Ma c'è un commento che è unanime tra i fan di Westworld, il quarto episodio è uno dei più belli tecnicamente che emozionalmente ed è tutto merito di Lisa Joy.