La regina Elisabetta II è uno dei regnanti più longevi della Storia. Ma c'è solo un trono su cui può sedersi: il suo.
Nel 2014, in occasione di una visita in Nord Irlanda, la regina Elisabetta II e il principe consorte Filippo hanno visitato il set de Il Trono di Spade, nei Paint Hall Studios di Belfast.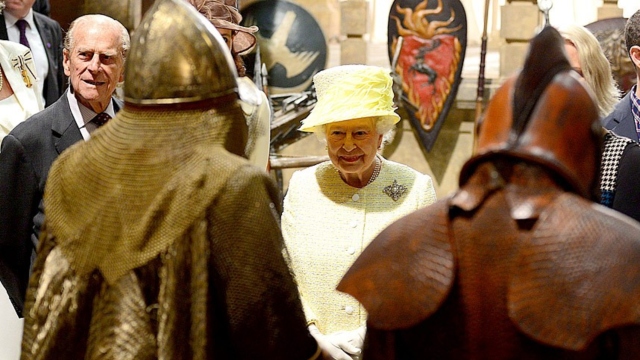 Lì hanno potuto vedere i costumi e gli oggetti di scena e incontrare il cast e la troupe della Serie Tv. Ad accoglierli c'erano anche Lena Headey (Cersei Lannister), Sophie Turner (Sansa Stark), Rose Leslie (Ygritte), Kit Harington (Jon Snow), Maisie Williams (Arya Stark) e Conleth Hill (Lord Varys).
E lì, piuttosto che cercare di conquistare il Trono di Spade al posto di Cersei e Daenerys Targaryen (Emilia Clarke) e rendere i Sette Regni di Westeros parte del Commonwealth britannico, la regina Elisabetta II si è limitata ad osservarlo.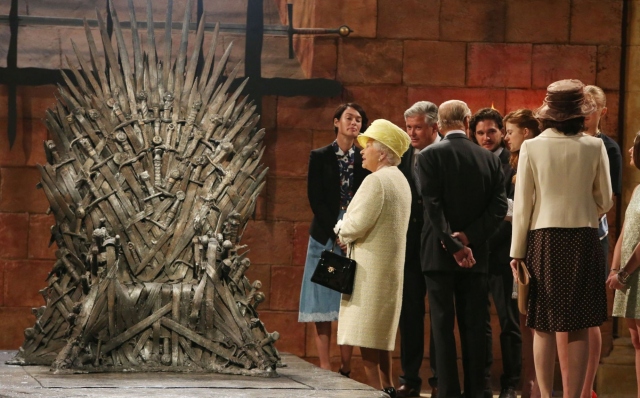 I produttori esecutivi David Benioff e D.B. Weiss hanno rivelato in un'intervista la ragione del perché la regina ha rifiutato di sedersi sul Trono (e no, non è perché è scomodo). Benioff ha infatti raccontato al programma Late Night di Seth Meyers:
"A quanto pare la Regina d'Inghilterra non può sedersi su un trono straniero, anche se fittizio. È una regola che abbiamo scoperto solo in quel momento."
L'ottava stagione di Game of Thrones arriverà nel 2019 (nella prima metà d'anno) e porterà a conclusione le vicende dei Sette Regni. Scopriremo come finirà la guerra con gli Estranei e quale sarà il destino dei vari personaggi. Qualcuno riuscirà a conquistare e tenersi questo Trono tanto agognato? Noi abbiamo provato a delineare il finale ideale.
Non vedremo mai la Regina d'Inghilterra sedersi sul Trono di Spade, ma possiamo scoprire la sua storia non solo con saggi e documentari, ma anche guardando The Crown. La Serie Tv di Netflix, infatti, racconta gli anni di regno di Elisabetta dalla morte del padre Giorgio VI. Le prime due stagioni hanno visto Claire Foy (Wolf Hall) nei panni di Elisabetta, mentre Matt Smith (Doctor Who) in quelli di Filippo; le prossime avranno come protagonisti Olivia Colman (Broadchurch) e Tobias Menzies (Outlander).