The Crown è il gioiello di casa Netflix
<<Uneasy lies the head that wears the Crown >> così recitava l'atto terzo dell'Enrico IV di Shakespeare. Una verità ben nota attraverso fiabe, racconti popolari e proprio quella reale e storica casa reale che dopo secoli e secoli ancora resiste e alla quale guardiamo. E la verità è che la corona di un regnante è tanto un dono quanto una maledizione: una vita intera passata nel lusso e nell'agiatezza ma fatta anche di vincoli, regole rigidissime e maschere da dover indossare sapientemente. Come in ogni situazione, anche la monarchia ha i suoi pro e contro, luci e ombre di storie che non potremo conoscere mai a pieno.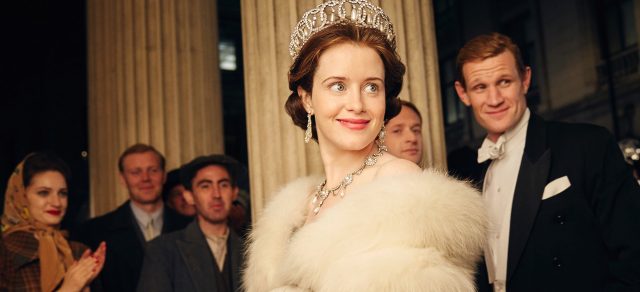 Della monarchia inglese non si smette certo di parlare: cinema e libri l'hanno presa molto spesso a protagonista delle proprie storie, basti pensare a " the Queen" (premio Oscar Helen Mirren) o al " Discorso del Re" (premio Oscar Colin Firth), e adesso ci si è messa pure la televisione. Il 4 novembre è, infatti, sbarcata su Netflix "The Crown", nuovo e costosissimo (ben 100 milioni di dollari) capolavoro della piattaforma digitale. Una Serie Tv che alcuni hanno definito come "i Medici in Inghilterra". Inutile dire che tra I Medici e The Crown esista un abisso grande quanto lo era quello tra americani e russi durante la Guerra Fredda e non perchè il primo è un prodotto italiano e l'altro inglese, non c'entrano nulla gli stereotipi qui. La differenza sta nel fatto che mentre la prima è riuscita a salvare poco delle buone premesse con le quali era partita, la seconda ha saputo, invece, fare buon uso dei soldi investiti e dei talenti impiegati. Quindi, ben fatto Netflix!
The Crown, Serie Tv composta da 10 episodi (che si binge-watchano che è un piacere) e creata da Peter Morgan (già sceneggiatore di the Queen), racconta l'ascesa al trono della regina Elizabetta II. Un progetto ambizioso quindi che, muovendo dai primi anni di regno, avrebbe intenzione, attraverso sei stagioni, di coprire l'intero arco del suo regno fino ai nostri giorni. Anche per questo motivo è stato recentemente reso noto che gli attori verranno sostituiti ogni due stagioni, per rendere così ancor più realistico il passare del tempo.
Ma bando alle ciance e torniamo a noi!

Perchè dovremmo parlare di T

he Crown

? Perchè 

The Crown,

 che potrebbe sembrare il classico biopic su un personaggio famoso bla bla gli scheletri nell'armadio bla bla storia romanzata e poco attinente alla realtà bla bla un'altra serie in costume bla bla bla, non lo è!
O meglio, lo è in parte. Si, è pur sempre un biopic e una Serie d'epoca ma non c'è nulla di inverosimile, melodrammatico o volutamente eccessivo. La storia è romanzata, un po', lo deve essere per forza non potendo conoscere né noi né lo stesso Peter Morgan i dettagli più intimi della vita di corte ma non scade mai nel banale o nella soluzione facile, ogni aspetto viene affrontato con cautela, in punta di piedi, tutto ciò che potrebbe risultare sconveniente viene ridotto al silenzio. Non abbiamo mai di fronte a noi caricature delle persone vere, nè denunce, nè lodi, ma una rappresentazione onesta e pregevole. La storia viene giocata tutta sul non detto e sul non mostrato, tale che il dubbio nasce sì ma rimane solo questo, un dubbio fatto di sottintesi. E in maniera velata, leggera ma allo stesso tempo vibrante, si muovono i personaggi sullo schermo e le nostre emozioni con loro. La Serie si concentra sui primi difficili anni di una regina che prima di essere tale era sorella, figlia, moglie e madre e racconta, con accuratezza e una straziante umanità, le scelte, condivisibili o meno, che questa donna ha dovuto compiere, sempre in lotta tra le due metà di sè: Lillibet Windsor e Elizabeth Regina.
UNA DONNA E UNA REGINA
È la storia di una donna (e cavolo, se è difficile essere donne oggi figuratevi a quel tempo …) che non voleva indossare una corona, che non DOVEVA indossarla in teoria, ma si è ritrovata a portarla suo malgrado e che ha cercato, con le proprie capacità e il proprio carattere, di reggerla come meglio ha potuto. Una donna, Elizabeth, così emerge nella Serie, decisamente distante dall'energia e dall'impeto dell'omonima ex regina e dall'antenata Vittoria. Salita al trono a 25 anni, Elizabeth dice a al marito <<pensavo avessimo più tempo>>, più tempo per stare insieme, come un marito e una moglie normali, per vivere la nostra vita lontana da questo peso che mio padre prima di me è stato costretto a portare, per vivere senza dover scegliere ogni giorno cosa essere, se moglie o regina. 
Il carattere di Elizabeth non è irruento, non è facile, è una persona calma, disciplinata, rigida, forse troppo, una persona che si assume il suo incarico con una serietà non conforme a una ragazza di 25 anni, una donna che nasconde una grande forza e pazienza, che ha paura di non essere abbastanza, di non essere presa sul serio. Così piuttosto che provare a farsi conoscere e magari amare dal popolo, decide di indossare una maschera imperscrutabile che la divida dal resto. 
Ma non è detto che la maschera si tolga facilmente. Nel rappresentare sullo schermo la difficile e apparentemente inscalfibile Elizabeth ci pensa Claire Foy (Wolf Hall), l'attrice riempie completamente lo schermo, rendendo evidente il conflitto all'interno della sovrana, l'immenso amore per Philip, la paura di non essere fatta per regnare, il desiderio di voler fare del proprio meglio, il senso di insicurezza e oppressione di fronte a coloro che dovrebbero consigliarla meglio; l'evoluzione dalla prima all'ultima puntata è graduale ma chiara, a una seconda visione lo risulterà ancora di più. Claire Foy porta la sua Elizabeth sullo schermo e le infonde vita, noi ci ritroviamo a seguirla per le camere del palazzo, a cercare di capire i suoi pensieri, a provare tenerezza e poi a non sopportarla affatto e semplicemente a sentirla, forse per la prima volta, vicina a noi, vera come noi.
Quello che the Crown cerca di fare è tessere un enorme arazzo dedicato alla monarchia, a questa entità astratta, più importante delle singole vite che la compongono, e ogni filo è importante e direttamente o indirettamente legato all'altro, se al centro sta Elizabeth ed è lei la colonna portante che tiene unito il palazzo, tutti gli altri personaggi che ruotano intorno alla sua orbita non sono semplici satelliti ma stelle che brillano di luce propria. C'è Winston Churchill (magistralmente interpretato da John Lightgow) un primo ministro post-secondo conflitto mondiale che, seppur invecchiato e stanco, non vuole ancora mollare. C'è l'impetuosa Margaret (Vanessa Kirby), così diversa dalla sorella ma unita a lei dal vincolo del sangue. C'è re George VI (Jared Harris), l'uomo che non doveva essere re. C'è Edward, duca di Windsor (Alex Jennings), villain della storia? No, non ci sono villain in questa storia ma solo esseri umani con le loro scelte.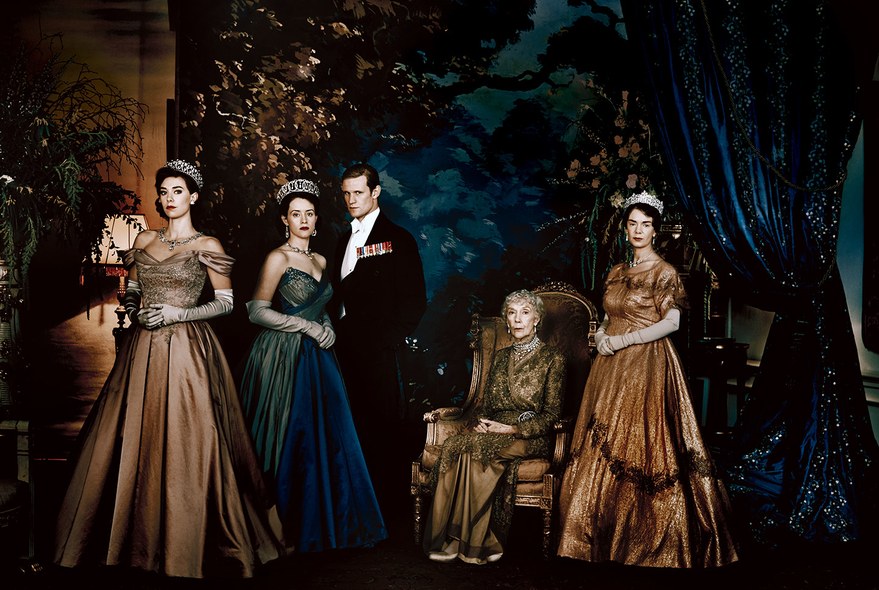 DA DOTTORE A PRINCIPE CONSORTE
E poi c'è 

Philip Mountabben

, di cui non si parla molto, sembra quasi non esserci, e che nella Serie prende lo spazio e il tempo per dire la sua, per farsi conoscere dai suoi stessi sudditi più che come il "principe consorte".
Spudorato, carismatico e affascinante Philip, irritante e insieme comprensibile mentre cerca di trovare il suo posto in questo nuovo mondo, "un circo" a detta sua, che lo considera un problema imbarazzante, che preferirebbe vederlo cadere e che lo allontana sempre di più da Elizabeth. Proprio Philip è l'altra punta di diamante della Serie. Interpretato da Matt Smith (Doctor Who, PPZ, Womb), anche in questo caso il personaggio prende vita sullo schermo, attraverso una cura nel dettaglio, dai piccoli gesti delle mani alla posa delle spalle, dal passo allo sguardo, che ci fa intendere l'enorme lavoro dell'attore dietro le quinte. Un Matt Smith totalmente opposto rispetto al ai tempi del Dottore, indossa i panni decisamente più costosi e stretti del duca di Edimburgo, l'unica persona, si dice, alla quale Elizabeth dia davvero ascolto. Nella Serie Philip non sta mai sullo sfondo, è l'innovatore, lo scomodo consorte, è l'ancora che cerca di tenere Elizabeth aggrappata alla vita prima della Corona ma che man mano cede sempre di più.
 Quando la regina prende sempre più il posto della moglie, non lo ascolta, non lo capisce e sembra ignorarlo, Philip (contrariamente a quanto avrebbe fatto forse un Albert con la sua Victoria) cerca altri modi per impiegare il suo tempo, senza capire che Elizabeth, pur mettendo il suo dovere davanti a tutto e tutti, non lo fa mai in realtà con lui, non del tutto. Evidentissima la chimica tra i due attori che riportano sullo schermo una storia d'amore a tutti gli effetti con i suoi pregi e difetti, lo scontro tra due personalità totalmente distanti che in qualche modo si sono ritrovate e sono rimaste insieme, rendendo ogni singola scena insieme un piccolo mondo di frasi non dette, fatte di sguardi e movimenti infinitesimali.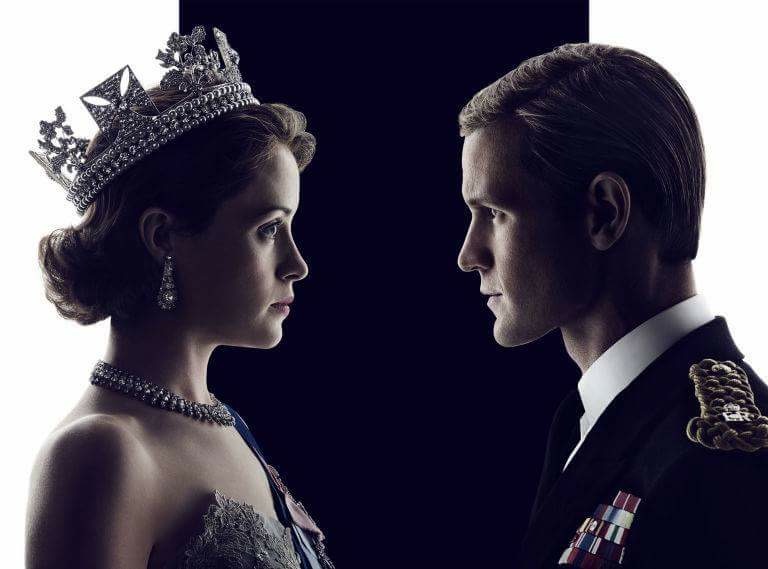 CUORE E ANIMA
I protagonisti vibrano di pura energia, riescono a prendersi tutto il tempo del mondo per dire una parola senza risultare noiosi, catturano l'attenzione stando fermi in una stanza, piangono senza versare lacrime e sorridono intensamente con il cuore. Sono vivi e danno vita a loro volta.
La Serie è, poi, tecnicamente impeccabile, c'è dietro un un lavoro di accuratezza storica encomiabile: dalla macchine ai vestiti, dalla musica alle scenografie. Come lo spirito della Serie anche la struttura ricalca quella freddezza ed estraneità di fondo. Ci troviamo di fronte a stanze immense che mancano di anima, luoghi bui, celati, gioielli sfavillanti che pesano come macigni. La predilezione per i colori freddi, nelle tonalità del blu e del grigio serve non solo a delineare l'ambiente londinese ma a rendere l'idea di un mondo che solo in apparenza luccica mentre è permeato di solitudine e malinconia.
The Crown va guardato perchè da la vita lì dove, per noi, sembrano esserci figure di plastica, perchè realizza una storia vera e vicina, un romanzo d'epoca senza scadere nel banale, perchè è un prodotto di qualità senza il bisogno di avere nomi altisonanti al seguito, perchè infonde una concreta e reale umanità ad ogni scena, ogni dialogo, ogni gesto, ogni personaggio.
Quella che abbiamo di fronte non è solo la storia della regina Elizabeth e della sua famiglia ma la storia di un'istituzione che ha costantemente influenzato quella del suo paese, che ha avuto più valore e importanza delle persone concrete che l'hanno rappresentata. Non si prendono posizioni, non c'è il buono e il cattivo ma il dovere e il volere, la scelta perenne tra i due e tutto il peso di una Corona che tanto più grava sulla testa quante più sono le gemme di cui risplende.