Solo qualche giorno fa Hollywood, l'ultima serie creata da Ryan Murphy e Ian Brennan, ha fatto il suo debutto sulla piattaforma di streaming Netflix. In pochi giorni, la serie ha suscitato molto interesse, soprattutto negli Stati Uniti dove ha raggiunto il secondo posto nella lista dei dieci prodotti più visti sulla piattaforma.
Proprio qualche ora fa, il creatore dello show ha pubblicato sul suo profilo Instagram una locandina creata da una fan della serie di Meg, il film al centro della vicenda narrata in Hollywood, con la seguente descrizione:
Voglio realizzarlo. E grazie @czollerdesigns per aver progettato questo fantastico poster.
I fan hanno subito commentato chiedendo a gran voce dapprima la realizzazione di una seconda stagione di Hollywood e poi la concretizzazione del progetto Meg.
Non è la prima volta che Murphy utilizza i social per annunciare ipotetici progetti, lo aveva fatto circa un anno fa con il ritorno di Scream Queens (ne abbiamo parlato qui). A questo punto, ci viene spontaneo chiederci se effettivamente comincerà a lavorare alla stesura di Meg e come il cast della sua nuova serie accoglierà il progetto.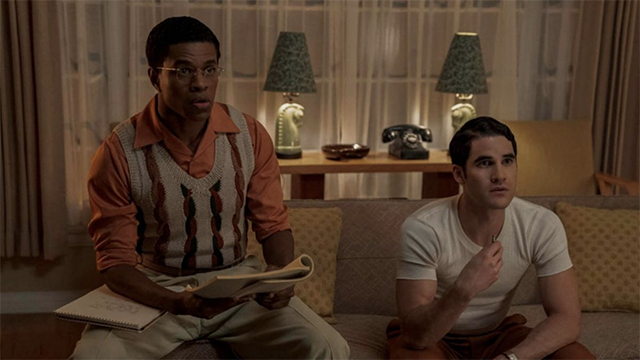 Per chi non l'avesse ancora vista, la serie racconta le vicende di un variegato gruppo di lavoratori del cinema tra cui aspiranti attori, produttori, sceneggiatori e registi nel periodo del secondo dopoguerra. La serie creata da Murphy e Brennan è una vera e propria favola e nelle sue sette puntate ci porta indietro nel tempo e ci fa vivere nella Hollywood Classica. Ci mostra uno scenario alternativo rispetto agli eventi realmente accaduti, affiancando alla mole di personaggi inventati, personalità realmente esistite come Rock Hudson, Anna May Wong, Henry Willson, Hattie McDaniel o creando personaggi che fossero basati su persone realmente esistite, come ad esempio quello di Dylan McDermott, Ernie West ispirato a Scotty Bowers, noto per essere stato il gigolò delle star.
A raccontare questa bella favola classica, ma allo stesso tempo rivoluzionaria, c'è un cast di volti già noti al pubblico del signor Murphy, come ad esempio David Corenswet che ha recitato in The Politician e che interpreta l'aspirante attore Jack Castello, Darren Criss famoso per il suo ruolo in Glee e in The Assassination of Gianni Versace: American Crime Story (qui la recensione del primo episodio) che interpreta l'aspirante regista Raymond Ainsley, Dylan McDermott che ha recitato in American Horror Story e che interpreta il pappone/gigolò Ernie West, Patti LuPone che è apparsa dapprima in Glee e poi in Pose. C'è anche Jim Parsons noto al pubblico seriale per il suo ruolo in The Big Bang Theory e che con Murphy ha lavorato nel 2014 nel film The Normal Heart, con protagonisti Mark Ruffalo e Matt Bomer.