Che Ryan Murphy sia un folle e – allo stesso tempo – un genio, ormai è assodato. Dopo aver annunciato il ritorno di Scream Queens e l'intenzione di realizzare Meg, il film al centro delle vicende del suo ultimo lavoro, Hollywood (qui i dettagli), ecco che Murphy ci sorprende di nuovo con un nuovo possibile progetto e – questa volta – riguarda Glee.
Lo show evento che ha rivoluzionato il mondo seriale, il fenomeno mediatico che ha conquistato tutto il mondo a suon di canzoni e drammi adolescenziali mascherati da commedia, finalmente è tornato nei pensieri e anche nei progetti del suo creatore.
Proprio qualche ora fa, infatti, Ryan Murphy ha pubblicato questo post sul suo account Instagram, dichiarando quanto segue:
Immaginate che sia il 2009 e che io vivessi in un mondo in cui conoscevo Lea Michele, Ben Platt e Beanie Feldstein (Ben e Beanie credo fossero al liceo a quei tempi… e penso che una volta si siano vestiti da personaggi di Glee per Halloween?)
Se avessi avuto accesso a quel talento all'epoca, ecco quale sarebbe stato il nuovo pilot: Lea e Ben sarebbero nemici-amici che si battono per il cuore e l'anima del Glee Club. Ben è anche nella squadra di football e praticamente va a letto con la scuola intera ed è il più amato al McKinley. Beanie è la loro migliore amica in comune ed è combattuta.
All'improvviso, Beanie decide di cooperare con Sue Sylvester, si unisce al Glee Club e diventa la principale e spietata star del club. Lea e Ben devono unire le forze per spodestarla. VOGLIO GIRARE QUESTO PILOT DA CAPO. Forse lo farò?
Con quell'affermazione finale e la domanda che ne segue, Ryan ha subito attirato l'attenzione dei gleek e non solo, anche quella di alcuni attori che hanno preso parte alla serie. Tra loro emergono il nome di John Stamos, noto per aver interpretato Carl, il dentista nonché fidanzato di Emma Pillsbury nella prima parte della seconda stagione e Dot-Marie Jones che, a partire sempre dalla seconda stagione, ha interpretato il ruolo del coach Beiste. Entrambi gli attori hanno chiesto al produttore scherzosamente se ci fosse bisogno di un Carl o nel caso della Jones, di un coach. E, ovviamente, Murphy ha risposto di sì.
Per il momento sembra che il progetto di rigirare Glee sia solo un'idea, un pensiero. Conoscendo il modus operandi di Ryan Murphy, sappiamo che è tanto folle da poterlo davvero fare, nonostante stia lavorando contemporaneamente a multipli progetti. Per noi fan della serie potrebbe essere bello tornare nei corridoi del McKinely, ripescare la vecchia giacca dei Warblers o il costume delle Cheerios, indossare di nuovo jeans e maglietta rossa con uno scopo e ri-postare le nostre foto con la "L" davanti alla fronte (non provate a fingere di non averle nei vostri album su Facebook visibili solo a voi del 2009 intitolati Don't Stop Believin' oppure Being a part of something special makes you special o You wanna be a loser like me), ma siamo sicuri che questo sia il modo giusto di farlo? Nonostante l'idea di introdurre due attori eccezionali come Ben Platt e Beanie Feldstein sia davvero interessante.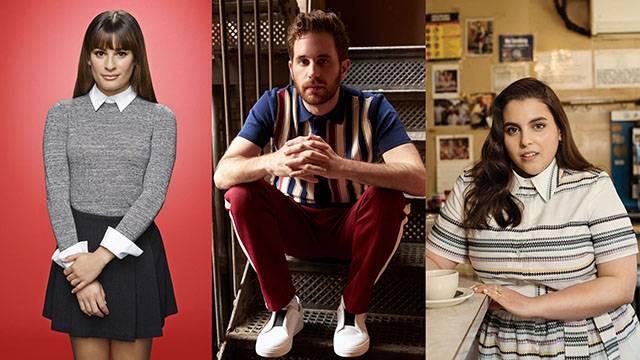 Ben ha lavorato con Ryan Murphy in The Politician interpretando il ruolo del protagonista, Payton Hobart. Beanie Feldstein, invece, è stata scelta da Murphy per American Crime Story – Impeachment, stagione che dovrebbe debuttare a settembre 2020. Il suo ruolo è quello di Monica Lewinsky, la ragazza protagonista del Sexgate, lo scandalo di Bill Clinton durante il suo secondo mandato alla Casa Bianca (qui quello che sappiamo in merito).
Per il momento questo è tutto quello che conosciamo, quali siano le vere intenzioni di Murphy è troppo presto per saperlo. Non ci resta, perciò, che attendere ulteriori informazioni.