Pensavate che dopo la 8×06 di Game of Thrones sarebbe finito tutto? Credevate di dover dire addio a ogni singola parte della vostra serie preferita? Beh, vi sbagliavate. Già ve ne avevamo parlato, la HBO ha in serbo un documentario (Game of Thrones: The Last Watch), della durata di due ore, sulla realizzazione della serie di successo. La crew, guidata dalla regista Jeanie Finlay (Seahorse, Orion: The Man Who Would Be King), ha avuto accesso al dietro le quinte e ci mostrerà in esclusiva cosa significa portare in televisione Game of Thrones.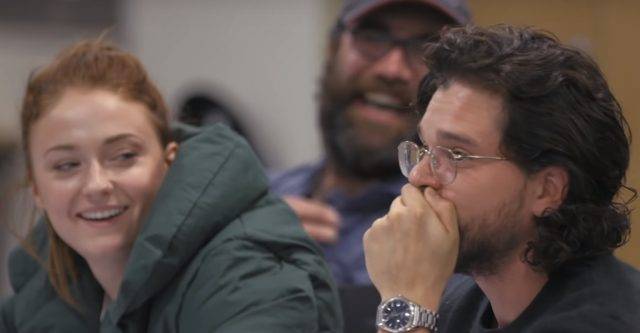 Preparatevi perché finalmente abbiamo un trailer, e che trailer. La HBO lo ha finalmente pubblicato, facendoci capire cosa ci aspetta. Regalandoci qualcos'altro da aspettare con ansia. Nel trailer si vedono interviste di membri delle diverse crew che hanno contribuito alla realizzazione della serie, ma anche di attori che esprimono quanto sia difficile dover dire addio al proprio personaggio. Possiamo vedere anche parti dell'ultimo table read con il cast al completo e l'emozione di Kit Harington al termine di questo. O ancora il dietro le quinte delle nottate passate a girare la battaglia che abbiamo visto nella puntata 8×03. Per non dimenticare poi un veloce sguardo all'ultima scena di Emilia Clarke nei panni di Daenerys Targaryen e molto altro ancora.
Alla fine l'obbiettivo della HBO era proprio questo, ecco come hanno presentato il documentario Game of Thrones: The Last Watch:
Il documentario scava nel fango e nel sangue per rivelare le lacrime e i trionfi implicati nella sfida di portare il mondo fantastico di Westeros alla luce negli studios, nei campi e nei parcheggi dell'Irlanda del Nord. È molto di più di un semplice documentario "dietro le quinte", questa è una storia divertente e straziante, raccontata con arguzia e intimità, sul piacere agrodolce di cosa significa creare un mondo per poi dovergli dire addio.
Ora che sappiamo cosa aspettarci, non vediamo l'ora che arrivi il 26 maggio.