Ci sono quelle coppie di attori che sul grande schermo interpretano grandi amici (se non coppie di innamorati) ma che nella vita reale proprio non riescono a sopportarsi. E poi ci sono quelli che vanno nel senso diametralmente opposto: quegli attori che interpretano nemici per la pelle ma in realtà vanno d'amore e d'accordo. A quanto pare, l'ultimo caso si applica anche a due star di Game of Thrones.
Lo ha raccontato Dean-Charles Chapman in un'intervista a EW: lui e Isaac Hempstead Wright sono grandi amici. I personaggi che interpretavano in Game of Thrones, Tommen Baratheon e Bran Stark non hanno neanche mai avuto una scena insieme, ma vista la piega che gli eventi hanno preso in fretta già nella prima stagione e il cattivo sangue che ha iniziato a correre tra le loro due famiglie, si può dire che un'amicizia tra i due è forse l'ultima cosa che si può immaginare.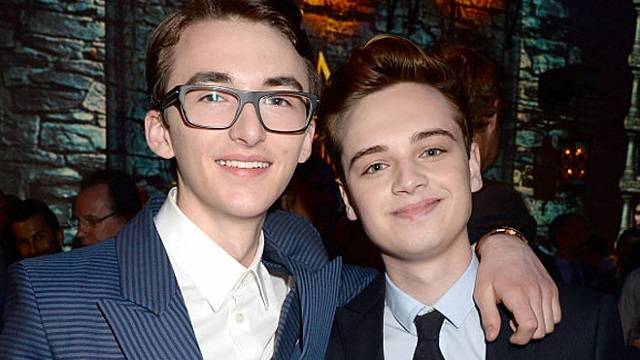 Evidentemente però i due giovani attori riescono tranquillamente a separare la finzione dalla realtà (cosa che non per tutti è così ovvia, visti i motivi per cui ad esempio lo stesso Dean-Charles Chapman è quasi stato aggredito qualche tempo fa).
Io e Isaac Hempstead Wright parliamo molto. È uno dei miei migliori amici, ci sentiamo tutti i giorni.
E Hempstead Wright non è l'unica star di Game of Thrones, né l'unico Stark se è per questo, con cui Chapman ha avuto a che fare ultimamente. Infatti in 1917, film che ha vinto tre premi Oscar ai 92simi Academy Awards, il giovane attore interpreta il caporale Tom Blake, e il ruolo di suo fratello, anche lui nelle armi, è stato ricoperto da Richard Madden, a noi altrimenti noto come Robb Stark, fratello di Bran.
Chapman ha tra l'altro ammesso di essere inizialmente stato un po' scettico riguardo alla scelta fatta, perché lui e Madden non si somigliano per niente. Si è tuttavia ricreduto vedendo l'interpretazione di quest'ultimo, che secondo lui ha svolto un ottimo lavoro.